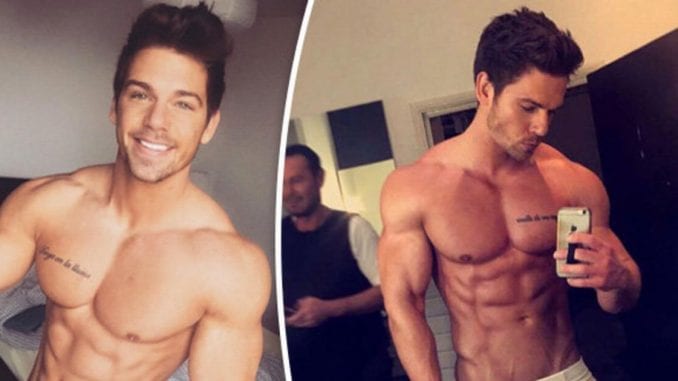 Josh Mooney Quick Facts
Joss Mooney – A Closer Look. He has an impressive physique that heats up Instagram. From an aesthetic standpoint, his body is indescribably fit. Are you wondering if there's anything else to know about Joss Mooney?
Well, Joss Mooney didn't get that amazing body overnight. If you look at his Instagram profile you can see that he punches the clock at the gym like a beast. Arms, shoulders, abs, chest – he's shaped his body to perfection.
https://www.instagram.com/p/CNxePbqH8Uo/
Joss is from Manchester, England. Yes, he's got a British accent. He was raised in the countryside, but he's now based out of London. As a teen and in his early 20s, Joss Mooney played rugby at a competitive level. Joss Mooney isn't afraid to try new things either. He loves boxing even though he's still just a beginner.
"Sex, weights, and protein shakes." That's Joss Mooney's motto for 2021. If you want to know more about what makes Joss Mooney tick, then keep reading.
Pop File
Name: Joss Mooney
Birthday: January 9th, 1989
Zodiac: Capricorn
Height: 5'11"
Eye Color: Hazel
https://www.instagram.com/p/CN0GcnfHeSC/
Joss Mooney Has Sophisticated Style
Joss has competed professionally as a model and he was awarded Model of the Year in 2012 during a pageant. Maybe that's why he can turn any setting into a runway. He is the co-owner of Lab3l clothing line brand. It's mostly streetwear with a sprinkle of fitness apparel. Joss doesn't just lounge around in sweatpants all day. He can get fancy. The man can dress with the best of them. Joss puts special attention on his appearance from head to toe.
https://www.instagram.com/p/CNp7v8lH1_x/
Joss Mooney is Very Disciplined
Joss has exceptional organization skills. He sets up his daily routine and plans it all out in advance. Goal setting and a stable regimen are key. He prides himself on being consistent and credits his consistency as the key to his wicked physique.
Related: Dan Juergen – A Closer Look
So many of his Instagram posts are about consistency. Joss doesn't like to overthink things, especially things that are out of his control. Joss isn't much for going out and drinking with his buddies either. A perfectly cooked fillet a steak is one of Joss Mooney's favorite foods.
"I'd rather go to my local gym with a friend than go out on a Saturday night, because of what it does to your body. All my friends have the same mindset, so it is easy for me to stay out of it."
Joss Mooney's All About Fitness
Joss Mooney is a professional transformation and fitness trainer. He has a separate Instagram account for JM Transformations. He can deliver personalized home and gym workouts for his followers and clients. He's already helped more than 6,000 people reach their fitness goals.
Joss has some sound advice for people trying to get that chiselled physique that he is so famous for. "I would encourage anyone to start at the gym. I know how hard it is as I've been there. Find a program that is right for you and you'll learn as you go on. People are so scared of others looking at them and what they'll think – and that's the hardest thing to overcome. The first few weeks are difficult but take baby steps and just keep going."
https://www.instagram.com/p/CNQHKhCHksU/
Joss Mooney is a Lady's Man
Joss has had some super-hot girlfriends in the past. He dated Talitha Minnis, Shelby Billingham and Vicki Pattison, all of whom are celebrities from the world of reality TV. Joss is rumored to be dating TikTok star Ellie O'Donnell. However, the couple have not gone public with the status of their relationship even though they've been spotted together numerous times getting cozy and familiar. Joss Mooney's Instagram account has a few photos sprinkled throughout with his arm around O'Donnell. Is it serious though? Time will tell.
Joss Mooney Started Out on Reality TV
Joss is a reality TV star. He made his first appearance on an MTV UK show called Ex on the Beach UK. After becoming a fan favorite, he competed on at least three other related shows. He was quite good at the wacky reality show tasks and the sexy drama. He won 3 out of 4 elimination challenges and had some steamy on-camera scenes. Joss was a cast member on Life on Marbs, which followed the glamorous lives of young people living in Marbella, Spain.
Keep an eye on Joss Mooney's
Instagram
. He's already well on his way to Instagram stardom with over 800,000 followers. Joss is just one viral video or public scandal away from being a true celebrity. His awesome physique and work ethic are sure to take him very far. Are you a fan of Joss Mooney? What do you like about him?