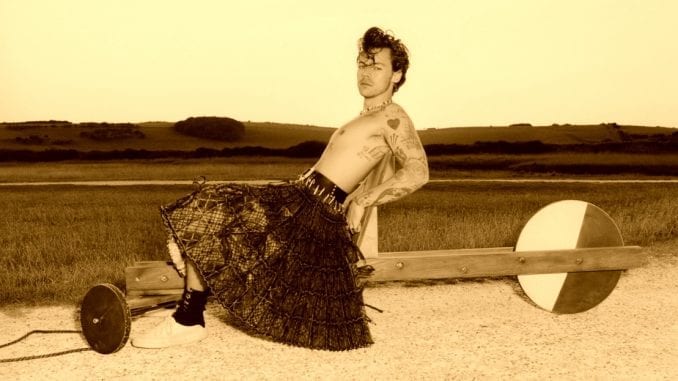 Why do men in dresses scare people?
It's International Men's Day 2020! Have we finally defeated toxic masculinity to celebrate the birth of the new liberated Man? Apparently, not. Harry Styles proved this week that so-called gender norms are still quite rigid.
Harry Styles recently graced the cover of Vogue magazine. Wow, that's interesting and cool, right? Well, not so fast. Harry Styles was wearing a black blazer and Gucci gown. In subsequent photos he also wore women's clothing.
In the Vogue interview Styles said "There's so much joy to be had in playing with clothes. I've never really thought too much about what it means — it just becomes this extended part of creating something. Now I'll put on something that feels really flamboyant, and I don't feel crazy wearing it."
"Clothes are there to have fun with and experiment with and play with." Styles went on. "What's really exciting is that all of these lines are just kind of crumbling away."
Related: Harry Styles Plays a Thirsty Gay Man in New SNL Sketch
Here Come the Haters
Critics are tearing into Harry Styles and the condemnation has come from both men and women.
Piers Morgan called him "weird" during a mid-week debate on Good Morning Britain. It was clear that Piers Morgan was trying hard to be as minimally offensive as possible, but his words were still misplaced, offensive and indicative of a larger problem with gender norms.
"I'm not saying I'm against it, I'm not saying I'm for it, I'm just saying it's all a bit weird," said Morgan.
Morgan's response was nothing compared to the Twitter onslaught from Candace Owens. If you don't know, Owens is a conservative firebrand who has made a name off taking the wrong side of controversial issues like Black Lives Matter.
Here is what Candace Owens had to say about Harry Styles and his Vogue magazine cover.
There is no society that can survive without strong men. The East knows this. In the west, the steady feminization of our men at the same time that Marxism is being taught to our children is not a coincidence.
It is an outright attack.

Bring back manly men. https://t.co/sY4IJF7VkK

— Candace Owens (@RealCandaceO) November 14, 2020
And that's how you start a Twitter war, folks.
People have flooded Candace Owens' Twitter feed in defense of Harry Styles and men wearing dresses. Apparently, it's only feeding into Owens' negative views about men's mental health and the trend of crossdressing celebrities.
Imagine showing your friends a picture and saying this right here is the father of my kids. pic.twitter.com/mpJTSrpLhu

— Fentsii🌺 (@Fentsii_M) November 17, 2020
Candace Owens is 50 years behind on culture and education. Here's Iggy Pop, David Bowie, and Kurt Cobain all cross dressing. The list of other men in music doing the same is very long. The trend started around 1970 and went into other culture like sports. Welcome to 1970. pic.twitter.com/YkxRcasIoH

— Simon Gloom (@simongloom) November 16, 2020
In typical fashion, Candace Owens isn't backtracking a bit.
Newsflash woke idiots: when you send me pictures of Freddie Mercury and Kurt Cobain dressed as women to prove your point, you are actually proving mine.

Stable men do not wear ball gowns.

The end.

— Candace Owens (@RealCandaceO) November 17, 2020
Harry Styles' mother has even been dragged into the battle. She spoke in a virtual interview with iTV's Lorraine to explain why Harry might be so comfortable in women's clothing.
Harry's mother Anne, 51, spoke on ITV's Lorraine on Tuesday about the shoot, claiming she may have played a part in the superstar singer's love of androgyny.
She said: 'I think maybe I had something to do with it because I was always a big fan of doing fancy dress with the kids when they were smaller, which his sister hated but Harry always embraced. But who doesn't love doing a bit of dress up?'
People Didn't Like Jaden Smith's Fashion Sense Either
Harry Styles isn't the first guy to make waves wearing a skirt or dress. David Bowie, Kurt Cobain, and Jaden Smith used to wear skirts and dresses quite often. Smith has since moved on from the gender-bending style, but he was one of the most recent celebrities to get peoples' panties in a wad.
In one of his most infamous cross-dressing outings, Jaden Smith posed for a Louis Vuitton ad campaign wearing a skirt.
If I Wanna Wear A Dress, Then I Will, And That Will Set The New Wave…
-JADEN SMITH #ICON

— Jaden (@jaden) March 26, 2018
Jaden knew that he would garner lots of criticism for his questionable fashion sense, but he had a greater purpose for wearing dresses. Jaden was inspired by one of his idols, Young Thug, who became a famous rapper for wearing dresses, too.
In an interview with Nylon magazine back in 2016, Jayden explained "The world is going to keep bashing me for whatever I do, and I'm going to keep not caring. So, you know, in five years when a kid goes to school wearing a skirt, he won't get beat up and kids won't get mad at him. It just doesn't matter. I'm taking the brunt of it so that later on, my kids and the next generations of kids will all think that certain things are normal that weren't expected before my time."
In the eyes of detractors, wearing a skirt is downright unmanly, but would the pages of history agree?
Some of the Greatest Warriors Wore Skirts
Men have worn skirts and dresses all throughout history. It wasn't until the nineteenth century when men tended to wear trousers more than women. The Romans, Albanians, Hindus and Turkish warriors all wore dresses into battle.
Do you remember that movie called Braveheart about a blood-thirsty Scottish guy with long hair who yelled "FREEDOM"? I'm talking about Mel Gibson, I mean William Wallace, the Scottish warrior who fought against English tyranny in the early 1300s…in a kilt.
Alexander the Great was one of the greatest warriors of all time. His Macedonian army conquered nearly all the Mediterranean and Western Asia. Alexander wore the type of clothes that all fighting Macedonian men wore at the time. He wore a chiton, a long dress that was belted at the waist and worn with no trousers.
Why Does A Man's Dress or Skirt Break the Internet in 2020?
One clear reason that Harry Styles ignited such a backlash with his fashion Vogue cover is the wave of conservatism that is sweeping the country. There's about half a nation here that's anti-liberal, anti-LGBTQ, and anti-cosmopolitan.
They see Harry Styles as the poster child for what's wrong with masculinity in 2020. In actuality, it's connected to a fear of feminization and political correctness. Critics of Harry Styles represent people who fear that liberalism will be imposed upon them against their will and that their children will be forced to wear dresses.
Related: Harry Styles Talks Being Vulnerable With Guy Friends
In actuality, the only thing that should be enforced is respect for everyone's right to decide their own style, gender, or lifestyle. It's International Men's Day and instead of celebrating the recent advances of men to find and confront their own emotional vulnerability, we're still talking about whether it's okay for a young man to wear a dress for fun.
We've still got a long way to go.