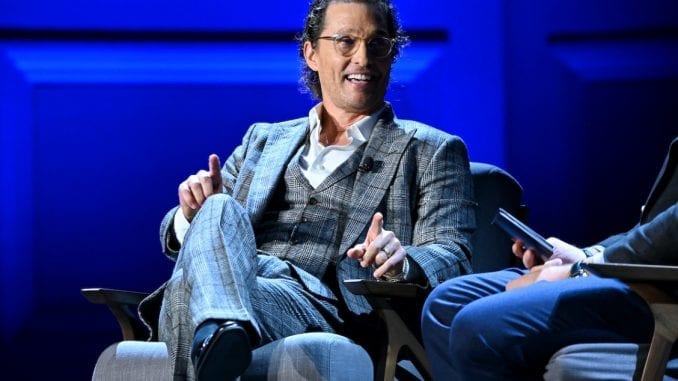 Matthew McConaughey's Book Release
Academy Award-winning actor and producer Matthew McConaughey is releasing a quirky and thought-provoking memoir this week called Greenlights. With a credit list that goes all the way back to Dazed and Confused (1993), McConaughey has certainly racked up enough Hollywood stories to spill some serious tea.
The cover jacket shows a long-haired Matthew staring off into the distance with praying hands pressed to his lips. When you pull the jacket off the memoir, the cover has a surprisingly whimsical traffic light on the cover with all green lights. Hence, the name of the book.
The theme is about finding a sort of flow state that feels like catching all green lights while driving.
That reminds me of those Lincoln car commercials with McConaughey driving down the highway with that dazed and confused look in his eyes. Thirty years in Hollywood and an Academy Award can't dull the cowboy drawl of this Texas native.
The Hollywood icon recently turned 50 and in typical midlife style, he looked back over the story of his life to figure it all out. McConaughey was helped by the stack of diaries and journals that he's kept since he was 15 years old.
pen to paper #greenlightsbook
Oct 20th https://t.co/g56OCvrl5k pic.twitter.com/ErCKeFyh4x

— Matthew McConaughey (@McConaughey) October 19, 2020
In the book description, the Dallas Buyers Club star gets all kinds of introspective during a trip to the desert to pen this book. He called it a love letter to life. It contains stories and memories about his past, ideas and philosophies that've helped him in his career, and much more.
Related: Should Men Join A Book Club?
McConaughey Family Life
McConaughey has 3 children – Livingston 8, Vida 10, and Levi 12 with his wife Camila Alves. He opened up about his family life for a PEOPLE magazine cover story. Since the quarantine has McConaughey's family trapped indoors, they've taken up photography.
"One of the assets of this COVID quarantine is they've been forced to be more self-reliant. They've been forced to create their way out of their boredom," he says in the People interview. His children even composed the PEOPLE mag cover photo for their dad's story.
Matthew McConaughey Opens Up about Raising Creative Kids (They Even Took People's Cover Photo!) https://t.co/HmazyiQVab pic.twitter.com/USQvFr0bSr

— People (@people) October 14, 2020
He has leaned into fatherhood with gusto and believes it's the greatest part of his life. He told People, "The only thing I ever knew I wanted to be was a father," he says. "And it's remained the pinnacle for me. Being a dad was always my only dream. … I can't think of anything being more important."
His own parents' tumultuous marriage was a major focal point of the memoir. They split and remarried three times. He gave a detailed description of the time his mother broke his dad's nose during an argument, only to patch it with sex on the kitchen floor.
"Nobody or nothing could kill him. Except mom," the True Detective star wrote in his memoir. In fact, his father died while having sex. The Oscar winner describes the call he got from his mother in Greenlights and his father's own prediction about his death.
"He'd always told me and my brothers, 'Boys, when I go, I'm gonna be makin' love to your mother.' And that's what happened. He had a heart attack when he climaxed."
McConaughey's mother is still with him, aged 88 and she's very close with his family.
Matthew McConaughey's Romantic Moments
He's already leaked some steamy details about his life in recent interviews. He admitted to dating Ashley Judd and Sandra Bullock. There was a brief encounter with Janet Jackson. There's bound to be some more dirt in his upcoming memoir.
Matthew McConaughey is considered one of Hollywood's hottest actors, but one of his rom com co-stars recently revealed that he isn't such a great kisser. Kate Hudson was on Gwyneth Paltrow's podcast Goop last week. The two friends dished about onscreen chemistry and worst kisses.
As you may recall, Hudson starred with Matthew McConaughey in How to Lose a Guy in 10 Days and Fool's Gold. Hudson wasn't wowed by the lip locking abilities of her tall, dark and handsome co-star.
She told Paltrow during the podcast, "The thing is, every time I kiss McConaughey, it's like, I mean, it's like there's just something happening and there's like snot or wind, or things are just… like when we were kissing in the end of Fool's Gold, we're like in the ocean, we like had the plane crash," she told Paltrow with a laugh. "He just had snot all over his face."
Related: 7 Surprising Facts About Matthew McConaughey
Check Out Greenlights, the New Memoir from Matthew McConaughey
Greenlights hits bookshelves on October 20th.
You can scoop up a copy from Amazon and be sure to let us know what you think.