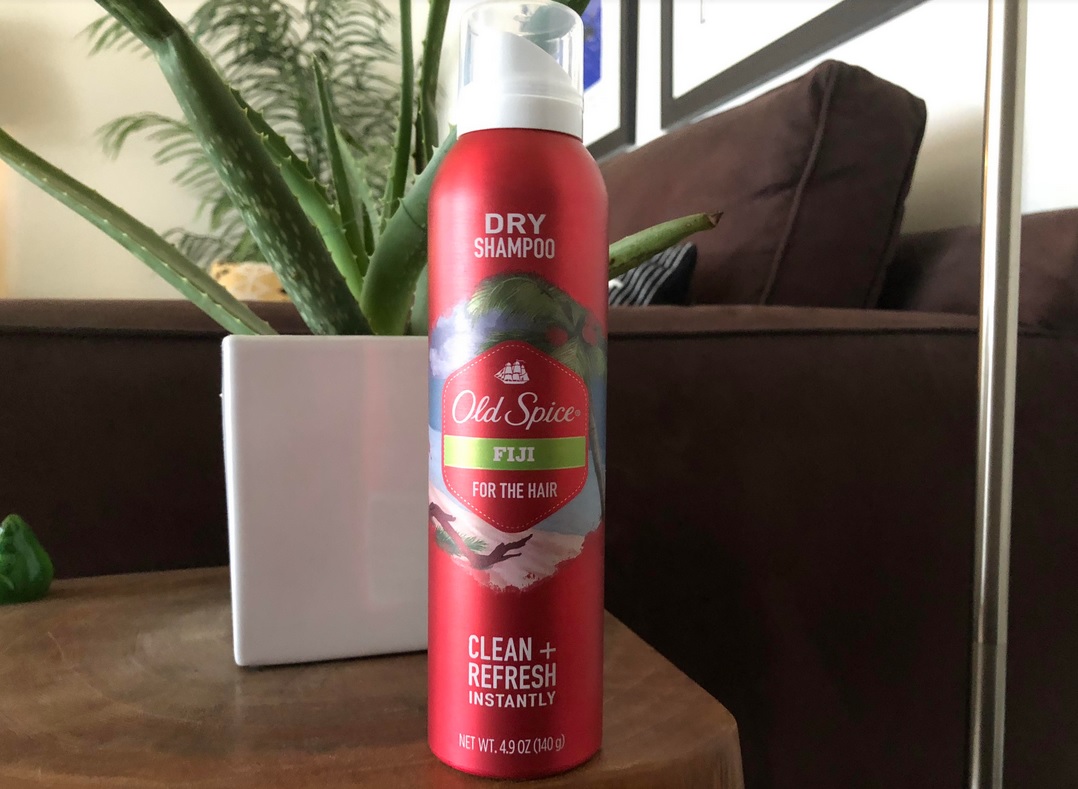 Review of Old Spice Dry Shampoo
Old Spice Dry Shampoo – it's a brand-new product that has recently been introduced into the multibillion-dollar men's personal care space.
Billed as something to use on days you can't wash your hair, the spray promises to "clean and refresh instantly".
But does Old Spice Dry Shampoo really live up to its claims? Moreover, is it worth the money?
I've been using this product (FIJI scent) for the past month and have to say that for the most part, I've been very pleased. It's simple to use, smells good, and does a decent job with making my hair look presentable.
Before diving too deep, I think it's important to state that I am not receiving one dime for writing this review – not from the folks at Proctor and Gamble (parent company of Old Spice) or from an affiliate program.
The main photo at the top of this post is one that I took with my smartphone. The video below is one I found on YouTube.
OK, with that shared, I will walk you through what I like and don't like about this product.
What I liked:
Simple to use and requires just a few quick spray-bursts
Does a good job detangling messy hair
Fresh scent that is not overpowering
Softens hair shaft, making combing easier
Offers light shine because of silica ingredient
Easy to store atop a medicine cabinet or inside
What I didn't like:
Alcohol mixed into ingredients, which can dry hair
The requirement to rapidly shake for ingredients to properly mix
The spray nozzle occasionally clogs
Is it really a shampoo?
Right off the bat, I'm going to come out and say that the spray really isn't a "shampoo", at least in the traditional sense.
If you are thinking it will wash your hair in the same way you might expect in the shower with a liquid-based product, think again. Speaking only for myself, the term "shampoo" seems misleading. But because the word "dry" proceeds shampoo, I'm not going to make a big deal out of it.
Does it really clean your hair?
Keeping in mind what I shared above about it not being a traditional shampoo, I will say this product does a good job of refreshing your hair's appearance and visually making it look clean.
I'm not going to sit here and tell you that it actually washes your hair because it most certainly doesn't. That said, when used according to the directions, it can help to straighten your hair out and provide a visible shine.
Additionally, because of the ingredients, it also offers a bit of softening.
Is it worth the money?
At a national retail price of $4.97 for the 4.0 oz container, I'd be hard pressed to tell you this product is overpriced or not worth the money.
All I can tell you is that since using Old Spice's dry shampoo over the past month, I've been very pleased.
I like how it can be applied on days that I don't shower or wash my hair. Moreover, it's a helpful product to have in emergency situations.
For example, last week I had to give several work-related presentations. Because of bad weather, my flights were routinely delayed.
Thankfully, a chain-store close to where I was speaking carried Old Spice's Dry Shampoo. With the use of a pocket comb and the spray, I was able to quickly put myself together and look professional.
So, bottom line – I personally like this product and would use it again. Just remember it's not really going to wash your hair but instead, freshen it up and make it appear clean.
I recognize there are other reviews online that aren't nearly as kind as what I've written here. The best advice I can give you is to look around and see what others are saying.
Hopefully, the insights I've shared here were helpful to you.
Have you tried Old Spice's Dry Shampoo? If so, what were your impressions? Share your thoughts in the comments area below.