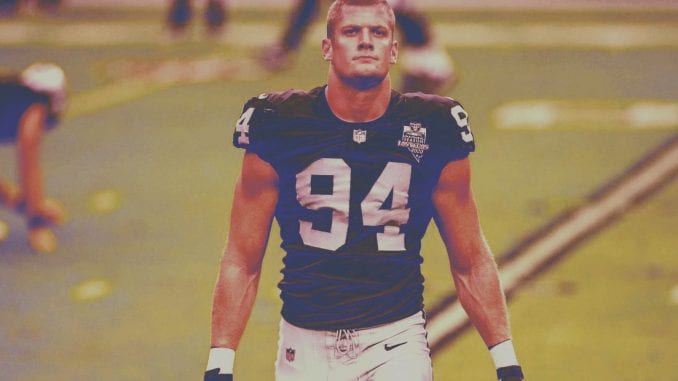 Carl Nassib
Carl Nassib just made a shocking announcement about his sexuality. Nassib is an NFL player that even football fans didn't know that much about before. However, he's now in the spotlight for becoming the first openly gay player on an active NFL team roster.
Carl Nassib plays for the Las Vegas Raiders. He is a 28-year-old defensive end. Although he had been dreading this moment for 15 years, Nassib felt that the time was right to come out as a gay player in the NFL.
Although it's Pride Month, Carl Nassib said he didn't choose this time for more attention. Perhaps, the climate of the National Football League has changed or Nassib felt supported by his friends and family. It wasn't too long ago that being openly gay in the NFL would be an almost certain career killer.
There was a tremendous outpouring of support for Carl Nassib. His teammates, head coach, even the NFL commissioner made a statement commending Nassib's decision. Roger Goodell, the NFL commissioner released this statement.
"Representation matters. We share his hope that someday soon statements like his will no longer be newsworthy as we march toward full equality for the LGBTQ+ community. We wish Carl the best of luck this coming season," said Roger Goodell.
In the coming out video, Carl Nassib also announced that he would be donating $100,000 to the Trevor Project. In case you didn't know, the Trevor Project is a non-profit organization that deals with suicide prevention for young people in the LGBTQ community.
Related: Aaron Hernandez' Boyfriend from Football Team Steps Forward
Here is Carl Nassib's Instagram post confirming that he's now openly gay.
Carl Nassib certainly isn't the first American football player to come out as gay. There are many other athletes who were either outed as gay or came out when they were no longer on active rosters. The sport of football doesn't have a great reputation for LGBTQ inclusiveness so take a look at some of the stories of other gay players associated with football.
Michael Sam
Many people would be forgiven for thinking that Michael Sam was the first openly gay NFL player. While Sam was still in college, he announced on ESPN that he was gay. Michael Sam made headlines in 2014 when he gave his boyfriend a kiss after getting drafted to the Rams. Unfortunately, Michael Sam didn't make the cut and never got put on the official roster for the St. Louis Rams.
Brian Sims
Brian Sims didn't play professional football in the NFL. When he was still in college, Sims played football for Bloomsberg University. He was the co-captain of the football team and that made him the first openly gay college captain in the history of the NCAA. Sims also became the first openly gay politician elected to the Pennsylvania House of Representatives.
Related: 9 Facts About Gay PA Lawmaker Brian Sims
Ryan Russell
Ryan Russell's football career was a familiar one for many athletes. He was a high school and college star that was drafted to the Dallas Cowboys in 2015. He didn't shine so brightly in Dallas and wound up getting bounced to Tampa Bay and Buffalo. He was listed as a free agent in 2018.
Ryan Russell struggled with depression and began writing. In one of his essays in 2019, Russell came out as a bisexual man. Russell and his boyfriend have a popular YouTube channel and he regularly advocates for LGBTQ awareness in sports.
The @NFL is not changing; LGBTQ+ athletes are a part of every sport and always have been. The only thing changing is the amount of love, acceptance, and comfortability we feel every day just being ourselves and being supported by our teammates, coaches, and the game's fans.

— R.K. Russell (@RKRelentless) June 21, 2021
Kwame Harris
Kwame Harris was an offensive tackle for the San Francisco 49ers and played with the Oakland Raiders. He played six seasons in the NFL but hid his sexuality from nearly everyone. Harris comes from Jamaica, one of the most homophobic countries on the planet. Harris was always afraid of coming out.
In 2013, he was arrested for a domestic dispute with his gay lover and Kwame's secret came out. In an interview with ESPN, Harris said "No one was telling me not to come out, but the implicit rules are much stronger than the explicit ones — the shame implied by secrecy. I don't want other gay athletes to feel this way."
Ryan O'Callaghan
Ryan O'Callaghan was one of the big guys on the O Line for the Kansas City Chiefs and the New England Patriots. O'Callaghan played offensive tackle and retired in 2011. He waited until after retirement to come out as gay. Ryan struggled with his sexual orientation, fearing that he would need to commit suicide if people in the NFL found out that he was gay. He struggled with suicidal thoughts and an addiction to painkillers before seeking professional help.
READ NEXT: 8 Facts About NY Giants Quarterback Daniel Jones
There's still a long way to go to create a safe space for openly gay athletes to compete in the NFL. Carl Nassib's choice to come out is remarkable, and the support that he's receiving from the sport is even more remarkable. There are undoubtedly more members of the LGBTQ community within the NFL and this latest news will surely help them take a sigh of relief about accepting who and what they are without the fear of losing their career.