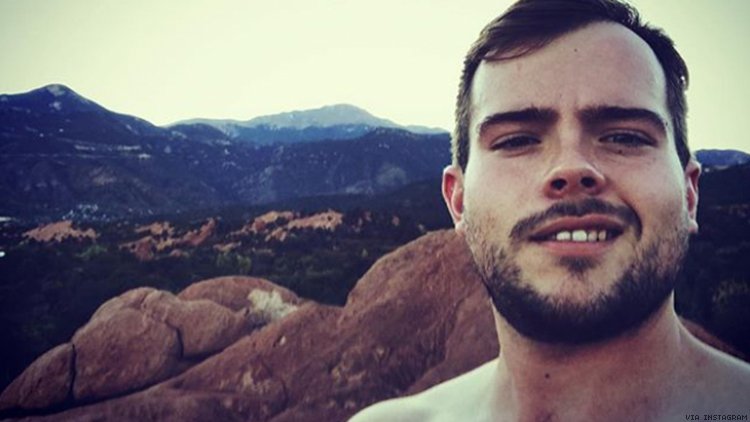 Losing Senate candidate posts video of Jones's son with LGBT publication
Nearly a week after accused child molester Roy Moore lost his bid for the Alabama Senate seat in a historical race, he has yet to concede to Douglas Jones, his Democratic rival. But he has taken time to attack Jones' gay son on social media.
Moore, who has a long history of making anti-LGBTQ comments, got very personal on Thursday for no apparent reason.
In the post, which now appears to be deleted, Moore shared an Advocate interview with Carson Jones, Doug Jones' gay son, reports The Daily Beast reports.
Journalist Tim Teeman adds that unless Moore has changed his views on the LGBTQ community (very unlikely) "there is only one reason that Moore linked to the interview on his page: to signal that Doug Jones has a gay son, and generate as much poison as he can from that from his supporters."
More: LGBTQ teen suicide numbers sobering
No caption was included in the post or other information — just a link. Several of Moore's supporters jammed the post with anti-gay comments.
As reported by New Now Next, some comments read: "Obviously Jone's [sic] was an absent father for his son to be a homosexual. If the election continues as is he won't be much of a Senator either."
Another Facebook poster reportedly wrote: "If god wanted us to be with men on men and women on women and black with white, he would have put us on Earth that way," wrote another. "Guess what, we are not that way. It was Adam and Eve not Adam and Steve."
But there is more.
"Do you know what baby killers, homosexuals, so-called social elites, the underclasses, old hipsters, felons, socialists college students, urban thugs and white trash have in common? They elected Doug Jones!" another person wrote, according to New Now Next.
It is important to state not all of the comments were ugly. The Daily Beast reports that one page visitor wrote:
"I supported you during the campaign. I defended you in discussions with friends and family. But I have to tell you, this is a cheap shot. It is unbecoming of a senatorial candidate to attack the family of your political opponent in my opinion. Just concede and go away. The Alabama GOP will just have to nominate a better candidate for 2020."
In The Advocate interview which ran December 15, Carson shared how proud he was of his dad:
"I am obviously thrilled with my dad's victory," he said. "We have been overwhelmed by the support of so many people that made this happen. Alabama made a really big statement that unity wins out. I couldn't be prouder of him or my home state!"
Moore has not just used his Facebook page to attack Jones's son. He's also posted other inflammatory material, such as a December 19 piece called: "How Muslims and Marxists delivered for Doug Jones" and before that an article about Alabama Secretary of State John Merrill investigating a concern over potential voter fraud in the special senate election.
Andrew Kaczynski with CNN highlighted Moore's recent Facebook activity via Twitter:
https://twitter.com/KFILE/status/943864121497473026
h/t: Edge Media