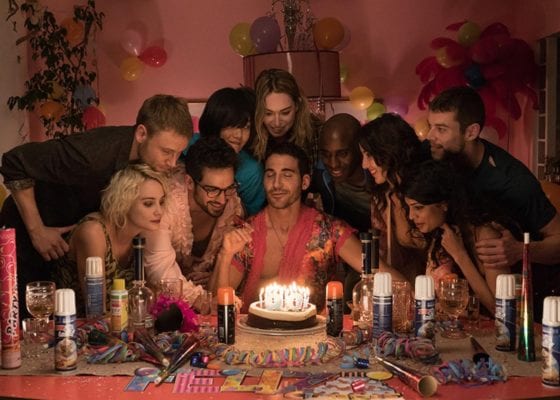 Sense8 To Return
Thank the Netflix execs, because Sense8 is back! But sadly, only for two hours.
That's right, the powers that be at Netflix have listened to the fans cries and have announced that cult-classic sci-fi show will return to have a proper goodbye with a two-hour finale special next year.
A Netflix spokesperson said: "We decided to give Sense8 fans the ending they totally deserve."
There are sensates within these walls, too. #WeAreTheGlobalCluster pic.twitter.com/uU3qfY9sM3

— Netflix (@netflix) June 29, 2017
If you don't know, Sense8 is a Netflix Original series. The show followed eight individuals around the globe who one day discovered that they formed a psychic link. Their new hive mind existence allowed them to talk to each other in their minds, experience the same sensations, and share skills such as language and fighting techniques.
And then, of course, there was a top-secret corporation out to kill them.
The show gained high praise in its first two seasons from fans and critics alike. But, due to the plot's slow start, the show couldn't pick up any more than just a cult-following.
In addition, Netflix later announced that the show ended up costing too much. We guessed this was the case after it was rumored to take about 9 million dollars out of Netflix's wallet for each episode of the second season.
But, fans were not happy about this cancellation. That's partly since the show was so LGBTQ-friendly. The show was created by two transwomen, starred a trans character/actress, and focused around two healthy gay couples.
Again, fans were not happy and took to petitioning, tweeting, and all around making a fuss. And with that noise came the cry that at the very least Netflix could have given us a finale episode to round the story out.
Well, it seems that Netflix heard us all and the show will go on, for two more hours at least. But as creator and showrunner Lana Wachoswski said in her official statement in response to the announcement, "After that…if this experience has taught me anything, you NEVER know."
Death doesn't let you say goodbye. 2 hour finale episode in the works. Tell your cluster. pic.twitter.com/GHZgGuHwS0

— Sense8 (@sense8) June 29, 2017