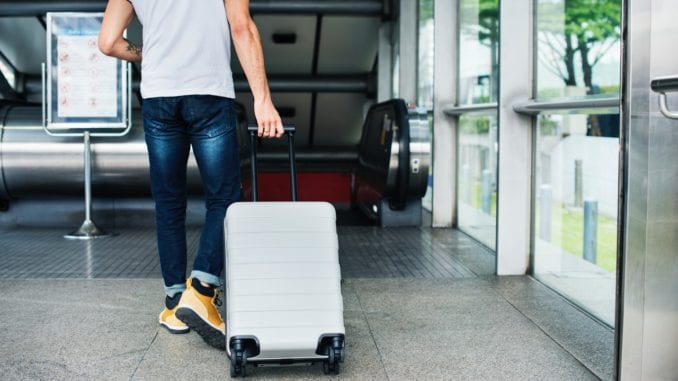 Do you have these travel apps?
Making travel plans has become pretty simple with a wide assortment of websites and apps that help you get the cheapest airfare and hotels or map out your cross-country road trip.
But once you are deep into your journey, make sure you take advantage of apps that can make your travel experience much less stressful and more enjoyable.
Here's 10 travel app recommendations – from our smartphones to yours.
1. LoungeBuddy
We've all had those long layovers and delays at the airport. But if you want the first class experience while you wait, LoungeBuddy is for you.
The app allows you to locate and access airport lounges for a nominal fee. LoungeBuddy lists lounge amenities as well as hours and special services so you can decide if it's worth the cost.
Once in the lounge, you can rest, relax, eat, have a drink or just get away for a while.
Lounges usually offer free high-speed Wi-Fi as well (unlike complimentary airport Internet which can be spotty and slow), making the cost of entering the lounge more worthwhile.
2. GasBuddy
If you are heading out on a road trip, you are probably already calculating how much gas is going to cost. But you can do something about it and save some money.
There are a number of fuel price apps out there, but probably the most informative and popular is GasBuddy.
The app will show you fuel prices near your location so you can save some serious money. Sometimes the difference in price between two gas stations can be substantial and checking the app will pay off.
Related: Big news if you run a Facebook page
The GasBuddy app has an active community that is constantly updating fuel price changes so information is up to date.
The app also offers fuel plans, savings programs and other perks to keep you on the road for less money.
3. Roadtrippers
For the road warrior, Roadtrippers is a constantly evolving app that shows the user points of interest along their route. It also has mapping services and highlights necessities like gas, food and lodging.
However, where it really succeeds is the ever-growing list of attractions, hotspots, scenic points of interest and parks. The app aims to show you things you might normally not have even known existed on your route.
As the app explains "You're always five minutes away from something awesome!"
4. WhatsApp
Many mobile phone carriers now allow you to text while travelling internationally as part of your plan or for a small monthly fee. You can often add one country or worldwide calling for a much larger cost.
But if your plan doesn't give you what you need or you just want to keep it simple and inexpensive, give WhatsApp a try. While the app has taken off around the world, it's just now gaining popularity in the United States.
WhatsApp allows you to make Internet based phone calls, send texts, messages, images and videos to your family and friends without any additional cost.
The only catch is that the people you contact must also have the app. Also if your data plan is throttled in a foreign country, you may need to find local Wi-Fi, but that shouldn't be difficult.
5. Google Translate
Travel is a great time to practice your foreign language skills, but if you still need help communicating in a foreign tongue, check out the Google Translation app.
The app translates in 103 languages and even has the ability to translate from images. So you can point it at a sign and it'll tell you what it says!
6. Lonely Planet Guides
The Lonely Planet Guide series has been a staple of travelers for four decades. Now you can have their knowledge digitally in the palm of your hand.
The Lonely Planet Guide App provides users with local guide listings, maps, sites, phrasebooks and more.
In addition to listings on hundreds of cities around the world, the app also has a currency converter and a "Near Me' function so you can explore the area you are in.
7. AirHelp
Has your flight been delayed, cancelled or overbooked? Did you know that you might be entitled to financial compensation?
The AirHelp app assists you in not only finding out if you are due money for your situation, but helps you file the proper paperwork and manages your claim.
AirHelp will even take care of processing your compensation request and send you the money!
8&9- Mobile Passport & MyTSA App
The Mobile Passport app is officially recognized by the U.S. government and allows you to move through customs in many airports with just your phone, keeping your actual passport safe and packed.
Make sure your airport is supported (as well as certain cruise ship ports of entry), but if it is, your experience will be much quicker and stress free.
Also consider the official MyTSA app to learn about security situations, wait times and other delays.
Described by some as Waze for security checkpoints, the app also offers information on the TSA Pre program (so you can breeze through security checks) as well as live support and security information.
10. Yelp!
Believe it or not, Yelp can act as a travel guide. If you are out and about in a new city and not sure where to eat, go for a drink or grab a [good] cup of coffee, Yelp can come in super handy.
Related: Why time slows down when flying!
If you are already using this app at home, why wouldn't you tap on during your trip? Not only will you learn more about the city you are visiting, you'll also show all your fellow Yelpers your worldly side!
Bringing It All Together
We live in an age where apps have become a part of daily life. When traveling, they can make your journey a lot easier – plus save you tons of grief.
Now that you are geared up, go have the journey of a lifetime!