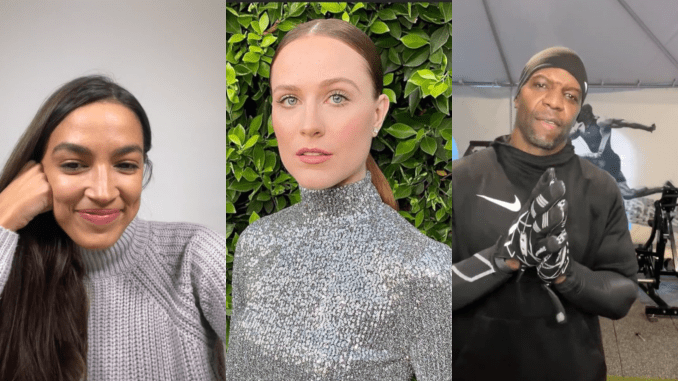 It's been a jarring past few days in the world of Hollywood and the #MeToo Movement. Two notable figures shared their past experiences of being sexual assault survivors. In the past few years, similar statements have become more and more prevalent. As women (and men) in the entertainment industry stand up and speak out against sexual assault, it's important that survivors in other parts of the world know their stories. That way, they'll feel less like they are alone.
It goes without saying, but this post may be triggering for those who have experienced sexual assault. But, this article is more about celebrating celebrities who spoke out against their past aggressors and experiences. Here are 16 celebrities who bravely joined the #MeToo movement.
1. Evan Rachel Wood
In recent years, Westworld star Evan Rachel Wood has talked about being the victim of sexual assault. As she once told Rolling Stone, "I've been raped by a significant other while we were together. And on a separate occasion, by the owner of a bar. … I don't believe we live in a time where people can stay silent any longer."
Then earlier this week, Evan Rachel Wood posted to Instagram identifying her formerly unnamed ex as Marilyn Manson.
"The name of my abuser is Brian Warner, also known to the world as Marilyn Manson," Wood wrote. "He started grooming me when I was a teenager and horrifically abused me for years. I was brainwashed and manipulated into submission. I am done living in fear of retaliation, slander, or blackmail. I am here to expose this dangerous man and call out the many industries that have enabled him, before he ruins any more lives. I stand with the many victims who will no longer be silent."
I really wrestled w telling my story, & had decided about a week ago that it probably wasn't worth it.

Then I had dinner with Sen. @Biaggi4NY. I told her everything because I knew she was a survivor. She helped me see the importance of sharing my story of the Capitol and trauma.

— Alexandria Ocasio-Cortez (@AOC) February 3, 2021
2. AOC
In response to the insurrection attempts by MAGA supports in early January, Rep. Alexandria Ocasio-Cortez hosted an Instagram live stream on Monday, February 1. Initially, AOC spoke about the scary moment. She then related the attack to her past experience of being a survivor of sexual assault.
"I'm a survivor of sexual assault," she announced. "And I haven't told many people that in my life. But when we go through trauma, trauma compounds on each other."
She then added, "This past week, Ted Cruz and now Reps Chip Roy and some of the other representatives who actually encouraged people to attack other members of Congress or tweeted out the location of the Speaker are now telling me to apologize for saying and speaking truth to what happened. These are the tactics of abusers, or rather, these are the tactics that abusers use. So when I see this happen, how I feel and how I felt, was not again. I'm not gonna let this happen again. I'm not gonna let it happen to me again, I'm not gonna let it happen to the other people who have been victimized again, and I'm not gonna let it happen to this country."
3. Alyssa Milano
But who is credited for starting the #MeToo movement? That would be Alyssa Milano. In 2017, Alyssa Milano tweeted that she was sexually assaulted as a teen. Milano later wrote about her story in Vox.
"It took me years after my assault to voice the experience to my closest friends. It took me three decades to tell my parents that the assault had even happened. I never filed a police report. I never told officials. I never tried to find justice for my pain because justice was never an option," she wrote. "For me, speaking up meant reliving one of the worst moments of my life. It meant recognizing my attacker's existence when I wanted nothing more than to forget that he was allowed to walk on this earth at all. This is what every survivor goes through. Telling our stories means being vulnerable to public attacks and ridicule when our only 'crime' was to be assaulted in the first place."
Related: 24 Celebrities Who Came Out In 2020
4. Terry Crews
Former NFL player and Brooklyn Nine-Nine actor Terry Crews tweeted in 2017 that a Hollywood executive groped him at a party in front of his wife.
"This whole thing with Harvey Weinstein is giving me PTSD. Why? Because this kind of thing happened to ME," Terry Crews wrote.
Crews then filed a sexual assault lawsuit against WME agent Adam Venit, who stepped down from his position in September 2020.
5. Kesha
In 2014, singer Kesha sued producer Dr, Luke for drugging and raping her while she worked for him.
"So. I got offered my freedom IF i were to lie," she wrote in an April 2016 Instagram post. "I would have to APOLOGIZE publicly and say that I never got raped. THIS IS WHAT HAPPENS behind closed doors. I will not take back the TRUTH. I would rather let the truth ruin my career than lie for a monster ever again."
6. Gabrielle Union-Wade
Actress Gabrielle Union wrote in an essay for the Los Angeles Times that she was raped at gunpoint when she worked at a payless store 26 years ago. Then on her We're Going To Need More Wine tour, she was met with many fans who had similar experiences.
"I didn't realize how big the need was for so many people to just get it out, to have someone look them in the eye and say, 'I believe you.' I cried a lot. I Skyped a lot with my life coach, because the horrors that I was taking in triggered my PTSD," she told Redbook.
Related: 18 Male Celebs On OnlyFans
7. Anthony Rapp
In 2017, Stark Trek: Discovery star Anthony Rapp accused House of Cards actor Kevin Spacey of sexually assaulting him at 14-years-old. This led to several other allegations and court cases springing up around the defamed actor. Rapp then sued Spacey for sexual assault in 2020. But as he told The Talk after first accusing Spacey, he spoke up to support other survivors of sexual assault.
"I couldn't really talk about this aspect of it in the story itself, because I could only tell my story, but I knew that there were more stories," said Rapp. "So I was just hopeful that coming forward, it would encourage other people to tell the truth."
"I knew that it was a risky thing," Rapp added. "I knew that he was very popular, and certainly a respected actor, but at the same time, I knew that I was trying to protect people. And I was incredibly gratified by the enormous wave of support."
8. Lady Gaga
Singer Lady Gaga included lyrics about surviving rape at the age of 19 in her song "Til It Happens To You."
"You tell me it gets better, it gets better in time/ You say I'll pull myself together, pull it together, you'll be fine/ Tell me, what the hell do you know? What do you know?" she sings.
Then at the Oscars in 2016, she performed the song on stage and was accompanied by a crowd of fellow survivors. Lady Gaga later got matching tattoos with that group.
9. Brendan Fraser
Actor Brendan Fraser shared in a 2018 GQ story that the reason his career faltered after a promising time in the 1990s is that he was blacklisted in Hollywood. He says the reason for that was being sexually assaulted by Philip Berk, the former president of the Hollywood Foreign Press Association. When Fraser refused to let it happen again, he was blacklisted.
"I felt ill. I felt like a little kid," he explained, he later talked about his fear of going public about the assault. I felt like there was a ball in my throat. I thought I was going to cry, I didn't want to contend with how that made me feel, or it becoming part of my narrative."
10. Viola Davis
Academy Award–winning actress Viola Davis has also opened up about past sexual assault. As she told the Rape Foundation, an organization that supports survivors of rape and sexual assault, "Myself, my mother, my sisters, my friend Rebecca, my friend from childhood, we all have one thing in common: We are all survivors of sexual assault in some way, shape, or form."
11. Tyler Perry
Actor, comedian, and producer Tyler Perry also opened up about surviving sexual assault. As he told Oprah, he was assaulted by a member of his church, a nurse at a hospital, and the mother of his friend. Perry has since tried to raise awareness and lower the stigma around talking about male survivors of sexual assault.
12. Jane Fonda
Grace and Frankie star Jane Fond revealed in an interview with The EDIT that she is also a survivor, "I've been sexually abused as a child and I've been fired because I wouldn't sleep with my boss. I always thought it was my fault, that I didn't do or say the right thing."
In 2001, Fonda founded the Jane Fonda Center for Adolescent Reproductive Health. Fonda said she wants to help abuse victims "realize that [rape and abuse is] not our fault. We were violated and it's not right."
13. James Van Der Beek
Actor James Van Der Beek shared during the height of the Harvey Weinstein scandal that he's the victim of sexual assault as well. He said so in order to show solidarity to other survivors.
"What Weinstein is being accused of is criminal. What he's admitted to is unacceptable — in any industry. I applaud everybody speaking out," Van Der Beek wrote in a series of tweets in October 2017. "I've had my ass grabbed by older, powerful men, I've had them corner me in inappropriate sexual conversations when I was much younger. I understand the unwarranted shame, powerlessness and inability to blow the whistle. There's a power dynamic that feels impossible to overcome."
14. Taylor Swift
Musician Taylor Swift accused David Mueller of groping her backstage at a concert in 2013. Mueller, who was later fired from his job as a radio DJ, sued Swift. Swift then countersued Mueller.
"I'm not going to allow you or your client to make me feel in any way that this is my fault, because it isn't," Swift said in court in August 2017.
15. Margaret Cho
Comedian and actress Margaret Cho revealed in September 2015 that she was assaulted multiple times by a family friend when she was between the ages of 5 to 12.
"I had a very long-term relationship with this abuser, which is a horrible thing to say. I didn't even understand it was abuse, because I was too young to know," she said in an interview with Billboard magazine. "I endured it so many times, especially because I was alone a lot."
Unfortunately, that wasn't the only situation for Cho. She shared that another assault happened when she was 14 years old.
"I was raped continuously through my teenage years, and I didn't know how to stop it," she added. "It was also an era where young girls were being sexualized. For me, I think I had been sexually abused so much in my life that it was hard for me to let go of anger, forgive or understand what happened."
Cho says she now uses music and comedy as a way to heal.
16. Jep Robertson
Lastly, Duck Dynasty star Jep Robertson revealed in his book The Good, the Bad and the Grace of God: What Honesty and Pain Taught Us About Faith, Family and Forgiveness that he was abused by an older girl on a school bus when he was 6 years old.
"I didn't want to go to school. I had a lot of absences," Robertson told ET in June 2015. "My mom always thought I was sick and there was definitely other reasons I didn't want to go to school. I think for a while I just tried to bury it so deep that I kind of forgot about it for a while."
You Are Not Alone
If nothing else, we hope this list of testimonies and stories lets any survivors out there know that you are not alone. The #MeToo movement has helped to encourage survivors to speak out against their assaulters and others to finally listen to them without victim-blaming. All of these celebrities sharing their stories helps to create space and visibility for others. Hopefully, this will start to bring about change. Until then… at the very least… know that you are not alone.