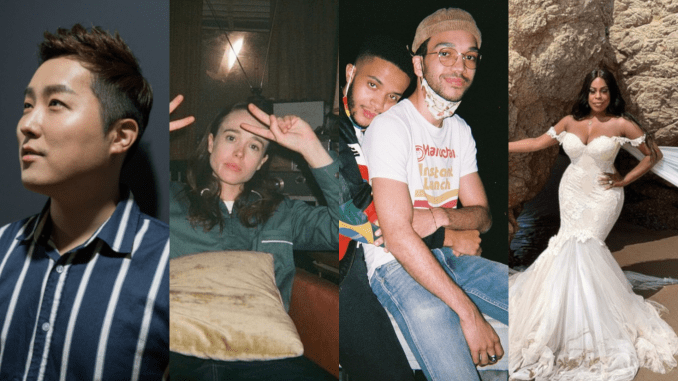 Who Came Out In 2020
We're nearing the end of 2020, and what a chaotic year it has been. But, there has been some good to come with it. In terms of LGBTQ people, there have been more and more celebrities coming out in recent years. In 2020 alone, there have been several celebrities who came out as LGBTQ. Each one is creating more visibility for LGBTQ life and rights. Here's a list to fill you in.
https://www.instagram.com/p/CG-CgERhs63/
1. Elliot Page
The actor, who was Oscar-nominated for their role in Juno, recently came out as transgender. He shared that they use he/they pronouns and is happy to tell the world of this fact.
"Hi friends, I want to share with you that I am trans, my pronouns are he/they and my name is Elliot," he wrote. "I feel lucky to be writing this. To be here. To have arrived at this place in my life."
Page also noted that they are fairly privileged to enjoy this joyous moment of coming out and acknowledged that many trans people are faced with violence.
"I love that I am trans," he wrote. "And I love that I am queer. And the more I hold myself close and fully embrace who I am, the more I dream, the more my heart grows and the more I thrive. To all trans people who deal with harassment, self-loathing, abuse, and the threat of violence every day: I see you, I love you and I will do everything I can to change this world for the better."
https://www.instagram.com/p/B9eHZs7HQ0-/
2. Curdin Orlik
Swiss wrestler Curdin Orlik came out in March and became Switzerland's first out gay male professional athlete.
"For far too long I have pushed out who I really am," he said in a coming-out interview with The Magazine. "I always knew that I was gay, for sure since I was 12. But I thought: this is wrong, it cannot be. I heard things on the school building square [like] 'you gay pig,' 'you faggot.' Or in soccer, 'such a gay pass!' Even when [wrestling]. Sure nobody really meant that, but if you're like that yourself, you think, 'Shit, that's not a good thing.'"
He added:
"I thought: I don't want to be gay. But it's me. Now it's out."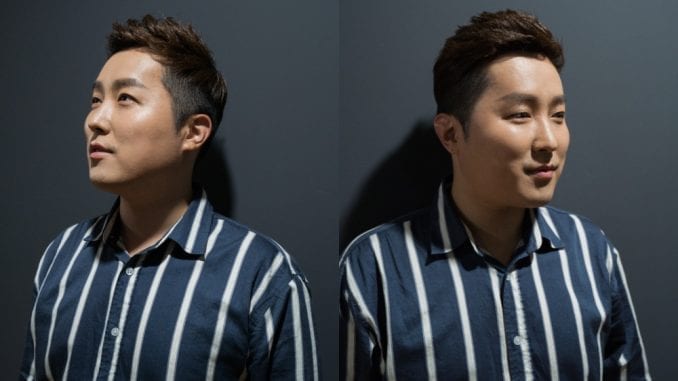 3. Kwon Do-woon
The South Korean "trot" singer, a sort of traditional music known in the area, came out to create visibility in the country.
"I wanted to speak up as a representative voice of sexual minorities and wanted to open up the prospect of coming out more widely in the entertainment industry," Kwon Do-woon wrote in his statement. "I hope to continue representing the LGBTQ community in my role."
https://www.instagram.com/p/CHF1h_0HWrF/
4. Carole Baskin
Big cat rights activist Carole Baskin became famous earlier this year for appearing on the Netflix documentary Tiger King. Then in October, Baskin revealed that she is bisexual while talking to Pink News.
"I have always considered myself to be bisexual, even though I've never had a wife. I could just as easily have a wife as a husband, as far as the way I feel about us," Baskin told Pink News. "I just don't see us as being different genders or different colors or different anything."
https://www.instagram.com/p/CDrqHXpHryo/
5-6. Justice Smith and Nicholas Ashe
Jurassic World and Detective Pikachu star Justice Smith not only came out this summer, but he also revealed his relationship with another actor. Smith posted a picture to Instagram showing a Black Lives Matter protest. He then shared a picture of himself and Broadway actor Nicholas Ashe.
"As a Black queer man myself, I was disappointed to see certain people eager to say Black Lives Matter, but hold their tongue when Trans/Queer was added," Smith wrote in the post from June. "I want to reiterate this sentiment. If your revolution does not include Black Queer voices, it is anti-Black."
Related: Should Straight Actors Stop Playing Gay Roles?
https://www.instagram.com/p/BzCCRSJj4D0/
7. Aaron Schock
Former congressman Aaron Schock, who pushed for anti-gay policies, publically came out as gay in March.
"I am gay. For those who know me and for many who only know of me, this will come as no surprise," Schock said in an Instagram post. "For the past year, I have been working through a list of people who I felt should finally hear the news directly from me before I made a public statement. I wanted my mother, my father, my sisters, my brother, and my closest friends to hear it from me first."
https://www.instagram.com/p/CEZak3AHwjG
8. Sara Ramirez
Former Grey's Anatomy star Sara Ramirez has already come out as bisexual, but in August the actor came out as bisexual.
"In me is the capacity to be Girlish boy, Boyish girl, Boyish boy, Girlish girl, All, Neither," they wrote.
https://www.instagram.com/p/CGdotcAAG5b/
9. Auli'I Cravalho
Cravalho, who voiced the Disney princess Moana, posted a video of herself on TikTok lip-syncing to Eminem's Those Kinda Nights." The actress then said, "Seriously though, jokes aside, how you doin? You straight?/ She said, 'No, I'm bi.'"
Laster, a Twitter user asked, "Do you like girls," and Cravalho wrote, "If I may escort you to my TikTok."
https://www.instagram.com/tv/CBiNdEEo1pz/?utm_source=ig_embed
10. Pablo Alborán
Grammy-nominated Spanish singer Pablo Alborán publicly came out through an Instagram video.
"We need to reconsider our lives, careers, what does and doesn't make us happy," he says in the beginning of his Instagram video, reflecting on the solemn state of the world and current affairs. "I think that we often forget about the love that unites us and makes us stronger."
He then added, "Today, I want my voice to be louder and for it to have more value and weight. I'm here to tell you that I am homosexual and it's okay. Life goes on, everything will remain the same, but I'm going to be a little happier than I already am."
https://www.instagram.com/p/CEkLbNOpNNs/
11. Niecy Nash
Actress Niecy Nash surprised the world with pictures of her wedding with musician Jessica Betts a few months after divorcing her ex-husband, Jay Tucker. That said, she says her wedding was not a coming out.
"I don't feel like my marriage is my coming out of anywhere, but rather a going into myself and being honest about who I love," the "Claws" actress told People. "And I'm not limiting myself on what that love is supposed to look like."
https://www.instagram.com/tv/B8hnrZXJGhy/?utm_source=ig_embed
12. Rick Cosnett
The Flash actor Rick Cosnett came out as gay in February through an Instagram video.
"Hi everyone," he said. "Dramatic pause. I'm gay. And I just wanted everyone to know because I've made a promise to myself to live my truth everyday."
https://www.instagram.com/p/CGN07IThb9i/?utm_source=ig_web_copy_link
13. Markus Thormeyer
Olympic swimmer Markus Thormeyer came out through an essay with OutSports in February.
"Coming out to the team taught me to be comfortable in my own skin regardless of being different or gay," he wrote. "It gave me the confidence in the pool, which eventually spread to every other part of my life."
https://www.instagram.com/p/CFVKHo2j7pE/?utm_source=ig_embed
14. Tyler Posey
The Teen Wolf star came out as bisexual in order to support transgender people.
"I woke up one morning and I saw all this stuff on Instagram about these transsexual women who were being beaten and harassed, and there were a bunch of people that were filming the whole entire interaction and laughing at them," he explained.
"Originally I was just shedding light on that, through whatever way that I could," he continued. "And, then I was hit with wanting just to come out myself with that whole thing and be honest about it."
Related: Tyler Posey + 12 Other Celebs Who Came Out As Bisexual
https://www.instagram.com/tv/B_NYVOQjZcv/?utm_source=ig_embed
15. August Richards
Angel and Agents of S.H.I.E.L.D. actor J. August Richards actor came out through an Instagram interview.
"I knew how important it is to other people out there like me who would need to see that role model," Richards said about his gay dad role in the TV series Council of Dads.
https://www.instagram.com/p/CIQqF4fnhmJ/
16. Jill Perkins
Snowboarder Jill Perkins came out as queer through an interview with Torment in June.
"I feel like I just recently started to accept myself and my feelings. I wasn't necessarily fighting them; I just never fully embraced them. That being said, it took time for sure. But that's important. Nobody should feel forced into situations or feel like they need to express themselves in ways they aren't ready to."
17. Chad Unger
"It's a good day to be gay," said deaf snowboarder Chad Unger said, through sign language, in a video with Torment.
"I hope our stories will help others to come out and be free sooner. I also want to recognize that there are BIPOC out there who need us more than ever. Despite being deaf and gay, I've lived an incredibly privileged life. So, I ask you to come and fight for their rights like how they fought with us for ours."
https://www.instagram.com/p/CBWEVtXADyq/
18. Chyler Leigh
Supergirl and Grey's Anatomy actress Chyler Leigh has been playing a queer character on tv for a few years now. But Leigh only just recently came out as a lesbian.
"When I was told that my character was to come out in season two, a flurry of thoughts and emotions flew through and around me because of the responsibility I personally felt to authentically represent Alex's journey," Leigh wrote in a post on Create Change. "What I didn't realize was how the scene where she finally confessed her truth would leap off the pages of the script and genuinely become a variation of my own."
She then added, "From the director, the press, the media, the cast, and the fans, I'm still told that it was the most realistic coming out scene they'd ever witnessed. And to steal from Alex's words, that's because there's some truth to what she said about me."
https://www.instagram.com/p/CIWtsxKpVU7/
19. Rebecca Black
Rebecca Black, who became internet famous (and somewhat infamous) for the 2011 music video "Friday," has rebranded herself as a social media star with several new songs. Black then appeared on the podcast "Dating Straight" and revealed that she identifies as queer.
"To me, the word 'queer' feels really nice," she told the hosts. "I've dated a lot of different types of people, and I just don't really know what the future holds. Some days I feel little more on the gay side than others."
https://www.instagram.com/p/CFiLirFsbHd/
20. Avery Wilson
The Voice alum Avery Wilson came out as bisexual through a now-deleted Instagram post.
"Today, all questions and speculations of the past, now have a present definitive answer! To finally answer the question…yes, I'm a bisexual man who's in love with LOVE. I am who I am and I love who I love. Always have and always will."
https://www.instagram.com/p/CB-bfqZAX6y/?utm_source=ig_embed
21. Pearl Mackie
The former Doctor Who star came out as Bisexual on Instagram.
"Proud to be bisexual. Proud to be Black. Proud of all my LGBTQ+ brothers and sisters and everyone in between," Mackie wrote. "We matter. You matter. Big love and nuff respect. Happy Pride everyone!"
Related: Need Data To Fight Bi Erasure? This New Study Wants To Help
https://www.instagram.com/p/BvAiSuknjTr/
22. DJ Qualls
Comedic actor DJ Qualls also shared on Twitter this year that he's gay.
"It is 11:20 p.m.," he wrote in a Tweet. "I just came out on stage at a @jimjefferies show in San Diego. Yep, I'm gay. Been gay this whole time. Tired of worrying about what people would think of me. Tired of worrying about what it would do to my career."
https://www.instagram.com/p/CHI1Jn7J3a4/
23. Rosario Dawson
The Mandalorian actress talked to Bustle last year about a video from 2018 where she called out 'fellow LGBTQ+ homies." Dawson, who is dating Senator Cory Booker, chose not to label herself. Though, she did acknowledge that she is LGBTQ.
"People kept saying that I [came out] … I didn't do that," she told Bustle. "I mean, it's not inaccurate, but I never did come out come out. I mean, I guess I am now.
https://www.instagram.com/p/B0CJyjrDZ_6/?utm_source=ig_embed
24. Sebastián Vega
Vega became Argentina's first openly gay professional basketball player in March.
"When I started to feel attracted to a man, I had a very bad time," he said. "I felt shame, guilt, a lot of rejection, but at the same time the desire to be with someone."
He later added, "The most beautiful thing of all is that nothing has changed — on the contrary, it has changed for the better. If I had [come out] five or six years ago, I don't know if society would have been ready. People are becoming more aware."
LGBTQ Celebs in 2020
This list only includes some of the many celebrities who came out as LGBTQ in 2020. Was there anyone we forgot? Let us know down in the comments below.