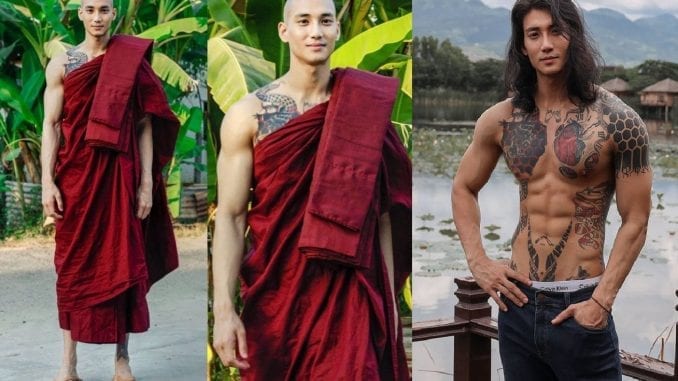 Burmese model, actor, and singer Paing Takhon is trending online. And with it being such an opportune time, why shouldn't we talk about him on Men's Variety? In the past decade, Paing has risen within the country of Myanmar and is also getting a lot of attention internationally. But is the man just a pretty face, or does he have the heart of a Buddhist monk and the mind of a businessman? Just who is Paing Takhom? Why is he going viral online, what are some of his professions and interests, and what are some basic facts about him? Here's your intro fact list to get you started.
Pop File: Paing Takhon
Birth Name – Sit Ko Paing
Birthday – September 17, 1996
Birth Place: Kawthoung, Myanmar (Burma)
Height: 6 ft (1.83 m)
Zodiac: Virgo
1. He Has Several Siblings
The first interesting fact about Paing Takhon is that he comes from a BIG family. In fact, he was born into a family with 5 siblings! The son of Tun Moe and Khin Kyu is the fourth child of the family. Takhon has an older brother, two older sisters, and two younger brothers.
2. Was A Monk For 10 Days
But why was Paing Takhon trending earlier this month? Because the model and actor decided to live like a monk for ten days. On Instagram, Takhon posted pictures of himself dressed as a monk. Those pictures then went viral and went all over the internet. The pictures became so viral that many didn't know the origin of the photos. Soon, a "hot monk" started trending online. It was later that social media users and news sites/blogs reminded the world that the man in the images was 24-year-old Paing Takhon.
"Spent my New Year 2021 by being a monk for 10 days and I felt so peaceful and knew myself more," Takhon, who is Buddhist himself, wrote to caption the post.
3. Started Out As A Model
Paing Takhon's journey to becoming an internet sensation started in 2014 when he began his modeling career. Initially, Takhon joined Jon Lwin's model training. He then took up a professional career as a runway model as a part of John Lwin's Star & Model International Modeling Agency. Takhon then added TV commercials and DVD commercials (yeah, those were still a thing back then). That then transitioned to additional music video appearances and magazine cover shoots. He's also become an ambassador for several brands and organizations like the Myanmar Tourism Marketing Association. Before he knew it, Takhon has become a big name in the country's fashion scene.
4. Is Now An Actor
Paing Takhon's rising star didn't just stop at modeling, however, as he eventually found his way into acting. In 2017, Takhon got his first acting gig. He debuted as an actor in the leading role, no less. The role was a film called Midnight Traveler. He then went on to act in other projects like Bad Boys 2: Angel of Bad Boys, the horror film Thaman Kyar (Weretiger), the documentary drama series Kha Yee Thwar Kauk Kyaung (Traveler's Notes), and more.
Then in 2019, he was named one of Myanmar's "Top 10 Actors" by The Myanmar Times.
5. He Donated His Music Proceeds
But that's still not the end of Paing Takhon's career goals and accomplishments. The model and actor also tried his hand at singing. In 2017, while he was beginning his acting work, Takhon released a debut music album called Chit Thu (Lover). And if that wasn't enough, Takhon ended up donating all of the proceeds from the album to charity. Specifically, he donated all of the money from the album's sales to orphaned children at the Ananda Metta orphan school.
6. He's A Businessman
Just as we explained with Ryan Reynolds, it's always a good idea for actors to diversify their income. Really, it's always a good idea for anyone but it's VERY important for people in the entertainment business. After all, you can never tell if your current job will be your last job.
Having learned that lesson, Paing Takhon has diversified his income (as you can see above). The model, actor, and singer has now also started to dabble with business. Specifically, Takhon has become a partner with United Amara Bank. We're sure that will help bolster his resume and bank account.
7. He's A Cat Dad
But let's learn a little more about Paing Takhon's personality, shall we? One big factor that he loves to share is the fact that he loves cats. And we mean, LOVES THEM! Takhon even calls himself a kitties' dad. In truth, he is the happy father of 9 cats! That's right, 9! Perhaps he gets his love of multiple children from his parents.
8. He Loves Tattoos
There's no hiding the fact that Takhon is a big fan of tattoos. Not only does he not hide it and post several pictures of himself shirtless, but it's hard to hide the plethora of tattoos all over his body. From on his chest, stomach, arm, back, and more, he is COVERED in tattoos. In fact, Paing Takhon has more than 100 tattoos all over his body. Many of them have an animal design, which just shows more of the man's love of animals.
9. He's Studying Psychology
Lastly, the Burmese talent loves education and learning new things. He initially graduated high school from Basic Education High School No. 1 Khamaukgyi. But now, in the midst of all the other work he's doing, Takhon is studying psychology at the University of Distance Education, Yangon. You've gotta respect a guy who's practical on top of all his other talents.