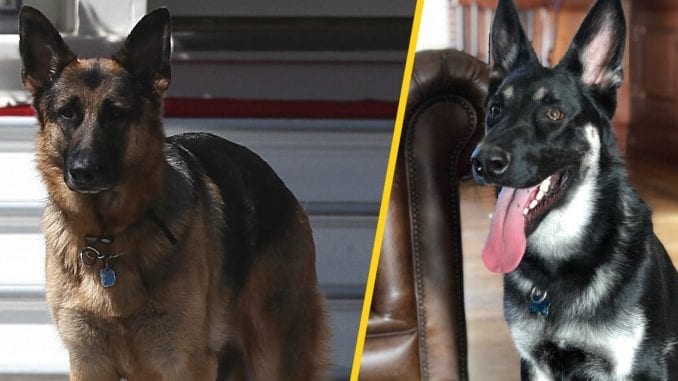 Check Out The First Dogs
The White House will have a new K-9 resident. In 2018, Joe and Jill Biden adopted their second dog, Major, from a shelter in Delaware. As a result of the 2020 presidential election, Major will be the first shelter dog to reside in the White House.
The Bidens fostered the German Shephard when he was just a puppy and later adopted him. Major was part of a litter that was exposed to deadly toxins and came to the Delaware Humane Association with little hope of survival or adoption.
Kerry Bruni, the DHA director of animal care, was elated that the former vice president and now president elect was interested in adopting a shelter dog. In an interview with News Journal, Bruni noted "The fact that the former vice president wanted to come into our agency and adopt was really special. I am glad he wanted to be a part of rescuing a dog."
President Trump didn't have a dog. He was the first president in 120 years NOT to have a dog. That was something that Joe Biden playfully pointed out while campaigning. Joe Biden tweeted about this while he was on the campaign trail.
Let's put dogs back in the White House. pic.twitter.com/7pBihksfXT

— Joe Biden (@JoeBiden) November 1, 2020
Major will technically be the first shelter dog to sprawl his paws on the White House lawn, but he won't be the first rescued dog. Back in 1966, Lyndon B. Johnson's daughter found a stray dog at a Texas gas station on Thanksgiving Day. President Johnson brought the dog into the White House after that.
Presidential pets are a mainstay of the position. Having a pet makes the President more relatable. Afterall, Americans love their pets.
President Elect Joe Biden isn't the only celebrity who chose to adopt a rescued dog. For the rich and famous, a shelter dog is becoming somewhat of a status symbol.
Other Celebrities with Shelter Dogs
Jon Bernthal of The Walking Dead fame has a rescued pit bull.
Zac Efron saved this puppy from euthanasia and has become an advocate for pet adoption ever since.
Adam Levine loves his shelter dogs and shows them off on social media.
Related: Watch This Adorable Video of Chris Evans Doing Push-ups With His Dog
Why You Should Consider Adopting a Shelter Dog
According to the American Society for the Prevention of Animal Cruelty (ASPCA), more than 3 million dogs enter animal rescue shelters every single year. Only 1.6 million are fortunate enough to find new owners.
Most people obtain new dogs from a breeder, but the number of shelter dogs becoming new pets is on the rise. One of the main factors influencing this rise is the high upfront costs associated with buying a puppy from a breeder.
Related: Why Are Dogs Really Man's Best Friend?
You know the old saying – "A dog is a man's best friend."
Well, this isn't some new hashtag sort of thing. Dogs have lived alongside humans for thousands of years as companions. They've helped us hunt and guard our property, but they can also stave off depression, anxiety, PTSD and loneliness.
Related: UK Man Makes Dog Walking Group to Help Men Talk Feelings
Having a dog by your side can seriously improve your health. Dogs make fantastic exercise partners because they add routine to your life. You need to walk them regularly but ask any dog owner and it's really the other way around. Dogs walk us, too.
According to the findings from the Kardiozive Brno 2030 study, people who own dogs have better diet and blood sugar at ideal levels. In 2019, the American Heart Association published reports indicating that owning a dog extended the life of heart attack and stroke survivors.
This is an especially troubling time that we live in when social isolation has become the new norm. Adopting a shelter dog can add some excitement and fresh energy to an otherwise mundane life. As we teeter from lockdown to lockdown, you might draw comfort from the furry face of your new best friend.
Where to Find Information about Owning a Shelter Dog
A dog can reinvigorate your life but owning one shouldn't be an easy decision. You need to carefully consider your options. Decide if you're financially able to provide for a dog before you make plans to own one.
Do you have the time and energy to take on a new responsibility? Dogs don't like to be left alone. Consider the emotional plight of a dog that has already been bounced around and wound up in a shelter. It's important to give that dog all the support and love that it needs. You'll get a tenfold return, for sure.
If you're looking for more information about sheltering or adopting a dog, then check with your local humane association. Some of them have social media accounts that post notices of new dogs that are available for adoption.
It's amazing news to learn that Major will be the first shelter dog in the White House. President Elect Joe Biden has already set a fantastic example for the nation, and shown the country how fulfilling a relationship with a shelter dog can be.
So, if you feel that these times are too heavy to bear alone, consider a furry friend to help weather the tough times. Before you contact a breeder and spend hundreds of dollars on a new puppy, take a visit to your local humane society and consider adopting a shelter dog instead.