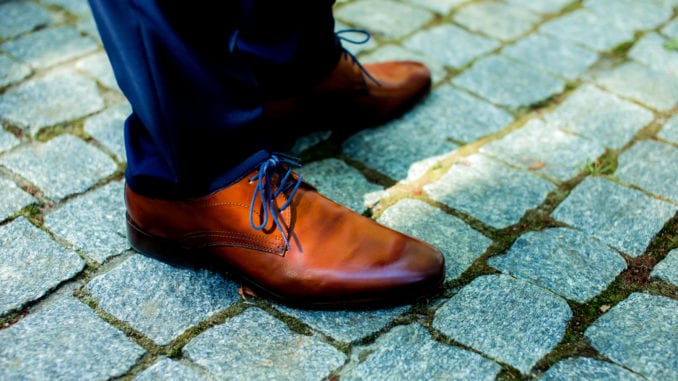 Yes, you can wear a pair of brown shoes with a black suit
In terms of fashion faux pas, wearing brown shoes with a black suit is generally frowned upon. If worn incorrectly, people might think you lack good taste or simply can't afford a matching ensemble.
Yet when done correctly – this contrasting color coordination can be genius.
Hollywood stars and A-list celebrities get away with it. So, why can't you?
Well, you might not have a stylist in your contact list and getting the look just right depends on a few variables. First, you should consider the occasion, the type of suit and shoes you have in your wardrobe, and your willingness to think outside the box on style.
Without fail, you should choose clothes that you feel comfortable wearing.
Remember – man makes the suit; the suit doesn't make the man.
For years, I didn't have the courage to wear brown shoes with black pants. I just thought it looked odd. That's because the only people that I had ever seen wearing brown shoes with black suits or pants were wearing it all wrong.
Brown Shoes and Dark Pants Work
Brown shoes and a black suit – when I finally saw a man wearing this style correctly, I knew that I had to find a way to recreate this look for myself.
It took me a while to get it right, but now I can hang. This article is designed to save you the agony and help you get it right the first time.
If you don't have a great deal of variety in your wardrobe, then this style might be a bit too ambitious. Believe it or not, it matters what type of shoe and what shade of brown you wear.
If you're in doubt, then you should just stick with black on black because it's easier to pull off.
Now, if you're willing to obtain style glory by slapping on a pair of brown shoes for your next formal engagement or first date, then allow Men's Variety to give you the right tools for the job.
There are some dos and don'ts that you should consider, and we've got them all listed here.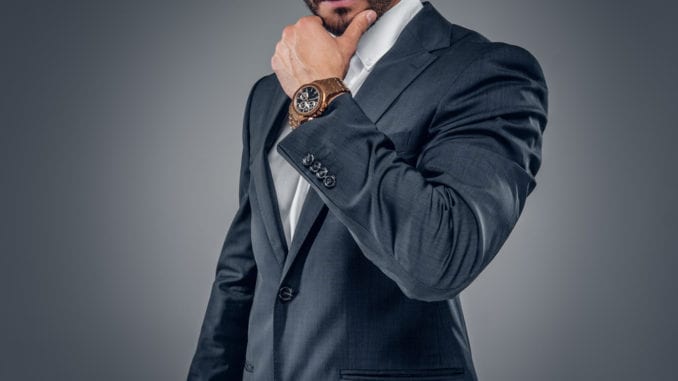 Accessories Pull It Together
When you're wearing black jeans, black trousers or a black suit, you can wear brown shoes if your belt is also brown. If you're wearing brown boots, then choose a more rugged Western-style belt with a large buckle.
Flannel shirts, dark denim and brown boots pair well together, and a wide belt ties the knot. Don't wear a black belt with brown boots.
If you're wearing black slacks or a black suit, then your belt should be slim and unassuming. Look for a leather belt that closely matches the color of your shoes. Avoid light brown shoes and look for a pair of oxfords or loafers that have a deep, dark tone instead.
You can also look to your tie rack for help in complementing your footwear. You don't need to go overboard by wearing an all-brown tie. Subtlety will serve you better in this regard.
A dark tie with bright accents like a yellow pinstripe or a single brown note in the center can really be effective.
Other accessories that can complement your black suit/brown shoe ensemble are scarves, hats, socks and watches. Don't overdo it and throw on every brown piece you can find in your closet though.
A 1 for 1 ratio is easy on the eyes, so if you have a slammin' chestnut colored scarf, then you don't need to double down with a matching tie and pair of cufflinks.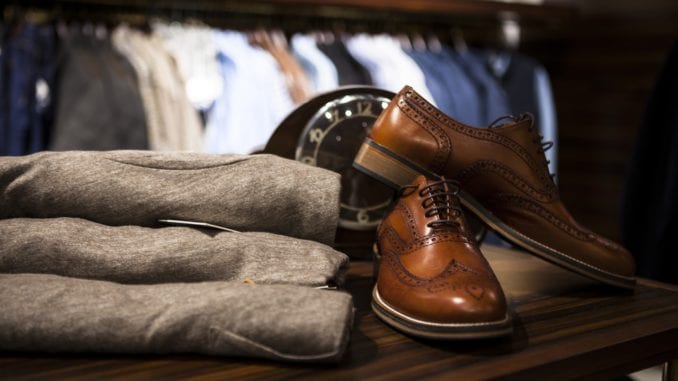 Brown Casual Shoes
One of the easiest brown shoes to wear for casual outings are boat shoes, or deck shoes. They look great with fitted black trousers during the warmer months of the year.
You can wear just about any color shirt you want with them, and the laidback vibe really takes the pressure off getting everything just right. Just remember to leave the socks behind and go for a slim, brown belt that closely matches the color of your shoes.
This look is perfect for casual dates or going out on the town with a mind to turn some heads along the way.
Brown half-boots or high-tops from Timberland and Clarks (See Amazon) really set-off a casual look, especially during the colder seasons. You can wear them with black jeans or chinos but try not to let them bunch up at the ankle.
This creates a fixation point for the eye that detracts from both the pants and the shoes. You can wear just about any color top you like, but light colors work best.
Brown Dress Shoes
For a powerful, business-minded outing, take a dark pair of oxfords off the shelf. Some brown shoes are so dark that they're almost black.
They have a multi-toned element that works exceptionally well with black business suits.
Dark brown oxfords (see Amazon) really help you to standout in a crowd of dark suits and slicked-back hair. It's not a funeral, so your dark brown shoes will send the right non-verbal cues about your intentions for the day.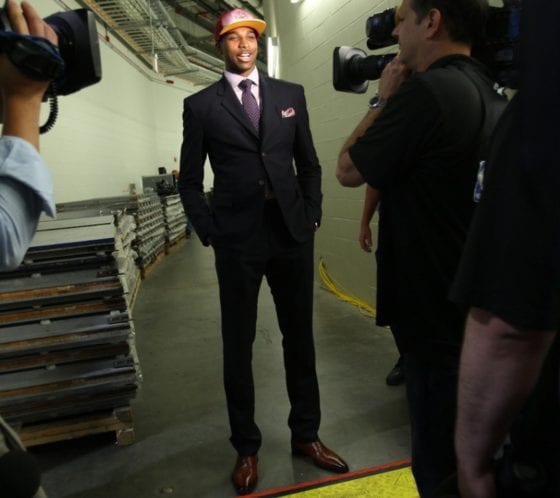 Oxfords are so powerful. They have closed laces and can be polished to a golden shine. They'll help you look dapper, sophisticated and determined.
The brogue is a style of dress shoe that has decorative perforations and layers of leather across the top but hides the laces like an oxford shoe. In fact, the brogue is ideal for occasions that slate in-between formal and casual.
They give off a forward-thinking, urban vibe that works well with black trousers and long black coats. Throw on a pair of brown brogues if you're going to an important dinner or social engagement.
The Quality of the Shoe
One of my mentors was a man who owned and managed a golf course in Florida. I remember asking him about investments and he told me –"The two things I invest the most in are mattresses and shoes." You should take his advice when buying a pair of brown shoes.
Here's why: brown shoes are style game-changers. When you're wearing brown shoes with a black suit you're going to get noticed. So, put your best foot forward by investing in a high-quality shoe.
Here are some tips:
When buying leather shoes, avoid belly leather and so-called "genuine leather". These are actually the lowest grade leather shoes on the market.
Look for a leather shoe that has a clean, consistent color with little to no blemishes or wrinkles. The color should come from deep within the material.
Avoid brown shoes with toes that point upward. This makes you look like one of Santa's helpers and it's a dead giveaway for a cheap shoe or boot. Aside from that, you can take your pick of rounded, flat or pointed toes.
Finally, you should look at the waist of the shoe. This is the mid-level of the shoe where it tapers into the shape of your insole. In general, the deeper the waist, the higher quality the shoe. Yet, you might prefer a wider cut for comfort.
The Takeaway
The good news is that you can wear brown shoes with a black suit if you damn well please. It's not a look for style novices; that's for sure. Yet, it can set you apart as a man of distinction when executed properly.
You also don't have to be a celebrity to pull it off. Just remember to accessorize wisely, dress for the occasion, and always wear high quality footwear.