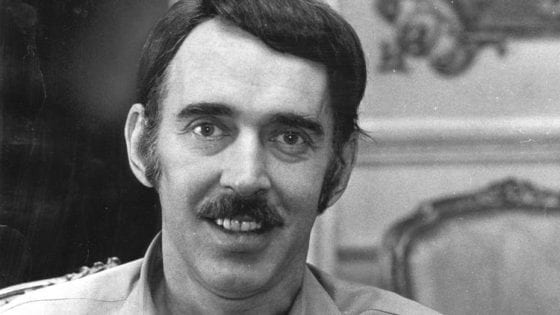 Rest in Peace, Chuck Renslow
Chuck Renslow, the founder of the Man's Country club and the International Mr Leather, died this past weekend at the age of 87 from congestive heart failure and pneumonia.
Chuck Renslow was an iconic man.
"He really was an incredible forebear of our movement, starting in the 1950s as an openly gay man and entrepreneur," said Tracy Baim, author of Leatherman: The Legend of Chuck Renslow, to The Chicago Tribune. "He was one of five or six people from the pre-Stonewall gay movement who were the bedrock of the Chicago gay movement."
Born in Chicago, Renslow started quickly in life as a businessman, something he'd continue to be until the day he died. He did this by opening the Triumph Gym.
After that, he opened a photography studio, called Kris Studios, with his then lover, the ballet dancer and artist, Dom Orejudos.
More: Legendary Gay Bath House May Soon Close Its Doors
Together, the two took erotic photos of muscular men and sold them to prominent beef cake publications such as Trumph and Rawhide.
It was that work that got Renslow and Orejudos into some legal trouble when they were sued for "obsecenity" charges. But, the charges were eventually dropped.
From there, Renslow got into the gay bar/club owning business. He converted an older bar, called the Gold Coast, into one of the first and most popular leather bars in the U.S.
The staff and board of the @leatherarchives are saddened to hear of Chuck Renslow's passing… https://t.co/w6FbuDN1XF pic.twitter.com/iv7o6fqZKe

— Leather Archives (@leatherarchives) June 29, 2017
Renslow then caught the bar bug and opened several other gay bars in Chicago like the famous Men's Country Bathhouse, which was for a time the most popular gay spot in the city.
Renslow was known for his many contributions to the gay community, which earned him a spot in the Chicago LGBT Hall of Fame in 1991.
Some other notable accomplishments of his was co-founding the Leather Archives and Museum, taking over the gay newspaper "Gay Life," and even getting involved with local politics.
Perhaps one of his most noteworthy accomplishments, however, was founding the International Mr Leather competition.
More: Mr Leather UK Opens Up About His Former Abusive Lover
What happened was that in the 1970s, the Gold Coast bar held an annual Mr Gold Coast contest. Renslow saw that the contest was becoming too popular, so he decided to expand the contest by hosting it at a hotel. From there, the contest grew into the International Mr Leather Contest which still runs today.
Chuck Renslow was an amazing gay icon, businessman, and philanthropist who helped to build gay culture.
His death is an especially sad one, and we at Gay Pop Buzz send our condolences to Ron Ehemann, his partner of 36 years, and their two adopted sons Robert Wilke and Patrick Corcoran.