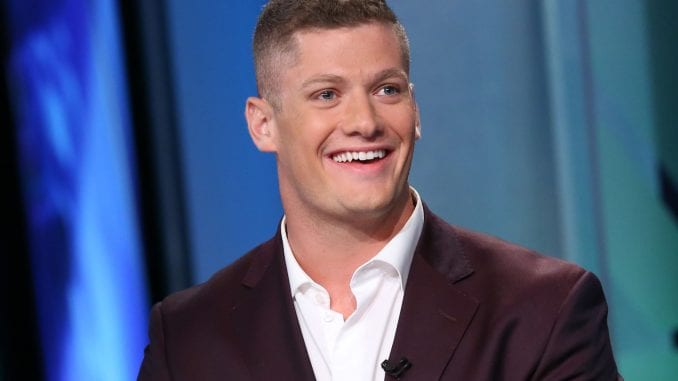 Carl Nassib Facts
Carl Nassib is the man of the hour. Nassib is a defensive lineman for the Las Vegas Raiders. And while he was a pretty pricy buy for the team, costing them $25 million, his recent viral coming out moment has made him a star in the NFL.
But, who's the man behind that rising star persona? What are some facts about Carl Nassib the person? What's his family life like? What are some hobbies of his? What are some skills that he holds? Find all of that out and more in this 8 facts list about Carl Nassib.
Pop File: Carl Nassib
Birthday: April 12, 1993
Birthplace: West Chester, Pennsylvania, United States of America
Zodiac Sign: Aries
Height: 6 feet 7 inches (200.66 centimeters)
Weight: 275 lbs
Body Type: Muscular
1. Sports Are In the Family
First and foremost, Carl Nassib comes from an athletic family. Growing up as one of 5 kids, there was always someone to joke around with and throw a ball. And it seems that all those days of ball throwing affected Nassib and his family immensely.
Carl Nassib isn't the only official athlete in the family. His bother Ryan Nassib was a backup quarterback for the New York Giants for four years. On top of that, his father, Gil, played football for the University of Delaware, and his younger brother John was a junior defensive end for the Blue Hens.
2. He Really Wanted To Go To Penn State
In high school, Carl played basketball and not football. Which made sense due to his 6'6" height and 220-pound weight. But, unfortunately, Carl Nassib didn't get a basketball scholarship with his dream school, Penn State.
Thankfully, Carl Nassib is a smart man and was able to get into the school on his good grades alone. While at the school, Nassib decided to try out for the football team. And, he made it as a walk-on.
Related: 8 Facts About NY Giants Quarterback Daniel Jones
3. He Was Considering Med School
When sports and athletics initially weren't working out for Carl Nassib, he started to pivot his future plans. Instead of a career as a professional athlete, Nassib entertained the idea of being a doctor.
"To be quite honest, I didn't have that many offers at all. At that point in my life, I was maybe focusing more on med school," Nassib, a then biology major, told Onward State in 2015. "I was thinking about that, and then I was presented with the opportunity to come to Penn State and I was like 'Oh, definitely coming here. This is a dream for me.'"
4. He Has Played With Many Teams
After graduating from Penn State, Carl Nassib moved up to the big leagues. He ended up getting drafted by the Cleveland Browns during the 3rd round of the NFL's 2016 Draft. He then spent 2 years in Cleveland before transitioning to the Tampa Bay Buccaneers. Nassib spent another 2 years in Florida, despite a 4-year contract, before becoming a free agent. Then on March 17, 2020, Carl Nassib signed a 3 year $25 million contract with the Las Vegas Raiders.
5. He's Good At Math (And Bad At Social Media)
It makes sense that a guy who almost studied to become a doctor is good at math. And a 27-second video from 2018, shows just how good he is at it. In the video, which made the rounds online, Carl is seen explaining social media math to fellow teammates. For instance, Nassib is seen explaining that spending 2 hours a day on Instagram or Facebook rounds out to spending about 1 month a year.
It seems Carl Nassib's the type of guy who other guys go-to for math lessons and advice. And, he's not a social media guy. Fair.
6. He's Also Good At Finances
But Carl Nassib's talent with numbers doesn't just stop at social media lectures. He's also given lectures and talks on bettering your finances.
So that before-mentioned video of Nassib giving a numbers lesson to his teammates. Well, he did something similar with economic lectures. Carl Nassib gave financial lessons to his teammates for HBO's "Hard Knocks." Nassib spent two weeks in his offseason for a financial training camp designed by Financial Finesse. Then after working with a CFP® professional coach, Nassib created and delivered the "Hard Knocks" inspired workshop.
Some of the workshop's talking points included:
NFL players are not part of the 1% and need to start acting accordingly
How players can make more money off the field than on it
How to make money in the wake of a market crash
The number one question you should ask Financial Advisors
Why the NFL is a stepping stone to create wealth over time, not the end game to get rich quick
Related: 7 Facts About Super Bowl Champ Patrick Mahomes Ⅱ
7. His Mom's A Charity Worker
Carl Nassib isn't the only one taking charge and leading others. He gets a lot of that personality trait from his mother, Mary Fischer-Nassib. Mary established Sow Good Now, or SGN, in 2018. She got the idea for the group after going to a children's hospital ward with her son. She saw how excited the children were to see a professional athlete. She then created SGN to organize getting athletes to present at schools, teach core issues of philanthropy, and support charities.
8. He Once Broke His Toe
Speaking of hospitals, our last fact about Carl Nassib is that he broke his toe last year. While playing against the Kansas City Chiefs, Nassib played five snaps. Unfortunately, that's all he got to play. After pressuring quarterback Patrick Mahomes, Nassib ended up breaking his toe. Thankfully, he (and his toe) made a recovery.