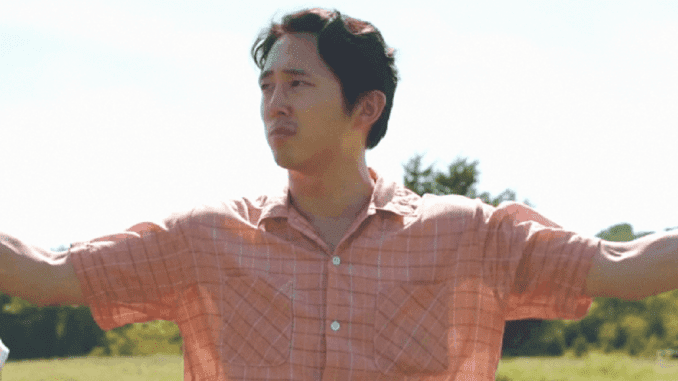 Steven Yeun. He's been around for years now, but the actor is only now getting the recognition he deserves. After starring and executive producing in the award-winning film, Minari, Yeun is a patented movie star and Hollywood staple. But, who is the man behind the film? If you're a fan of Steven Yeun and want to know more about him, look no further than the facts down below.
Steven Yeun (Yeun Sang-yapp/연상엽)
Birthday: December 21, 1983
Birthplace: Seoul, South Korea
Height: 5′ 9″ tall (1.75 m)
https://www.instagram.com/p/CNQ4sA0JJam/
1. He's Originally From South Korea
As listed above, Steven Yeun was originally born in Seoul, South Korea. But at the age of 4, Yeun and his family moved to North America. First, Yeun and his family moved to Saskatchewan, but then they moved again to Troy, Michigan in the U.S.A. Steven Yeun's parents, Je and June Yeun, still live there and own two beauty accessory shops in Detroit. Meanwhile, Steven lives happily in Los Angeles, California.
2. He Started In Improv And Sketch Comedy
In 2015, Steven Yeun graduated from Kalamazoo College with a Bachelor's degree in psychology focusing on neuroscience. But, Steven had different plans for his future. You see, he auditioned for an improv show at his school called Monkapult. While he was unsuccessful in his first year, Yeun later got accepted in his second year.
After graduating from college, Steven Yeun wanted to act. His parents, however, wanted him to be a doctor. His parents eventually agreed to let Yeun try his hand at acting for two years. During that time, he joined an Asian-American sketch comedy group called Stir Friday Night. Danny Pudi from Community & Duck Tales was also a member of that group. Then, Steven Yeun joined the famous Second City comedy show in Chicago before eventually moving to Los Angeles in 2009.
Related: 7 Facts About Marvel Hero Simu Liu
3. His First Two Roles
Believe it or not, Steven Yeun only had one tv role before he got his big break. In 2010, Steven got his first television acting role as Sebastian on The Big Bang Theory. In the flashback episode "Staircase Implementation," Yeun played Sheldon's roommate before the main character Leonard moved in. His character ended up warned Leonard to stay away from "the psycho roommate."
Later that year, Steven auditioned for the role of Glenn Rhee in The Walking Dead. Frank Darabont and Denise Huth loved Steven in his audition and, obviously, gave him the role.
4. Christianity & Boxing Help Him Stay Focused
To help him get into character and get into the vibe of whatever acting role he has on his plate, Steven Yeun likes to pray and box. When on The Walking Dead, boxing helped Steven Yeun get into the chaotic energy of the show. As for praying…
"I was raised in a Christian household and heard a lot of praise music, so that's what helps me get to an emotional place. There's a church in Australia called Hillsong that specializes in the whole contemporary praise music thing, and I listen to their stuff."
https://www.instagram.com/p/CMKS2bblwIh/
Related: 8 Facts About 'The Mandalorian' Star Pedro Pascal
5. He's A Big Detroit Pistons Fan
Boxing isn't Steven Yeun's only passion as a sports fan. He's also a big basketball fan. Specifically, he loves to support the Detroit Pistons. While filming in Atlanta for The Walking Dead the actor would sometimes drive 11 HOURS to go watch Pistons games.
6. He Had An Existential Crisis
Because The Walking Dead was such a large part of Steven Yeun's life and career as an actor, it held a big influence on who he was (and is) as a person. That includes giving him an existential crisis toward the end of his time on the show.
"I left [The Walking Dead] and I kind of had an existential crisis. Not because I longed to be back there but because I was made to feel the loneliness of life, which is that decisions aren't made for you," he revealed to IndieWire. "You get swallowed up by whatever thing that you're a part of."
https://www.instagram.com/p/CMKo5DcpuLa/
Related: 7 Facts About Emmy-Winner Dan Levy
7. He's A Business Man
His two years of trying to succeed in acting, Steven Yeun moved to Chicago with his brother Brian. The two had an inseparable bond and still do to this day. Because of that, they decided to go into business together. Brian is now the owner of a Korean-Mediterranean fusion restaurant in Koreatown, Los Angeles called The Bun Shop alongside a partner named James Seok. As for Steven, he's a proud investor of the establishment.
8. He's Embarrassed About The Size Of His Nipples
While talking to Conan O'Brien in October 2013, Steven confessed, "Normal humans are working with a nickle size or maybe a quarter. I'm at like maybe a half dime!"
Related: 9 Facts About SNL Comedian Pete Davidson
9. He Went To South Korea With Conan
Speaking of Conan O'Brien, the two flew to North Korea together. After going to the Los Angeles Korean Health Spa together, and recording the moment for O'Brien's show, the two decided to travel to South Korea. Seeing as Steven Yeun can speak some Korean (though, not fluently), it seemed like the perfect idea.
10. He's Afraid of Ghosts
Despite being known for being on a zombie apocalypse show, Steven Yeun isn't fond of horror. In fact, he once told the story of one time he thinks he may have seen a ghost. It wasn't a fun time for him.
"Anything I can punch in the face is not nearly as scary as something where my fist would go through… Sleep paralysis? I woke up and I couldn't move. It happens a lot to a lot of people. But I opened my eyes and saw a dark figure at the doorway just laughing. I freaked out, woke up, and then nothing was there. It was pretty much a dream. I don't know if it was an actual ghost but that was good enough for me."
https://www.instagram.com/p/CIeIXsTp4_O/
11. He's Married & A Father
But for all the girls (and guys) who hope to have a chance with the actor, you've unfortunately lost your chance. The actor tied the knot with his longtime girlfriend Joana Pak, back in December 2016. He's also a proud parent to two kids. The happy couple welcomed a son and daughter to the world in 2017 and 2019, respectively. But those aren't Steven Yeun's only "children." Steven Yeun is also the proud father of a mini black "goldendoodle" named Agnes.