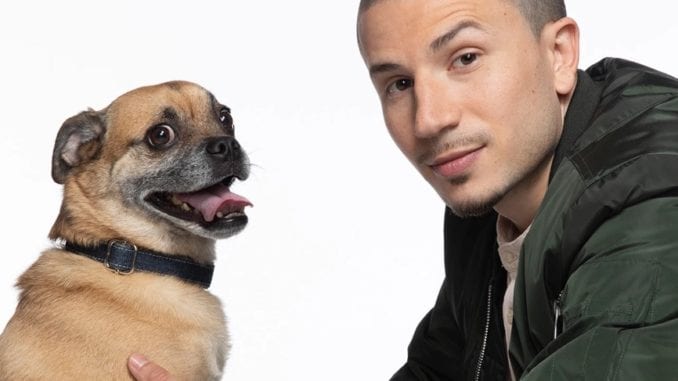 Review of 'It's Bruno' with Solvan Naim as Malcolm
If you've tapped on Netflix recently, you probably saw a new show called, "It's Bruno". The program is hard to miss because the cover features a cute dog (pug/beagle mix) eating at the kitchen table as his owner watches approvingly nearby.
I know the first time I saw this program, it caught my attention. And so, having nothing else better to do last night, I decided to check it out.
In fact, that's the inspiration for this post – to share with you my impressions of "It's Bruno" and answer the question: "Is it worth streaming?"
To keep it real, it's hard to write these kinds of posts because the goal is to let you know about basics without giving away the candy store. So, for what it is worth, here it goes.
The basic story-line is about a guy who lives in Brooklyn, New York, who is completely OBSESSED with his dog. When I say obsessed, I'm talking about a dude who buys human food for his pet and cooks him gourmet meals!
But here is the thing – the plot itself isn't some made up story-line.  The show's writer and creator, Solvan Naim (he plays Malcolm) has stated that he based the program off his real-life dog, Bruno! See this People Magazine piece to learn more.
As you watch "It's Bruno", you are going to meet a bunch of different characters from the neighborhood. I'm talking about everyone from the person who runs the corner bodega to a street-person who sells (stolen) wares from a cart.
As the show goes on, you get to know these people more intimately. And of course, you get to know Bruno and Malcolm as part of the dynamic. That's the fun part – seeing how all these folks interact. Without spoiling anything, I'll simply say that the glue holding all of these relationships together is – Bruno!
So, is the show worth streaming? All I can tell you is that I watched the entire 13 episodes over the course of a few hours. Yep, they aren't that long – maybe 20 minutes? In many ways, "It's Bruno" is like a webisode.
What I liked most about this program is how much Naim captured the essence of dog lovers everywhere. If you own a doggy or have ever been obsessed with a pet, you will instantly relate.
Sometimes, you need a mindless and funny no-brainer show to binge on. If that sounds like something you are interested in, "It's Bruno" could be just the ticket.
I can honestly say I hope Netflix does a season two of this series. It's funny, smart, and entertaining, all at the same time. That's why I'm giving it five-stars.
Trust me when I tell you it takes a lot for a show to grab my attention. But with this series, I was pulled in straight from the start.
Well, there you have it – my review of "It's Bruno" starring Solvan Naim and Bruno. Have you seen this series? If so, what were your impressions? Leave your comments below.