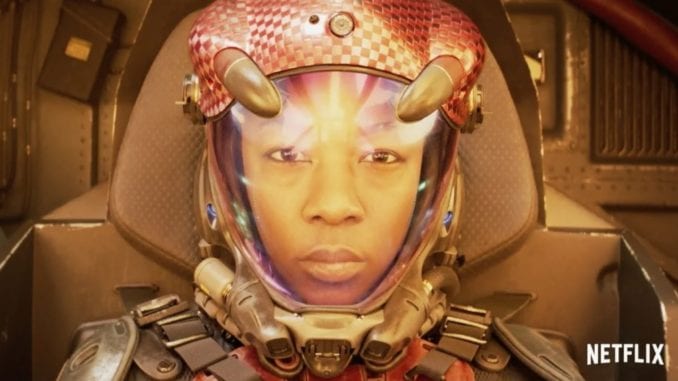 Review of Love, Death, and Robots Minus Spoilers!
You don't have to be a fan of anime to enjoy this hot new anthology series from Netflix. Love, Death, and Robots is thought-provoking, unpredictable and thoroughly entertaining.
Each one of the 18 episodes is about 7 to 20 minutes in length, so you get these flash-fiction-style stories each time that leave you thinking long after the credits roll.
Several different genres make an appearance – science fiction, fantasy, action, comedy, and many sub-genres in-between. Just don't watch it from your office desk because it's totally NSFW.  There are copious amounts of profanity, nudity and violence throughout the series.
There're robots who curse like sailors, a virtual reality stripper, and gore-spilling mech warriors who take on hordes of alien insects to save their farm. Yet, none of it seems cheap or over-the-top. There's an art to that.
Related: Should I download the Crackle app?
The storytelling and production quality are damn near classic. The animation styles are quite varied, too. The episodes are produced by different studios, so you never know what to expect when you hit the PLAY button.
"Sonnie's Edge" was created by Blur Studio and the animation style is so life-like that you'll repeatedly do double-takes and squint your eyes to see if it's real. "Beyond the Aquila Rift" was created by Unit Image and looks like an extended cut-scene from the latest Playstation video game.
Other episodes take the opposite approach, choosing animation styles that are at times cartoon-like. At first, I was disappointed when I began a new episode and the animation style wasn't as photo-realistic as the one before it. "Good Hunting" is a perfect example.
The colors are watery. The lines swim across the screen. It looks like it could have been created years ago, but that was the point. I was ready to hate this episode, but the plot captivated me and suspended any misgivings I might have had about the animation style.
The story is set in an alternate 20th Century China and tells the story of a young boy who befriends a female shape-shifting demon. Years later, they meet again in an unexpected steampunk Hong Kong. It was like an animated episode of The Twilight Zone and it took me totally by surprise.
Love, Death, and Robots is the brainchild of Tim Miller and David Fincher. Miller was the director of Deadpool (2016) and he's well-known for creating animation short films and title sequences for feature films. Fincher's directorial credits include Fight Club, Alien 3, and The Curious Case of Benjamin Button.
Love, Death and Robots was supposed to be a re-imagining of the 1981 animated cult classic Heavy Metal. Thankfully, Love, Death and Robots is much more grounded than the Heavy Metal movie.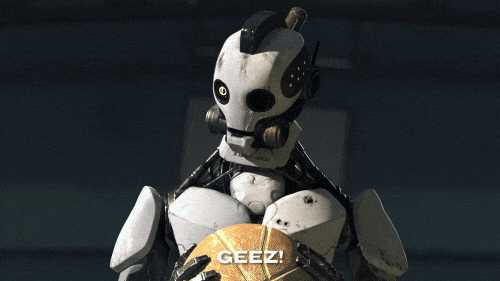 It's more like the magazine that carried the same name – delivering punchy, erotic and entertaining short stories instead of face-melting guitar riffs set over adult themed tones.
With LDR I kept waiting for overt social commentaries that railed against corporate greed or the overuse of integrated technology. Those messages were present, but they came across in the background with a great deal of subtlety.
It was only after watching an episode that I began to contemplate the deeper implications of the story. The closest comparison is an after-taste.
The episode "Shape-shifters" puts two werewolves in modern day Afghanistan as elite Marines. The creative team avoids obvious digs at terrorism and focuses more on the personal relationship between the two main actors.
The episode is mostly a bromance between the two werewolves, but they are maligned for being so different from their non-mutated counterparts. A subtle soft pitch to the LGBTQ military community? Maybe.
Related: Lost In Space Netflix Review
Most of the episodes in Love, Death, and Robots are written by male authors. Horror author Joe Landsale contributes twice with "Fish Night" and "The Dump". Meanwhile, science fiction and comedy are blended expertly by John Scalzi.
He has three great episodes in the anthology. His story "Three Robots Experience Objects Left Behind from the Era of Humans for the First Time" is possibly one of the most memorable episodes of the anthology.
Some critics have made a case that LDR is degrading to women, but that doesn't hold up when you look at the whole anthology. Even though most of the writers are men, that doesn't mean the episodes are skewed toward a male audience.
"Sonnie's Edge" is a feminist cyberpunk tale about an edgy, young woman who was abused by men and takes her revenge by competing in underground Battle Royale tournaments with her very own she-beast monster. "Helping Hand" stars a female astronaut and "Lucky Number 13" is all about a female pilot who flies a daring rescue mission.
Those stories are exclusively about female characters without any interference from savior hero males or deprecating dialog.
A great deal of credit for
Love, Death, and Robots
should go to Netflix. The anthology series was a hard-sell for networks and it took ten years for it to find a venue.
Either Netflix saw the value of this project or believed that it's bite-sized delivery perfectly fit their platform. It was probably a bit of both.
Interestingly, Netflix toggles the order of the episodes to suit the viewer. At first, Netflix got some blowback about this feature with users accusing them of ordering the episodes according to the user's sexual orientation. However, Netflix has dismissed those claims.
There are four different episode configurations and Netflix reps say that their choice of order is random.
Love, Death, and Robots is a series that takes you away from the beaten path. You're transported to odd, mind-bending micro-worlds time and time again. The animation and plots are so varied that trying to guess what kind of story is coming next is part of the fun.
Topher Grace and Mary Elizabeth Winstead are the only actors to make a live action appearance, but there are standout voiceover performances from Samira Wiley and Gary Cole.
Some of the best short story writers have contributed their work to the project and there isn't a weak chink in their storytelling armor.
You'd be crazy NOT to add this series to your list. Make sure you catch Love, Death, and Robots on Netflix.
Have you already watched Love, Death and Robots? We'd love to know which episode your favorite was.