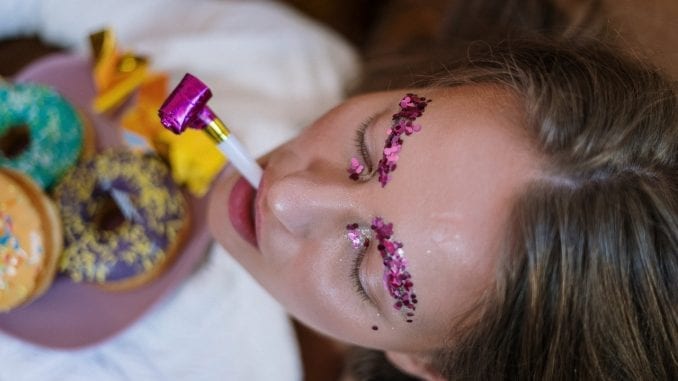 So You Want To Date a Sorority Girl?
Did a sorority girl catch your eye on campus and now you're dating? Are you wondering how to attract a sorority girl even though you're not in a fraternity? Well, buckle up, buddy. You're in for an uphill battle, but the rewards will be plentiful.
You see, sorority girls are loyal, charming, and quite honestly, a handful. Yet, they aren't all the same. Dating one depends on the Greek culture at your university/college campus and your chemistry with that person. You don't necessarily have to be a frat guy to date a sorority girl, but you do need to be prepared for certain realities.
A sorority girl places a high value on specific dating metrics like social standing, appearance, and character. It might be easier to date a non-Greek girl on campus, but if you've been shot with Cupid's arrow and you're ready for a relationship you won't soon forget – then follow these tips for dating a sorority girl.
1. Keep Up Your Appearance
Sorority girls will place a high priority on your physical appearance and personal grooming. They regularly attend formal social events and date parties. You'll most likely get dragged to a few, both on and off campus. So, you need to know how to put on a suit and tie.
Related: How to Make More Women Want You
Greek girls represent their organization and that means you become an extension of that representation, as well. Just about everything regarding your personal grooming regimen will come under the microscope. It could get really annoying when your new GF keeps asking you to exfoliate.
Do yourself a favor and beat her to the punch.
2. Be Flexible and Patient about Her Schedule
A sorority girl has lots of university commitments. She's got to maintain her class schedule and a busy program of sorority events and activities. During recruitment phases, you might not get to see her that often and she'll probably be dead-tired even when you do get some face time.
Greek life is all about time management. Your sorority girl is balancing school, internships, parties, philanthropy, and an active social life. She will need your support. If she really cares about you, then you'll probably be her rock.
The girl you see on the pictures and in the nice clothes will most likely just want to cuddle and watch movies in her sweatpants. That's a compliment to you. That means she trusts you enough to let her hair down and relax. So, be flexible and don't get cranky when she only has a little bit of time to spend with you.
3. Get Involved in Charitable Causes
Philanthropy is a huge part of Greek life and your sorority girlfriend will have quite a few involvements in charitable events, activities, and fundraisers. In fact, if you're looking to attract a sorority girl, showing off your compassionate side will certainly earn you some cool points. It's a great conversation piece.
You've got to get involved in charitable causes. Philanthropy is such a big deal that your sorority girl will frown upon your lack of charitable involvement if you're not participating. So, it's better to choose a cause that you're passionate about before she drags you into something that she's already involved in.
4. Never Ever Cheat
Guys, it's unwise to cheat on your significant other. It's downright dumb to try and cheat on a sorority girl. She has a veritable army of sisters on campus who are more than eager to keep an eye on you. It's kind of fun.
Don't think you can hide or outsmart her when it comes to cheating. Your sorority girl has a lot of friends at the university. She's a young socialite and sorority girls always stick together. So, no cheating and no flirting with other girls. You won't get away with it.
Her sorority sisters are off limits, too. Your girl might live in a dorm with them or share an apartment off campus, but you should avoid getting friendly with any of them during your visits. If a sorority sister is chatting you up, it's not because you're cute, it's to qualify you. Think of it as an interview, not flirting.
Related: Why do people cheat instead of breaking up?
5. Don't Be the Jealous Type
Your sorority girl is a social butterfly by nature. She regularly attends events and parties. That means she's going to rub elbows with lots of different people…specifically lots of different college guys. Most of the time, these will be frat guys.
There might be pressures for her to socialize on campus with guys who are popular, sexy, rich and/or socially affluent. If you're a non-Greek, then this could be quite intimidating. However, you can't let on to it. You need to at least "act as if" you're not crazy jealous about all the guys she encounters.
Afterall, you're trying to hook up with one of the most desirable girls on campus. She's going to be the target of lots of winks and whistles. She'll get tons of invitations to parties. Her sorority sisters and friends will probably try to hook her up with other guys. You need to take it all on the chin.
Here's the Takeaway
Sorority girls aren't just about going to parties, wearing matching outfits and taking great photos. If you want to be successful in dating one, then you need to avoid perpetuating any stereotypes about sorority girls. You should never try to date someone just because she's in a sorority. They're just girls.
You will need to forge a true relationship that's built on genuine chemistry. In fact, that's your ace in the hole. If you can create a strong enough bond with her, then you won't have to worry about all the other issues that rise from her busy Greek life.
You don't have to be a frat guy if she's crazy about you. Sorority girls are super into commitment and if she really likes you, then there's nothing that can keep her away from you. But you've got to be on top of your game.
Make sure you always look your best when you're around her. People will be watching and evaluating you at school. So, wear some nice clothes, keep yourself clean and in good health. You should already be thinking along those lines, but now, you have even more of a reason to fix up and look sharp.
Next, be flexible about her commitments and don't stress out when she's too busy for you. This could work in your favor though. You'll have more time to spend with your friends and you won't have to worry about peeling a super clingy girlfriend off your arm.
If you're looking to strike up a conversation with a sorority girl, then start talking about charitable causes. Get involved in the community or ask which organizations she's been partnering with, so that you can show more compassion, too. She'll absolutely love it.
You've got to be faithful to a sorority girl. You need to control your wandering eye on campus because you never know who might be spying on you. Remember, she's got a huge network of sorority sisters on her team and they're really good at digging up the dirt. So, stay loyal and don't cheat.
Lastly, don't get jealous. Sorority girls get roped into lots of social events and there are bound to be plenty of fraternity guys waiting in the wings. The last thing you want to do is get drunk and go bust up a party in a jealous rage. Play it cool and be confident. If she likes you, you won't have to worry about other guys.
Sorority girls are well-suited to serious relationships, but they also know how to have a good time. Believe it or not, you don't have to be a frat guy to get close to one either. Just be on top of your game and follow these simple tips.