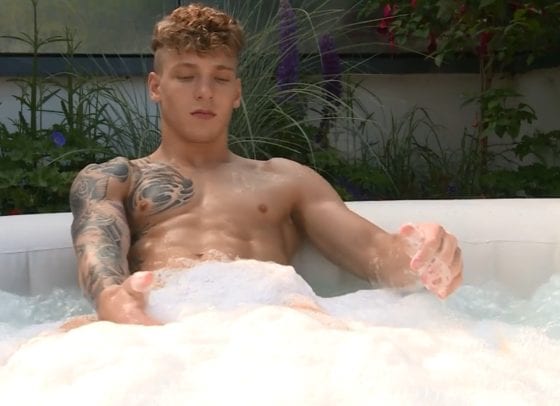 Brandon Myers Says He Was Manipulated Into Gay Porn
We've all seen Brandon Myers's long appendage by now. After all, the stud's not afraid to show it (like many other British reality stars)! Myers posts his bulge on Instagram almost every other week and he posts even more on his Only Fans page.
If you've never seen "it" – you can head on over to OMG Blog and check out this completely not safe for work post via this link.
All of that "self-expression" started with a brief exploration into gay porn. Now, Myers says he was the classic example of an aspiring star/model who was influenced into porn.
https://www.instagram.com/p/BpzncmOFUj-/
After a 25-second teaser was discovered of Brandon Myers in a homoerotic video with fellow former Ex On The Beach star Connor Hunter, Myers reached out to Cocktails & Cocktalk. Brandon Myers says that he was manipulated into his solo shoot for gay porn site English Lads.
"The video was very manipulated. It wasn't meant to be like that and I was young."
He went on further to say, "I'm currently in the process of moving forward with English Lads regarding the video. I can't say too much."
He then added, "I was very manipulated at a young age and didn't know what was happening."
Not wanting to comment on the issue any further, Myers ended with, "Sorry I don't want to comment please. I was young that's all."
https://www.instagram.com/p/BosBHzSlldM/
With Myers unwilling to share more of his perspective on the situation, there are a lot of questions still hanging in the air. For instance, it looks like the English Lads gig wasn't the only gay porn video Myers made at the time.
A younger Myers also made a solo video for the site FitYoungMen. And, Connor Hunter made a solo video for them as well.
So, it looks like the two men were manipulated more than once into contributing to the gay porn world.
The real message here is that young aspiring actors, models, and talents have to be careful out there. The world of entertainment is brutal and many people can find themselves doing things they'll later regret in order to get ahead (or just to get paid).
We warned, be watchful, and be prepared.