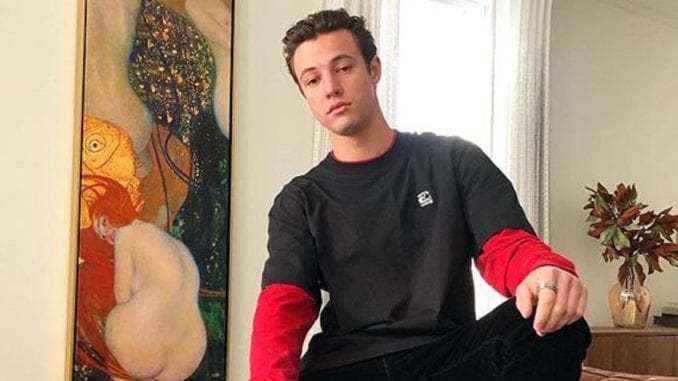 Cameron Dallas And Cole Carrigan
Model and YouTuber Cameron Dallas got in a drunken fight for the second time in a few months. At least this time, it wasn't physical.
Makeup YouTuber Cole Carrigan posted to Twitter yesterday (May 5) to call out Cameron Dallas for alleged homophobia. In the video, Carrigan is seen yelling at Dallas. Carrigan stated that Dallas approached him at a house party thrown by the makeup artist. Dallas then threw a bottle of water at his pants. Carrigan states this was unprovoked.
so last night at a party i was outside talking to people minding my own business when @camerondallas decides to comes up to me and throw his water bottle all over me for absolutely no reason other than being a homophobic drunk asshole. i won't tolerate that shit. pic.twitter.com/SXNNwgCajM

— cole (@ColeCarrigann) May 5, 2019
Carrigan then followed up on the tweet with a comment that Dallas froze up after being called out. He then alleges that Dallas was acting on insecurity and homophobia.
the kid was shook that i started recording him and froze up real fucking quick. it's 2019 if your still homophobic or insecure about your own sexuality so you have to take it out on people who are confident with theirs you're TRASH

— cole (@ColeCarrigann) May 5, 2019
Dallas has yet to respond to Carrigan's claims, but his fans have been fervently defending him. Many have even dug up skeletons from Carrigan's past such as old tweets where he said the N word and moments like outing a past sex partner.
https://twitter.com/EllaIsupreme/status/1125463247820292096?s=20
Related: Deaf, Trans Youtuber Chella Man Cast As A DC Superhero
Prior Offense
Despite some questions being brought up about Carrigan, Dallas is looking more suspicious because of his past.
Late last year, Dallas was arrested for punching a man at a hotel in Aspen, Colorado. Dallas was charged with a felony charge of second-degree assault with intent to cause bodily harm. Dallas later got out on $5,000 bond.
Information about the arrest then came forward later this January.
Dallas was celebrating the holidays with friends when a random man, the victim, made friends with the group. Later that night, Dallas and his friend brought the man to their hotel room to charge his phone.
Related: A Youtuber Became The Mayor of Hell And Banned Straight People From It
During a January 22 court appearance at the Pitkin County District Court, Dallas stated that he left the room for 30 minutes. When he returned, he says there was a weird vibe. His friend said the man allegedly made sexual advances on him. When Dallas asked the man to leave, he allegedly refused. Dallas says this led to the fight.
If Dallas is to recover from this latest incident with fellow YouTuber Cole Carrigan, he will need to share his side of the story. Otherwise, his silence will ultimately make him look as guilty as Carrigan says he is.
But was Cameron Dallas acting out of homophobia or insecurity with his own sexuality? Or, was his drunken stupor the problem? We don't know, but things aren't looking good for the model.