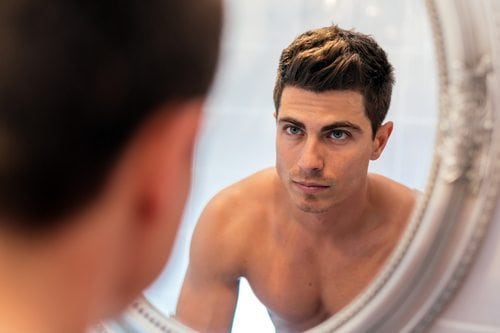 A collagen mask needs to be part of your weekly face care routine.
Once a week without fail, I put on a collagen mask. That's because I've found that by using this type of facial care product, my skin looks younger, smoother and suppler.
I found out about collagen face masks a few years ago by accident when visiting my friend Eric's home. He had a packet laying out in the bathroom in plain view. Because we both like to trade beauty secrets, I asked him more about it.
And wow did I find out a lot!
Not only does this type of mask help to smooth out wrinkles, it also tightens the skin and helps lines from forming in the first place.
More: How male models prevent wrinkles
My conversation with Eric, who also happens to be a part-time model, inspired me to do a ton of research and ultimately present my findings here.
In this article, you'll learn:
A basic understanding of collagen
Why your skin needs collagen
Why you need to replace collagen as you age
How collagen masks work
How collagen masks revitalize your face
What to expect when using a collagen mask
Best collagen masks to buy
How to use the mask
How often to use mask
Collagen mask myths
Facial mask poll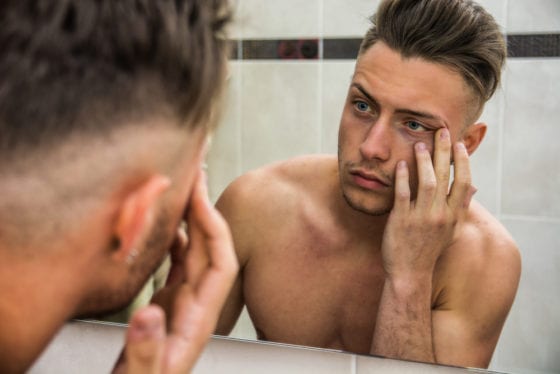 WHAT IS COLLAGEN?
Collagen is an amino-acid based protein made of carbon, hydrogen and oxygen. The specific acids found in collagen include glycine, proline, arginine and hydrox-proline.
All of these are critical for skin elasticity, according to numerous clinical research studies.
During early adulthood, your body produces this gelatin like substance in abundance. That's why men and women in their early 20's have such amazing, glowing skin that looks tight.
But as you age, production of collagen begins to slow down. As a result, skin begins to show wear and tear, such as the formation of lines and wrinkles.
COLLAGEN LOSS AND AGING
Once you enter into your late 20's to early 30's, the process of protein synthesis, which is key to creating collagen, starts heading into a downward slope.
Much of this is determined by genetic factors, which are biomarkers that can reveal age.
Environmental factors are thought to negatively impact your body's ability to produce collagen, such as living in a large city with polluted air.
This is why some dermatologists recommend their patients take a collagen supplement, which can be purchased over the counter at most drug stores.
My doctor recommends Neocell because the product helps to shore up what's no longer being produced in the body. You may be able to find this one at your local drug store or check Amazon for pricing.
What I like about Neocell is that I can use it in conjunction with other anti-aging products, such as the masks I'll tell you about in a bit.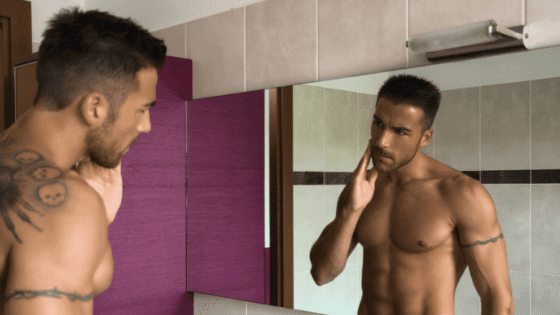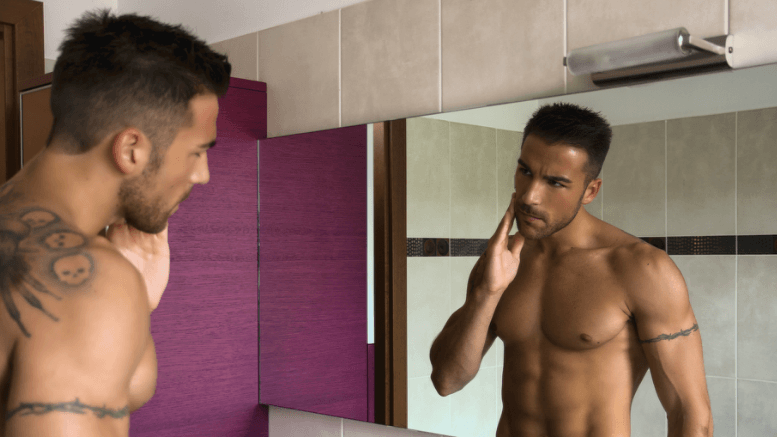 WHY YOU NEED A COLLAGEN MASK
As we discussed earlier, your system begins to decrease production of collagen as you age. And the less of this substance you have in your body, the more wrinkles begin to form and set it.
While it's true that moisturizers help to hydrate your face, they don't replace the rapid depletion of collagen.
Pills can increase stores of this protein but for maximum results, you'll want to topically deliver collagen directly to the dermal layer through the process of osmosis.
More: Powerful skin care tips for men in their 30's
FYI: Did you know that as you age, your face begins to lose subcutaneous fat?
Yep, it's true.
This is why you see some people in their mid-thirties and older having hollow features, like around the nasal labial folds and under the eyes.
COLLAGEN MASKS: DELIVERY OF PROTEIN  
All of this brings us to the core reason you are reading this article – the use of a collagen mask. In a bit, I'm going to make some suggestions for which masks to consider and how to use them. But first, let's take a look at how these products work.
How collagen masks work
It's pretty simple. Most collagen masks come in sheet form, meaning they are thin (sometimes paper thin) with cutouts for the eyes and mouth.
Typically, a package will contain anywhere from 4 to 10 sheets, depending upon manufacture. When you put one on, you begin to deliver the mask's collagen and other ingredients, such as retinol, directly through the dermis layer via osmosis.
In case you forgot what the term osmosis means from biology class, I'll give you a non-clinical definition that is specific to what we're talking about.
Osmosis is the process by which proteins and molecules pass through a semi-permeable membrane (aka: your face) and are absorbed deep into the papillary dermis (the upper layer) and the reticular layer (the lower layer) respectively.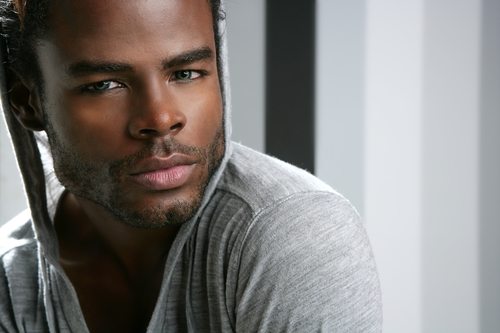 By infusing collagen into both of these areas of your skin, you help restore volume and replace the proteins that are missing. And there is some evidence to suggest that using these types of masks may help stimulate new collagen growth through peptide sectioning.
HOW COLLAGEN MASKS REDUCE SIGNS OF AGING
Now for the good stuff – the reason you are reading this article. Collagen masks help reduce the signs of aging by filling the dermal layers with the gel like substance that your body may be struggling to produce.
Think of this as your system's natural dermal "filler". In fact, many people who opt for synthetic type fillers (like Juvaderm) do so because of decreased collagen volume.
If your goal is to help preserve your looks without paying big bucks to the dermatologist, collagen masks are a must.
That's not to say you can't use this mask in conjunction with injectables like Voluma or Juvaderm. You can and many people do.
I'm simply suggesting that before you reach for the needle, why not use this as a starting point?
COLLAGEN MASK: WHAT TO EXPECT
The first time I used a collagen mask, I was stunned at the results. Not only did my face look much firmer, it also seemed smoother.
And here's the thing – as time went on, the results got better and better.
Now I want to qualify some things here and say that all of us have unique skin and that it may take time for you to see the desired results.
If you are younger (mid-20's to early 30's), the results will likely be subtle. After all, your face at this point shouldn't be filled with crags and wrinkles.
More: Powerful anti-aging secrets for men
But if you are older, like someone in their mid-30's and upwards, the results may be dramatic. Again, I'm qualifying this by saying all of us have different skin types so you are going to have to see determine the impact by trying it out.
BEST COLLAGEN MASKS
There are more collagen masks on the market than you can shake a stick at. Trust me, I've tried many of them and I'm here to tell you they are not all the same.
Below I have listed two that really deliver on the manufacturer's promises. One of them is the same mask my friend Eric uses. The other I discovered through the process of trial and error.
First, I would avoid any mask that's loaded with chemicals, such as cancer causing parabens.
Second, don't buy a mask if it the main ingredient is alcohol. I mention this because alcohol actually robs your skin of moisture and contributes to wrinkle formation.
Instead, opt for natural masks with real collagen that are made from plant based proteins.
Here are my two recommendations:
24K Gold Collagen Hydrogel Sheet
The best collagen mask (at least to me) is the 24K Gold Collagen Hydrogel Sheet (available on Amazon). Let me list out why:
Loaded with plant based collagen.
Contains hyaluronic acid (lubricating moisturizer that smooths wrinkles.)
Contains Vitamin E (helps expand collagen's presence in skin).
Infuses moisture and locks it deep into the secondary dermal layer.
Firms skin, smooths wrinkles and minimizes the appearance of fine lines.
This mask happens to be the one my buddy Eric had in his bathroom. I LOVED that it was gold because when I wore it, it made me feel like royalty. It also has a pleasant, refreshing scent.
Should you choose this mask, I would buy two packages because they come in packets of four. This way, you can try it once a week over a 60-day period to assess results.
Retinol Face Mask with Plant Collagen
The second mask, which I think is on par with the one listed above is the Retinol Face Mask with Plant Collagen (See Amazon). Here's why this one is an excellent choice:
Has lots of plant collagen in each sheet.
Contains retinol; a known anti-aging ingredient created from Vitamin A.
Includes soy, which has been clinically demonstrated to reduce redness and puffiness.
Excellent for wrinkles and lines around eyes, lips and forehead.
Natural brighteners in the form of soy to help rid your skin of a dull appearance.
The retinol ingredient with this mask really gives it a leg up on other masks.
If you aren't sure of the benefits of retinol, click on the link below regarding crow's feet.
More: How to get rid of crow's feet for men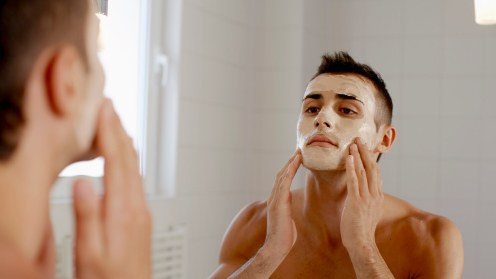 HOW TO USE COLLAGEN MASKS
Unlike clay based masks that you apply to your face and let dry, collagen masks work different. Remember, they come in paper thin sheets and loaded with ingredients.
Here's a quick, step by step on how to apply the mask.
Wash your hands so they are free of bacteria and debris.
Rinse your face with warm water to remove oil and dirt. If you want to use a mild exfoliator first because you have oily skin, that is OK.
Pat dry your face with a towel.
Open up your mask pack. Using your finger tips or a tweezer, extract the mask.
Tilt your head back and apply the mask directly to your face.
You may need to press the forehead area and cheeks with your fingers to ensure the mask adheres to your skin.
Lay down for 20 minutes on the couch, bed or floor.
It's OK to occasionally press the sheet if it starts to pull away from skin.
Removing the mask
Once the 20-minutes is up, gently pull the mask off your face. Then, let the excess liquid air dry. I'm mentioning this because the idea is to allow as much excess collagen soak into your skin as possible.
If you are pressed for time and need to get going, I recommend the following:
Rinse face with warm water.
Pat dry with a towel (do not rub as this irritates skin).
You probably won't need a topical moisturizer but if you do, use something very light and non-greasy, like a product from Mens Science.
HOW OFTEN SHOULD I USE MASK?
The choice is up to you but according to my research and after checking with my dermatologist, the consensus seems to be once a week.
The only exception might be in winter or if you live a cold weather climate. That's because cold, dry air robs your skin of moisture.
More: Why men should moisturize the penis
COLLAGEN MASK MYTHS
Sadly, there is a lot of misinformation on the Internet about collagen and by extension, collagen masks. I'll give you a couple of the biggies to help set the record straight.
Now remember, these are myths.
Only women benefit from collagen masks.
Masks made of collagen don't work on people of color
Collagen products cause acne.
You don't need a collagen mask if you use moisturizers.
If you take collagen pills, the mask isn't necessary.
FACIAL MASK POLL
Just for fun, I thought it might be kind of cool to see how many of you use some type of face mask. The poll is anonymous so don't worry – nobody will know how you voted.
SUMMING THINGS UP
If you want a natural approach to younger, healthier, more balanced skin, collagen masks are an absolute must.
Personally, I look forward to the 20-minutes a week I carve out for this activity. It's kind of like going to the spa and relaxing without having to spend tons of money.
Plus, the end result is a fabulous looking face. Isn't that what we all want?
Thanks for stopping by. Oh – don't forget about the area below your chin. Here's a guide to eliminating neck wrinkles.
More Men's Grooming Tips: