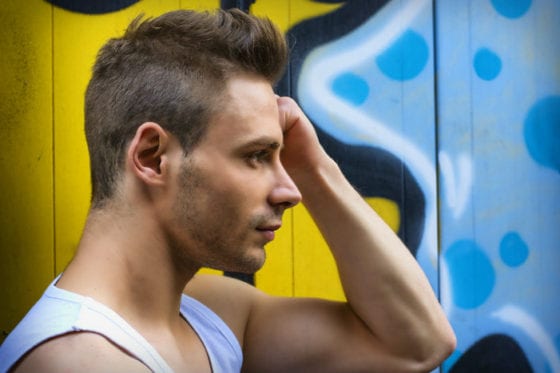 I had been called anti-gay names before but for some reason, I lost it when a stranger called me a faggot.
By: Kenny in the Colorado
It was a Sunday afternoon in early July around 2PM. My partner Nick and I had just finished our regular "cardio and legs" workout and decided to take a quick walk up to the local market for some groceries.
During our 10-years together, we had always made exercise part of our weekends. It's not like we're body builders or anything – we're both only 5'7 and 150 lbs. But we have always tried to stay in shape and live halfway healthy lives.
And so as we walked down the sidewalk, I could see a man quickly approaching our direction from the distance. He was probably 5'10 and 165 lbs., wearing a black AC/DC t-shirt with blue jeans.
I'm guessing here but he was probably in his early 30's – which was a little younger than my partner and me at the time.
As gay men, most of us have developed a sixth sense for trouble, particularly of the gay-bashing kind. Sadly, much of this intuitive sense is born from earlier life experiences, such as having been bullied in school or physically assaulted for simply being gay.
I think it's called fight or flight?
Anyway – there was just something about the guy heading our way that made me go on alert. I can't put my finger on it but let's just say it was my inner voice screaming: Caution, Caution!
I remember about 30 seconds before the encounter telling my partner, "That guy looks like he's trouble. Let's just avoid him and cross the street. I don't have a good feeling about this dude."
But it was too late.
The man had made it a point to walk directly into our path. As he passed my left side, he thrust his shoulder into mine with a tremendous amount of force.
It was intentional – there was no mistaking it.
As I turned around to face him, he stopped dead in his tracks and said with a loud, threatening voice: "Don't you know how to walk on the street you stupid faggot?"
I kept my cool but was furious inside. I hadn't been called that name since I was in grade school. Back at that time, it was a common experience for me to be harassed. I guess kids even back then knew I was somehow different.
Oh, it's not like I didn't try to hide it because I did. But children have an uncanny way of seeing a person's true reality.
I remember looking at Nick and him mouthing, "Let's Go Now" with an expression on his face that suggested he wanted to be anywhere else but there.
The guy who had purposely bumped into me must have seen what Nick said and made another remark: "That's right faggots – run away like little girls."
I don't know how to explain this but when you are in a situation such as the one I am describing here, it is like everything happens in slow motion.
And while I was aware there were other people around us, including passing busses and cars, it seemed for that moment like we were alone.
I wondered to myself if any of what was happening was real. Was someone really calling me a faggot in public as an adult? Was there something about me that seemed so obviously gay?
Suddenly, the man drew closer, now placing himself about six inches in front of me. "Hey you stupid faggot – I'm talking to you!" he shouted, his body language becoming more threatening and angry.
It was in that moment I am confident that I experienced derealization. I had only heard about this condition from the psychology classes I had taken but never fully understood what it felt like until that moment.
"Hey you stupid faggot – I'm talking to you!"
If you are not aware of derealization, it's basically a psychological state whereby you detach from your body and can see everything happening in front of you – like a movie – except you are in it.
The guy drew closer yet again, adding another anti-gay insult as he basically got up into my face. "What's the matter faggot – cat got your tongue?"
That's when I lost it. Seriously, something snapped inside me and I lost it bad.
As he continued to hurl insults in my face, I had been subconsciously balling up my fist at my right side. Tighter and tighter. The rage inside had reached a tipping point.
And so during mid-sentence, as he laughed at me and continued to call both my partner and I "faggots", I took that balled up fist and drove it right into his face. But I didn't stop there.
I also grabbed him by his hair and kneed his nutsack.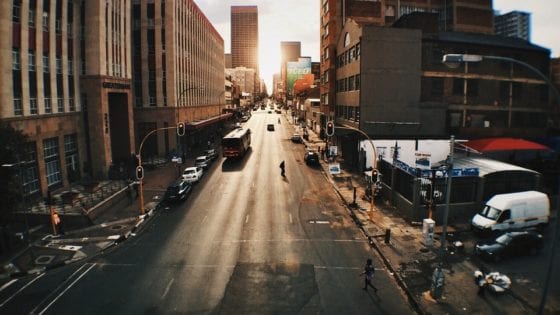 When I was a child, my grandmother once told me the tale of being attacked by a drunk sailor who wanted to get down her pants. I've never forgotten her words: "Always go for the gonads Kenny if worst comes to worst."
As the man bent over, grimacing in pain, my partner Nick grabbed me and begged for us to leave. But the guy who I had just punched wasn't done with his bashing.
"You stupid mother f….. faggots, why don't you two just die of AIDS!"
That's when I went from derealization to out and out crazy. I have no other way of describing it except to say I went nuts.
All of those insults he had made triggered memories from the past – memories that I thought locked deep inside and forgotten.
My mind raced to friends of mine who had died of HIV from years gone by – and to other friends who still lived with the virus yet endured.
All I remember is grabbing his head again with one hand and using my other one to mess him up good. And not just once. I jacked his face over and over again until Nick had to pull me off him. Like I said, I wasn't my normal self.
People on the street began to gather.
"You stupid mother f….. faggots, why don't you two just die of AIDS!"
The guy stumbled backwards slowly, eventually landing on his backside and onto the sidewalk. His head hit the pavement with a distinct thud. I could see blood pouring from his nose as he moaned in pain.
Almost instinctively, Nick and I decided to run. We didn't care what direction we were heading – we just wanted to get out of there. We bolted down a side street and through a few alleyways. Left, right and then left again.
Minutes later, we both could hear the unmistakable sound of sirens from the direction we had just fled.
***
I know what I did that day was not right. But I'm not sorry I punched him. Yes, in hindsight, I could have – should have – walked away. But that's not what happened.
It's always a good strategy to get away from a gay basher when possible. But in the moment, that simply wasn't at the forefront of my mind.
And would it have made a difference if the man was just your run of the mill, gay hating Neanderthal? That's up to you to decide. I will say this – there is something about the word faggot that just activates my crap. Maybe it does for you too?
While there are really no firm numbers to go by, it is estimated that somewhere between 40%-50% of people who identify as LGBT will experience a hate crime during the course of their lifetime. And things seem like they are getting worse since the 2016 presidential election, according to news reports.
Some gay men will say that it is best to turn the other cheek – that ugly words don't mean anything. But is that really true?
The way I see it, you have two choices. You can either put up with it or not. In my case, I decided I was done with being targeted. Plus, his behavior made both me and my partner afraid for our safety.
FYI: Nick and I are still partners. He has mixed emotions about what happened that Sunday afternoon in July. I think both of us are still traumatized over the experience.
But I'm here to say that if I had to do it again, I would – with no regrets.
—
Do you have a real life story you would like to share with your fellow website visitors? Make your pitch today to the blog!