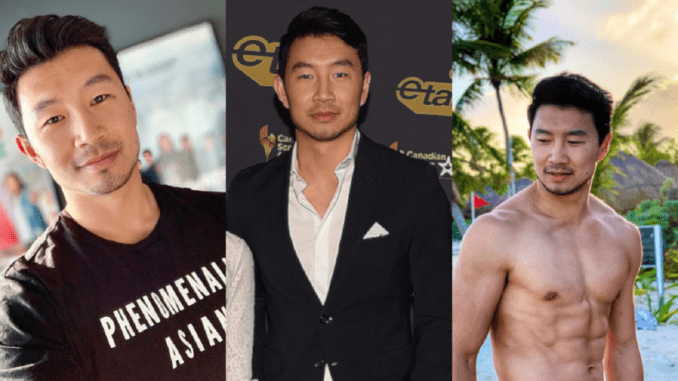 A YouTube channel had the nerve to wonder whether Simu Liu is too ugly to play a major Marvel role. But the actor wasn't going to take the insult (and questionable journalism) sitting down.
Problems With Shang-Chi (Already!)
Last month, Hollywood legend Kevin Feige, who has single-handedly overseen the rise of the biggest film franchise in movie history, announced the next phase in the Marvel Cinematic Universe. (We gave you a total rundown of all that info). And one happy surprise from the reveal was that Kim's Convenience star Simu Liu was cast as the newest Marvel hero Shang Chi.
Unfortunately, Feige and Marvel didn't account for how Chinese viewers, their second-biggest market outside of the U.S., would respond to the casting. Sadly, the casting of Simu Liu as Shang-Chi is a complicated one. The character of Shang-Chi is riddled with stereotypes such as his power set essentially being a kung fu master to the racist depiction of his supervillain father Fu Manchu. In order to sideline that second problem, Marvel is allegedly having supervillain and crime boss The Mandarin become Shang-Chi's father. But that presents a new problem.
Chinese audiences were surprised to find out that celebrated Chinese actor Tony Leung, who's known for playing leading men and good guys, was cast as the film's main villain. Even worse, presenting Tony Leung as the father of Simu Liu's Shang-Chi presents the storyline of a Chinese-American superhero fighting off his Chinese villainous parent. (If you want to hear more about this controversy, you can watch the movie news video below).
Related: People Dared To Body Shame Jason Momoa
But Ugly?
But where did the "Is Simu Liu too ugly?" question come from? Honestly, we're not sure. But, Asian Boss seems to think it's an important issue.
The YouTube channel, which explores Asian perspectives and opinions on local culture and global issues, apparently found a social media post or two asking the question. It then decided to give the idea a bigger spotlight by making its own video asking Chinese citizens "Is Simu Liu ugly?"
https://www.youtube.com/watch?v=F-6H8XfIE4o&fbclid=IwAR3aySTZhKjizF9SKDlELMS7eAZEOfnv7J7xZ_W4Z1jjk-OnczatskbALxc
Unfortunately, the video made the rounds and even reached the eyes and ears of Simu Liu himself. At first, Liu posted a simple joke on Twitter in response to the video. In it, he said, "Hey Siri… am I ugly???"
Hey Siri… am I ugly???

— Simu Liu (@SimuLiu) August 9, 2019
But then, the actor shared a longer post on Facebook to address the issue and topic more seriously.
"OOF 3.5 AND they pronounced my name wrong!

On a serious note, I think this is a very teachable moment. I've had people question me my entire life. A lot of teachers thought I'd never amount to anything, a lot of producers, directors, writers AND costars have questioned my acting ability, and I've been rejected from countless conservatories, grants, programs, etc. I've been second-guessed at every single possible step of my career.

The reason why I'm still standing is because I'm singularly focused, I have the utmost belief in my abilities and I refuse to let the opinions of others define me. In your careers, in your lives, no matter where you go, you will always encounter voices of doubt. Some will come from people who are frighteningly close to you. Are you going to let those voices own you?

That isn't to say you can't have bad days, and that you shouldn't use your support systems and talk about how you feel like I'm doing right now. I've never been called ugly so many times in my entire life! For me, it's never been about trying to shut the voices out – it's a fruitless effort (especially if people happen to be making Youtube videos about it lol). Rather, it's about learning to let the voices exist and be OKAY with it. I'm still doing my thing, and I'm still over the moon happy I get this amazing opportunity.

I'm not going a few voices of doubt ruin that for me, and neither should you, in whatever you are pursuing in your life.

(I also seriously question the integrity of the channel that puts this up LOL)"
Related: Body Dysmorphia & Men: Survey Finds Body Issues Are Rising
He's Not Ugly
While you could make a claim that Simu Liu isn't the perfect model for the Chinese eyes and beauty standards, to say that Simu Liu is ugly by any means is just wrong. First from the stance against forcing body issues and judgment on others, and second on the objective stance of seeing just how hot this man is.
I mean, just look at these Instagram posts and see for yourself.
So to Simu Liu, good on you for not letting this ridiculous talk get you down. And to Asian Boss, listen to one of the street interviewees you presented in the video. First, the reporter asked, "Do you ever see a day when the Chinese beauty standards become the global standard? Or do you think that Hollywood will continue to dictate beauty standards?" As an enlightened response, one woman told the interviewer, "This question sounds like 'The Rising China' conspiracy. It feels like a dangerous question."
And this person is completely right. Beauty standards aside, Asian Boss needs to consider how, and why, it presents its questions/videos. It was Asian Boss who created this situation of judging and rating an actor on his looks. But was there really a need to have this discussion? Again, what prompted this video from Asian Boss was allegedly a few social media posts. This wasn't a hotly contested issue, but a few rants by strangers on the internet. Yet, Asian Boss felt the need to spotlight such a topic and give it a shallow/biased focus.
In an age where the world is getting smaller and perspectives/standards from other countries are affecting their neighbors, we don't need the promotion of negative judgments such as "being too ugly." But unfortunately, Asian Boss did just that.