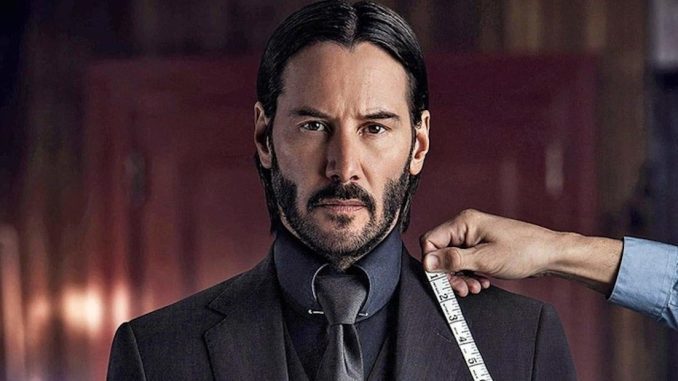 Keanu Reeves Fun Facts
If you looked up lone wolf in the dictionary, you'd probably see a photo of Keanu Reeves. He's the prototype silent, sigma male with dark eyes and a mysterious persona. Keanu Reeves isn't just putting on a show for the cameras. His lone wolf attributes come from a history of grief, stoicism, and some serious martial arts training.
Keanu Reeves has a long and distinguished acting career. He's given life to unforgettable characters like Neo from the Matrix, John Wick, and Johnny Silverhand in the Cyberpunk 2077 video game. He's come a long way since playing a ditzy surfer dude in Bill & Ted's Excellent Adventure.
#KeanuReeves details some of the crazy action scenes in #JohnWick4 https://t.co/stfvcLpqeP

— ET Canada (@ETCanada) September 28, 2021
Pop File: Keanu Reaves
Birthday: September 2nd, 1964
Height: 6 Ft. 1 inches
Eye Color: Light Brown
Zodiac: Virgo
1. Keanu Reeves Might Actually Know How to Fight
The Hollywood actor is famous for action hero roles. For his part in Speed, Keanu Reeves hit the gym to beef up for the part of a bomb squad cop. Before shooting scenes for The Matrix, Keanu trained in kung fu for more than four months with renowned Chinese choreographer Yuen Woo Ping.
To prepare for John Wick, Keanu spent three months training with guns, knives, and tactical fighting. Keanu Reeves might not be a fully fledged marital artist, but he certainly acts like one. Check out this amazing fight scene from John Wick 3.
Related:
6 Facts About Mortal Kombat Star Lewis Tan
2. Is Keanu Reeves Married?
Keanu Reeves has never been married. He has been linked to more than a dozen Hollywood starlets in the 90s. Back in 1998, Reeves dated Jennifer Syme. The two had a child together who died a stillborn. The couple split for awhile but were back together by 2001. Tragically, Syme died in a car accident that same year.
In 2009, Keanu Reeves met Alexandra Grant at a dinner party. The two became friends and later found love. Grant is best known for her art and photography. The two have been together since 2009 and have been seen swapping tender kisses in Paris while Reeves filmed John Wick 4.
An interesting side note is that Keanu Reeves and actress Winona Ryder stood before a real priest and said "I do" for the production of Bram Stoker's Dracula in 1992. Is Keanu Reeves technically married to Wynona Ryder? You be the judge.
3. Keanu Reeves Was in a Rock Band
There's a reason that Keanu Reeves played such a convincing rocker in Bill and Ted's Excellent Adventure. That's because Reeves plays bass guitar in real life. In 1991, he co-founded a band called Dogstar. At first, the band just played in the garage as a hobby, but by 1994 they were going on tour with Bon Jovi and David Bowie.
The band had two mainstream album releases, but Keanu Reeves chose to pursue his acting career and left the group officially in 2002. Interestingly, the super group Weezer performed their first ever gig as an opening act for Dogstar in 1992.
4. Keanu Reeves Stars in a Popular Video Game
Keanu dazzled gamers when he walked out on stage at E3 in 2019 to introduce Cyberpunk 2077. Reeves stars in the game as Johnny Silverhand, a rocker turned war veteran who plays an integral part in the main character's story arc.
It's not the first time that Keanu Reeves' likeness has been seen in video games. Before Cyberpunk 2077, Reeves played Neo for the popular fighting game The Path of Neo. His likeness was also used in Fortnite, Pay Day 2, and John Wick: Hex.
Related: Does Cyberpunk 2077 Live Up To The Hype?
5. Keanu Loves Motorcycles
Reeves is a total gearhead; he's really into motorcycles. He learned about motorcycles while shooting a foreign film in Germany and bought a bike immediately afterwards. He's seen driving a motorcycle with his friend River Phoenix in the film My Own Private Idaho.
He owns a custom bike shop called Arch Motorcycle Company. Some of the motorcycles in Cyberpunk 2077 were designed to look and sound like bikes from Reeves' shop. Keanu might love riding, but he's also had some hard crashes. He's lucky to have walked away with just a ruptured spleen, some missing teeth, and some serious road rash.
Related: 10 Facts About Hollywood Star John Krasinski
6. Keanu Reeves Writes Literature
Here's a bit of insight into the mind of Keanu Reeves. He co-wrote a comic book called BRZRKR. It's about an immortal mercenary who takes on impossible missions. Reeves co-wrote the comic book with Matt Kindt, who also wrote material for Marvel.
BRZRKR sold more than 615,000 copies and was picked up by Netflix. The streaming service will release an anime version of BRZRKR and a live action film. Of course, Keanu Reeves will play the main character in the live action version and lend his voice to the animated capsule.
Keanu Reeves also collaborated with Alexandra Grant on two picture books called "Ode to Happiness" and "Shadows". Both books feature the visual art of Grant and philosophical musings from Keanu Reeves.
7. Keanu Reeves is Very Generous
After John Wick 4 wrapped, Reeves gifted all the members of the stunt crew Rolex Submariner watches. These watches are hard to buy and cost close to $15,000 each. To add a personal touch, each watch was engraved with "The John Wick Five" and a "Thank You".
I'm losing my shit ,keanu gave his entire stunt team rolex watches #keanureeves pic.twitter.com/xgYUPufTKm

— 🧘🏻‍♀️ K⃣ A⃣ L⃣ L⃣ E⃣🧍🏻‍♀️ (@kallewickans) October 24, 2021
You'd be delighted to work on a film with Keanu Reeves. When he was making The Matrix, Reeves took a substantial pay cut on royalties so that the special effects team could get more money for their work on the cyberpunk sfx heavy film. He also gifted them with Harley Davidson motorcycles.
Read Next: Rise of the Sigma Male – The Lone Wolf