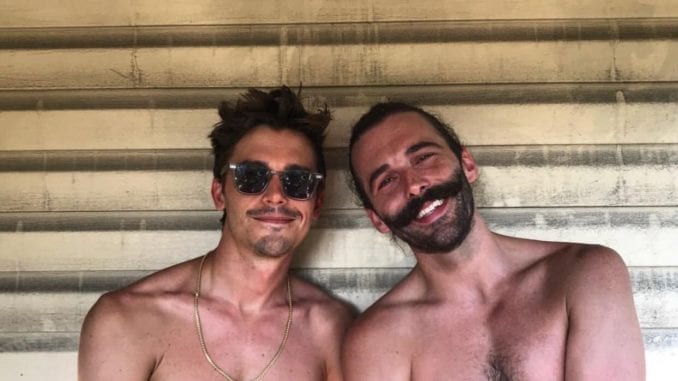 Antoni Porowski And Jonathan Van Ness Dating?
Are two of the Fab 5 dating? The two men in question finally settle the conversation with two social media posts.
A couple of days ago, Antoni Porowski posted to social media a picture of himself kissing his cast mate Jonathan Van Ness while in a car. To caption the picture, which went up on American Independence Day, Porowski wrote, "I guess Amurica's birthday's our anniversary, babe."
This, of course, got fans of the two celebrities in a frenzy. Even worse, the two then left the internet in that heated moment for a day. The post received more than 730,600 likes and 12,790+ comments fervently discussing the two Netflix personalities.
Many of the comments were in celebration of the proposed couple with one fan asking to be the flower girl at the wedding. But not all the comments were rated PG. Drag star Scarlet Envy wrote a simple and suggestive, "I would watch."
The most typical reaction, however, was of shock and confusion. Queer Eye fans and fans of the two celebrities wanted confirmation that this announcement was real. Unfortunately for some, it was not.
Related: Antoni Porowski Answers 5 Burning Questions
A Fake?
A whole day later, the two reappeared on the internet to share that it was all a hoax. They only waited the full day to play a light trick on all of their fans.
To share this shock breaking news, Jonathan Van Ness posted a second photo sharing that it was all a joke. Posting on his own Instagram, Van Ness wrote, "It was all Antoni's idea. but maybe someday we will fall in love @antoni #notacouplebutitwasfunright"
It seems that the rumor of the two dating was getting so crazy that they felt the need to address it. Yes, this isn't the first time that fans have shipped some of the Fab Five together. In March, the group of Netlfix stars met with Wired for a Q&A. There, Porowski and Van Ness were asked about the dating rumors. Jonathon guessed that the origin of these rumors is because the two friends "insist" on holding hands in an "interlaced fashion."
With the question repeatedly coming up again and again, there's no wonder why the two decided to have their little fun. Now, hopefully, people can move on.
But before that, did you like the joke or wish they'd gotten straight to the point? Do you wish the two were actually dating? Let us know down in the comments below.