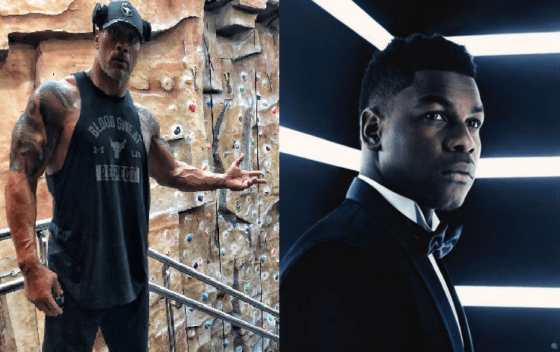 The Highest-Grossing Actors in 2017
Forbes's list of the Highest-Grossing Actors in 2017 is out and several of our favorite Hollywood hotties made the list.
This annual list points out all of the actors who are making the most bucks for their blockbuster bangs throughout the year. Basically, it's a list of the people who are working the most, being paid the most, and staring the in the most watched films of the year.
But the official word on how the top ten are chosen is:
"To calculate the ranking of top-grossing actors, we added up the 2017 global ticket sales of major actors' films as of December 26th, 2017, using data from Box Office Mojo. We did not count animated movies where only actors' voices were used and only included actors who were top-billed or had the most screen time."
But who made the cut?
First, we have John Boyega who made number 10 on the list for making a global box office talley of $815 million.
If you want to know more about John Boyega, we have 7 facts all about him.
Next, in the number 9 spot is Chris Hemsworth for making $845 million at the box office.
We are big fans of Hemsworth and love to talk about him whether he's cuddling with Tom Hiddleston, flaunting his body on the beach, or supporting AU marriage equality.
Then, there's Chris Pratt who just one upped the other Chris with $854 million made at the box office.
If you want to learn more about him, you can check out these ten facts about the great comedian and actor.
After him came other Marvel star Tom Holland who's $888 million at the box office earned him the spot of number 7.
We have another list of facts for those wanting to know Holland a little more.
At number five is the classic move star Johnny Depp who made $1.1 billion this year. Who else would love to clown around with this man?
In the number two spot is none other than social media juggernaut Dwayne Johnson who made 1.5 billion globally.
If you want to get to know more facts about the man, look no further than this article here.
Lastly, we have our number one spot which went to Vin Diesel for making $1.6 billion dollars globally.
Congratulations to the Top Ten Highest-Grossing Actors of 2017. Though, we're sure your wallets are all the congratulations you need.
PS. Despite this being a gay men's web site, we do have to congratulate the women on the list as well. Congratulations to Daisy Ridley for placing as number 6, Emma Watson for placing in fourths, and Gal Gadot for making number 3.