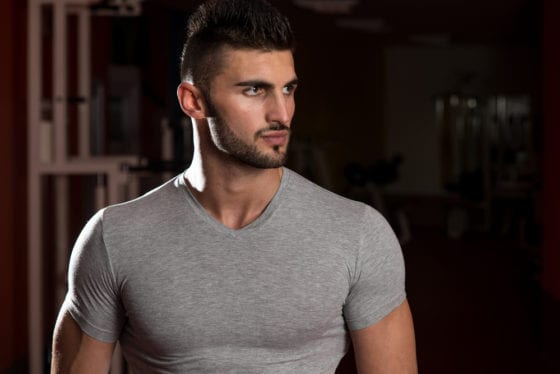 Get Rid of Oily Skin
Trying to get rid of oily skin? If so, you wouldn't be alone. Lots of guys struggle with this annoying problem. If you are searching for ways to get remove that shine on your face, this article is for you.
There are a number of causes for oily skin; some of which can be traced to genetics. For example, if you are Latino or of Italian decent, you may be more prone to excess oil production.
Regardless of your background, the good news is there's plenty you can do as part of your personal self-care routine to cut down on the shine. What's more, if you play your cards right, you'll even minimize acne.
According to Dr. Andrea Cambio, medical director of Cambio Dermatology in Cape Coral, Florida, none of us have to fret. "Fortunately, there are plenty of ways to cut down on oiliness," she shared in an article appearing on WebMD.
What follows are 7 effective strategies to help you get rid of oily skin that may prove useful. Obviously, if you are concerned about your skin because a problem won't go away, consult with your medical doctor.
And so without further delay, let's jump right in!
via GIPHY
1. Grab a great cleanser!
Your first line of defense against oily skin is using the right cleanser. While there's lots of choices on the marketplace, not all of them are effective. Worse, some can even make your oily skin problem worse.
One of the products we like best is MenScience Androceuticals Daily Face Wash. What's nice about this one is that it cleans the dermal layer of the face without stripping it of important nutrients. It also doesn't contain alcohol; an ingredient that can paradoxically increase oil production.
Finally, under this point, removing excess oil from your face with a quality cleanser helps to cut down on bacteria – which is known to cause acne.
2. Use a facial mask
If your goal is to get rid of oily skin, you need to get into the habit of using a high quality facial mask. This is particularly true if you are prone to sebaceous cysts.
We did some sampling after much consideration believe that the facial cleansing mask from Kyoku is an excellent option. Not only does it help to minimize shine but it also helps to reduce acne.
3. Wash your face ONLY once a day
This tip may seem counterintuitive but it happens to be true. The more you wash your face, the more irritated becomes. The end result can mean higher oil production.
By the way, did you know that male models only wash their face once a day? Yep, it's true. Be sure to read this article on skin secrets of male models.
4. Get a good exfoliator
If you are trying to get rid of oily skin, an exfoliator can work wonders. That's because when you exfoliate, you remove dead skin cells and other clogging debris that can cause breakouts.
A nice one to consider is MenScience Microfine Scrub. This exfoliator uses gentle beads containing glycolic acid to gently buff away the oil. It's also great as part of preparing to shave!
5. Moisturize daily
Contrary to popular belief, moisturizer does not cause excess oil. But if you use the wrong moisturizer, you can end up looking like you have unwanted shine. That's why it's important to skip the ones that contain a bunch of gelatins.
One of the best products you will find is made by the folks at Cetaphil. They offer lotions for AM and PM that is dermatologist recommended and suitable for all skin types. And the best part is gelatin isn't an ingredient!
6. Hydrate like crazy
Did you know that dehydration can actually increase your body's oil production levels? It's true according to many leading dermatologists.
If you are trying to get rid of oily skin, try to take in 8-10 glasses of water per day. For our purposes a glass can be defined as 8 fluid ounces. FYI – pops and some juices don't count. See the next tip.
7.Watch your diet
What you eat has a lot to do with how your skin looks. In the case of oily skin, research suggests that certain foods intensify oil production more than others.
Sugary drinks and inflammatory fats are just two examples of food types that you might want to avoid. If you have time, be sure to visit the Live Strong website to learn more about foods to avoid for oily skin sufferers.
More Men's Skin Care Articles: