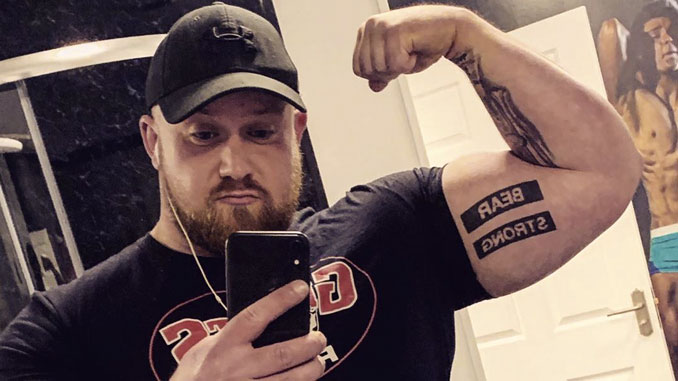 Meet Chris "Big Bear" McNaghten, the openly gay Northern Ireland champion strongman who is featured in the new BBC documentary, My First Pride.
In the documentary, McNaghten proudly says that he is "the first openly gay strongman to come out in the UK and Ireland, possibly even Europe."
The beefy 30-year-old shares other 'firsts' in his life as well, including coming out as gay. 
McNaghten explains that coming out to one of his coaches, who had become a close friend as well, was one of his more difficult challenges to overcome.
"I was just as nervous about telling him about it as I was about my dad," explains the Strongman champion. "It was a wee bit emotional. That was just a massive weight off my back."
You can check out a one-minute clip from BBC's My First Pride below.
After the coming out process, it was finally time to attend his first Pride. So off to Belfast, Northern Ireland, he went with his fiancé, Jon.
The couple are engaged although same-sex marriage isn't legal (yet) in Northern Ireland.
While the LGBTQ landscape in his home country hasn't caught up with the dozens of countries around the world that have embraced marriage equality, he has seen how social attitudes have shifted in other countries.
Take, for example, public displays of affection.
"Whenever we have been in London together, there's no issue with holding hands, there's no issues being in restaurants with each other or kissing or showing any type of affection with each other," says McNaghten. "But back home, we have yet to do it."
Still, even at home, beefy "Big Bear" enjoys many of the same things a lot of LGBTQ folks do, like RuPaul's Drag Race, which he sees as comparable to what he does in his sport.
"Drag is about putting on a performance and about performing for people," he says. "It's the exact same way whenever I'm on stage competing."
And speaking of "the exact same," McNaghten is looking forward to the day when his sexuality isn't really a part of his fame in the sports world.
"I want to be Ireland's strongest man," he says. "I don't want to be Ireland's strongest gay man."
And when he says 'strongest,' he also means mentally strong.
McNaghten has launched his own YouTube channel where he offers advice on how to overcome mental health issues he's coped with over the years like depression and body image.
Also at the YouTube channel is the 2018 film, Bear Strong, which chronicles his quest to become Ireland's strongest man, his coming out journey, and how he learned to conquer his battles with mental illness.
Check out this short video profile of McNaghten by PinkNews: