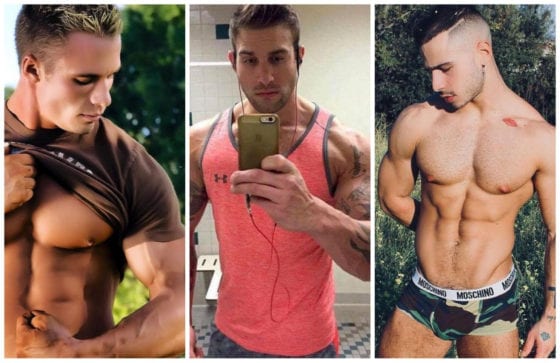 Best Gay Facebook groups!
Hunting for a gay Facebook group? Hoping to find a place to chill, swap images, and interact? Looking to meet new men for dating and more? If the answer is yes, you've come to the right place!
Just like you, we enjoy checking out focused Facebook groups to share stories, gossip on news items, and yes – see eye candy! In our careful examinations of groups, we've learned that some are better than others.
The truth is – a group is only as good as the people who run it and its members. If you've ever run one of these gathering places on online, you already know they take a LOT of work!
Moreover, the folks who administer them get very little in return. It's not like you get big money to do it, you know? The best groups on Facebook (regardless of sexual orientation) are managed by folks who have a passion for the topic.
With that said, the bloggers of Gay Pop Buzz decided to create a list of the top gay Facebook groups worth checking out.
We've tried to be as eclectic as possible. Below you will find a brief description of each group – plus an accompanying link.
Apologies in advance if your group isn't listed.
1. Gay and Fabulous
If you are looking for a fun group that integrates humor, conversation, opinions, and news, Gay and Fabulous is a fantastic option.
Topical themes include:
Relationships
Current events
News
Celebrity gossip
We've spent lots of time here reading different posts. What's great about this one is the high degree of interaction among members. The group administrators are all about creating a meaningful experience.
2. LGBT Soldiers and Veterans
At GPB, we have a strong interest in military issues. Maybe that's because several of our bloggers are former military! That's why we think LGBT Soldiers and Veterans is such an amazing place.
Topical themes include:
Military topics impacting LGBTQ persons
Policy issues
Real photos of LGBT active and former military
Pictures of attractive military people
At least once a day, I find myself scrolling through the material shared by members. Always something new to see. Administrators really are awesome, too!
Check out LGBT Soldiers and Veterans
3. The Real Muscle Gods to Worship
Are you into well-built men. Do you find yourself drooling over pictures of brawny guys? If the answer is yes, you must join The Real Muscle gods to Worship and Service! If you have heart problems, be forewarned – the boys are hot!
Typical posts include:
Pictures of body builders
Male selfies
Member posts on gay topics
Interactive conversations about men
One of the other things that's fun about this group are videos that are uploaded from time to time featuring Hot AF guys. Great for some quick eye candy if you need to pass the time.
4. Gay Dating and Relationship Support
Do you sometimes need relationship advice? Hoping to bond with others over a common issue? Wanting tips on how to handle a specific dating issue? If the answer is yes, you'll want to set your eyes on Gay Dating and Relationship Support!
Posts include:
Member questions on dating
Advice articles related to LGBTQ relationships
Fun questions from participants
Advice on sexy time, hooking up, love and more
The administrator of this group is very involved and helps things to run smooth. Many gay men belong to this one so be aware it takes time for something you post to get approved. We love this one – a lot!
Visit Gay Dating and Relationship Support
5. Gay Geeks
Billed as a group for nerds and geeks, "Gay Geeks" is a wonderful place for folks in our community who are into gaymers, technology and more. We are in this one a few times a week and its always an enjoyable time.
Posts typically are about:
Gaming
Anime
Fantasy
Geeky stuff
What's terrific about gay geeks is the witty, clever vibe shared by so many members. It's also a great place to get opinions and advice on technology related matters. You've gotta check this baby out.
6. Hairy Men: Masculine Men
If you've followed our blog for any amount of time, you likely know we are suckers for men with hairy chests and facial hair. In fact, otters and wolves drive us nuts! That's why we love this group.
Common posts include:
Hairy bears
Muscle bears
Muscle otters
Muscle jocks with hair
Hands down, one of the best places on Facebook to check out furry men. If you need a quick pick me up, you've got to stop by and see all the hideously hot men.
7. Hot Male Celebrities
Are you a fan of hot male celebrities? Do you like seeing unique pictures of attractive stars? Hoping to catch up on pop culture? Then head on over to "Hot Male Celebrities"!
Usually, you'll see:
Pictures of your favorite male stars
Celebrity focused memes
Gossip
Conversations about movies and television
Sometimes, you'll also see a blurb about breaking news, like a major celebrity event. Other times, there will be extremely rare pics of hot actors that'll make you drool! Can you say Chris Evans?! Group is run well and the rules are strictly enforced.
Hot Male Celebrities on Facebook!
8. LGBT and Proud
This is an all-around fun group that consists mostly of gay men. Amazing place to share cool pictures, swap stories, gossip and just hang out with others. All in a safe, affirming environment.
Here's what you'll see:
Member picture posts
News stories from around gaydom
Relationship issues
Unique LGBTQ focused content from members
If you identify as LGBTQ and want to be with others who "get" who you are, we highly recommend this puppy. A good place to get tips on gay life, too!
9. Dudes With Dogs
Are you a dog lover? Do you dig men with dogs? Hoping to connect with others who have similar pet interests? If the answer to any of these questions is yes, you'll want to head on over to this fantastic group!
Themes include:
Member posts on canine related topics
Dog focused memes
Member generated questions
Cute photos of men with their fur-babies!
Seriously, if you need a place to get your cute on, this is the place to visit. Group administrator runs a well-organized ship and is also interactive. They are on Instagram too. This will be one of your favorites. Promise!
10. LGBTQ People of Color
Are you wanting to connect with people from a diverse background? Hoping to learn about issues that are unique to people of color who happen to be LGBTQ? Hands down, this is the group for you!
Example posts include:
Human interest stories
Political issues
Member submitted posts
Current events and pop culture
We found out about this group from two of our bloggers who happen to be members of this group. Word is that the community is very active – and interactive.
Check out LGBTQ People of Color
Wrap Up
The list that appears above is just a sample of the many groups that appear on Facebook. If you have an interest, there's a good chance you'll find a group to match.
Just remember; these online places for gathering take tons of effort to administer. Make sure you get to know members and from time to time, thank the people running the group.
They'll really appreciate!
We hope you found our list to be helpful!