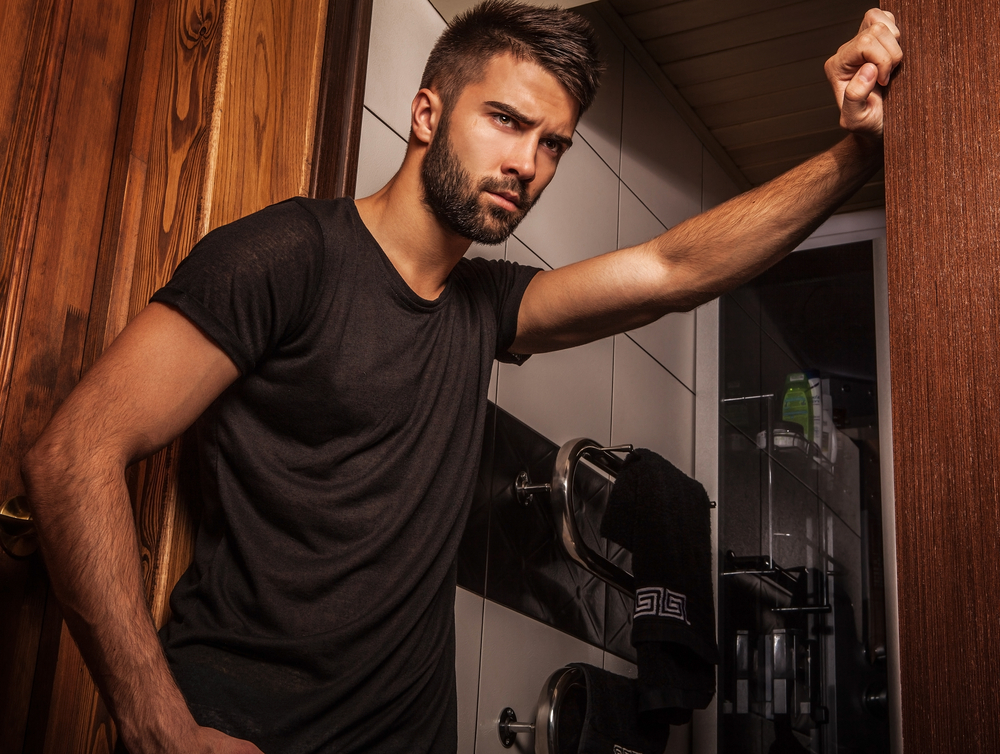 Skin Care and Men: A Closer Look
Your skin is the largest organ on the human body. It protects you from harmful microbes and accounts for about 15% of your bodyweight. Yet, some men think skincare is something that only women are allowed to care about.
Recently, I was scrolling through my Instagram feed and there was a post on a men's wellness page that I follow. It was a video of a handsome young man applying different skincare products. He started with undereye gel pads, applied a serum to his cheeks, he used a moisturizing cream, some sort of spritz that I didn't recognize, and followed it all up with a lip balm.
Yes, it was a bit over-the-top but the results were amazing. The boy had amazing skin. I was so shocked to see the comments though.
"Just think, we use to hunt mammoths."
"Nah fam, this is gay af."
"WTF has happened to real men?"
It went on and on. Normally, I would just keep scrolling because I hate getting involved in nasty comment wars with homophobic trolls, but I couldn't resist. When I mentioned that even straight men are allowed to take pride in their appearance, I got berated with hateful replies.
Apparently, some straight men are afraid that if they apply a little skincare product to their face that the next morning they'll wake up gay. Sorry fellas, it doesn't work that way. You don't have to use ten different products, but you should do more than splash some water on your face every now and then to maintain your skin.
If you're wondering if it's okay for men to care about skin care, the answer is "yes". You don't even need to try that hard. Here's some simple skincare routines that you can use to have a fresh, glowing visage whether you're gay, straight, or something in-between.
Give Your Face a Refresh 
1. Wash your face twice a day
The most basic level of skincare is to cleanse your face with a gentle face wash. Once in the morning and once before bed should do the trick. Now, there are skincare products targeted at men, but most of them are based on masculine scents, not ingredients that benefit your skin type.
If you're on the fence about what type of face wash to use, you can't go wrong with a gentle cleanser for sensitive skin. It will have all the basic ingredients you need without much perfume or added chemicals.
Related: What's the Best Cleanser for Oily Acne Prone Skin?
2. Use a moisturizer
Some men might see the term "moisturizer" and start to get a bit nervous. You can reframe this term if it bothers you because these products are just meant to "hydrate" your skin. After you wash your face, you need to apply some hydration.
Moisturizers make the skin look and feel firmer. You should use a moisturizer after you wash your face and shave, so that could be two to three times a day. You can use aloe vera gel if you're a no fuss kind of guy. If you want to be a bit adventurous, then choose a moisturizer that will make your face look and feel younger, like this gel from Neutrogena. You can find it on Amazon for a great price.
3. Apply some sunscreen every day
There's nothing foo-foo about sunscreen. UV rays from the sun can harm your skin and lead to serious health problems. So, you don't need to worry about breaking man code if you're caught applying some sunscreen to your face and body.
Some moisturizers also contain sunscreen. So, if you don't think you can apply yet another product to your skin, then look for a moisturizer that also contains sunscreen. That way, you can kill two birds with one stone. Protecting your skin from sun exposure should become part of your daily routine, even when you're not heading to the beach.
4. Exfoliate your skin once a week
Up until now, you've covered the basics. Cleansing, hydrating, and protecting your skin are the main areas that you should be concerned with covering. If you're willing to go a bit outside of your comfort zone, then step into the wonderful world of exfoliation.
Exfoliating skin products gently scrub away dead skin cells and help to prevent ingrown hairs. Face scrubs also feel great. They leave your skin feeling stimulated and refreshed. You don't have to exfoliate all the time. Just leave a face scrub in the shower and try to aim for an exfoliation about once a week.
5. Apply a face mask once a week
Now, some men are going to get upset about this one. Let's talk about masks. The only time you've probably seen someone wearing a skincare face mask is a woman or group of women at the spa. You might be thinking that laying back, relaxing, and applying a face mask is downright feminine.
Related: Can a Dermal Filler Help You Look Younger?
You couldn't be further from the truth. One of the best types of masks for men is a clay mask. It penetrates deep into your pores and pulls out grime, dirt and oils that have been built up over time. It's antimicrobial and the clay works to restore the balance of your skin. You can use the 20 minutes to catch up on sports scores if you want. Nobody said you need to sip a strawberry daiquiri.
Check out this Dead Sea Mud Mask that reduces acne and blackheads. See Amazon for pricing.
Related:
Men's Skincare Product Guide Made Simple
Wrapping it Up
There you have it. That wasn't so bad. You can improve your skincare with a few easy to manage steps. You don't have to convert your bathroom into a beauty salon either. Skincare isn't strictly for the ladies and using skincare products doesn't make you less masculine.
Try out this routine for a few weeks and you're bound to see results that you like. Additionally, make sure to clean your face before you shave and moisturize afterwards. You should avoid touching your face too often so that you don't clog up your pores and be sure to drink plenty of water to stay hydrated.
Lastly, if you happen to see a guy on your social media feed who takes better care of his skin than you do, just keep scrolling if you don't like it. There's no need to drop a bunch of homophobic comments. Trust me, he's probably not bothered in the slightest. He's too busy looking fabulous.
READ NEXT: The 7 Most Important Rules for Manscaping