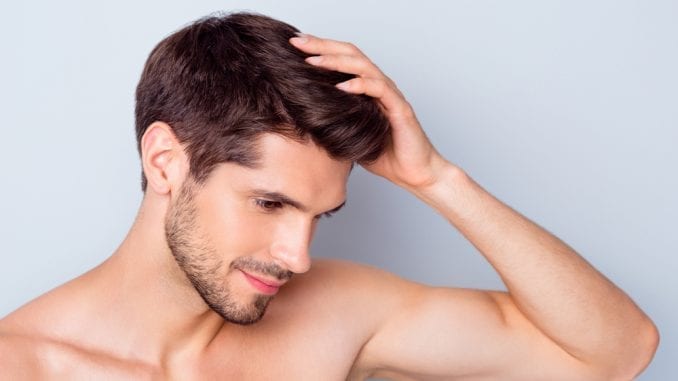 Get Your Wavy Hair Under Control
Do you struggle with wavy, unruly hair? Does it spike, twist, and curl in all the wrong places? Are you hoping to find quick, easy ways to tame it before heading out for an event?
If the answer is yes, you aren't alone. I have wavy hair and know all too well what it's like to have this problem. In fact, it's a problem a lot of guys have. It's also an issue we don't talk about. Let's be real, as a tribe, we aren't going to ask our buddies how they get their hair to look all suave.
So, rather than you trying to figure out this hair thing on your own, I thought it might be helpful for me to blog a quick post and share with you what I do to straighten my hair with the help of a baseball cap.
Here's what you will need:
An old baseball cap you don't regularly wear
Hairbrush
Hair product, like a gel or cream
A hairdryer
Bottle of hairspray
Are you ready to straighten that wavy hair out? Let's jump right in! Here is what I do, step by step:
Step 1: Condition Your Hair
The very first thing you'll need to do is jump in the shower and condition your hair. The conditioner will help to soften your hair follicles and take out some of the waves.
Personally, I use Hair Solaye from Ultra Labs because it gives me a fuller look. Yep, that's right. I have thinning hair. You can get this product online (See Amazon).
Step 2: Pat Dry Your Head
Once you get out of the shower, grab a fresh cotton towel and pat dry your hair. The goal of this step is to leave a little moisture on the shafts, something that will be important for the baseball cap part.
FYI: Don't rub your hair dry with the towel. The reason you don't want to do this is because it causes the waves – and frizz – you are trying to avoid.
Instead, simply take the towel and gently pat dry the different parts. This step literally takes a minute or less.
Step 3: Direction Your Hair
After your hair is semi-dry, it's time to give it some direction. You'll need a brush, hairdryer and some product for this step.
First, grab a dime-size amount of product and infuse it into your hair. Personally, I like using an anti-humidity product from Garnier because it helps to take the wavy frizz out. You can buy this product at most stores or online (see Amazon).
Second, take the brush and simply push your hair in the direction you want it to go. For example, if you part your hair to the right, brush your hair in that direction. Conversely, if you push your hair up, use the brush to mold it that way.
Related: Hair thickening hacks and products for men
Once you have your mane semi-shaped, grab your hairdryer and put it on the lowest setting. Medium heat outflow is fine. Avoid the "hot" setting because it will frizz you out.
Turn the dryer on and do a swift sweep of your hair. The goal here is to help with shaping and to remove excess moisture. While I haven't timed it, I would estimate I use the dryer for no more than 30 seconds.
Step 4: Put On The Baseball Cap
After you have completed step three, it's time to put on the baseball cap. Now guys, I am here to tell you that it is best to use something junky that you won't wear outside. The reason is the cap is eventually going to get stained and misshaped because you are using it for styling purposes.
In other words, don't reach for your prized sports team headwear. Instead, go for something cheap that you don't mind tossing down the road. In my case, I have an old brown cap that I bought online for a good deal. See Amazon for options.
So, for this step, simply put on the cap. Make sure it's not super tight around your head. Instead, give yourself a little wiggle room so that some air can flow through.
Leave the cap on your head for one to two minutes.
Step 5: Style With Product
Once you remove the cap, you should notice that your hair has become significantly tame. I'm not saying all of the waves will be gone or that you'll be fizz-free. But I am saying you should notice a massive difference.
At this point, apply some more product to your hair. I use some paste to keep the sides down and a little spray to keep it all together. One of the best products I've ever used is Pantene's Ultra lightweight Air Spray with Smooth Finish. It's not heavy and allows for fullness. This product also helps to keep your mane smooth when you do touchups later in the day.
You can buy this at any drugstore or online (see Amazon).
Wrap Up
Wavy, frizzy hair sucks. If you live in cold weather environments, you already know that freezing temps can exacerbate waves because of drying.
Using a baseball cap as part of your styling can help lock in moisture while flattening out your hair's texture. It also helps to give your mane a semi-permanent shape that lasts all day.
I hope the tips I have shared help you with your styling needs. What do you do to get rid of wavy hair? Share your hacks below in the comment box.