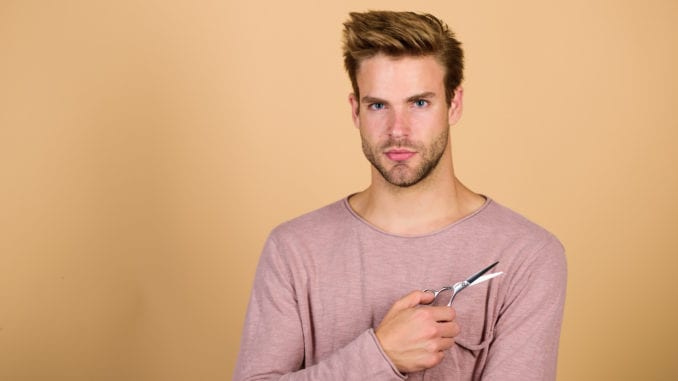 Cut your hair at home step by step
Being able to cut your own hair is a useful skill. Whether it's date night or the big meeting, you never know when you'll need a touchup.
You might not be able to match your local barber on skill, but you can learn to make yourself look handsome without leaving the house.
Some men are avoiding mirrors these days because self-isolations and quarantines have made a regular visit to the barbershop inconvenient to say the least.
Some men are embracing the rugged, unkempt look. Some are even sporting their grey hairs as a badge of honor.
Let's face it; if you could cut your own hair, you probably would. You'd be surprised at how easily you can pick up the skill though. Cutting your own hair isn't rocket science.
You can give yourself a decent cut with the right tools for the job, some practice and some patience.
It could even provide you with a much-needed distraction from the boredom of staying home day in and day out.
Here are some helpful hints, tips, techniques, and tricks for cutting your own hair.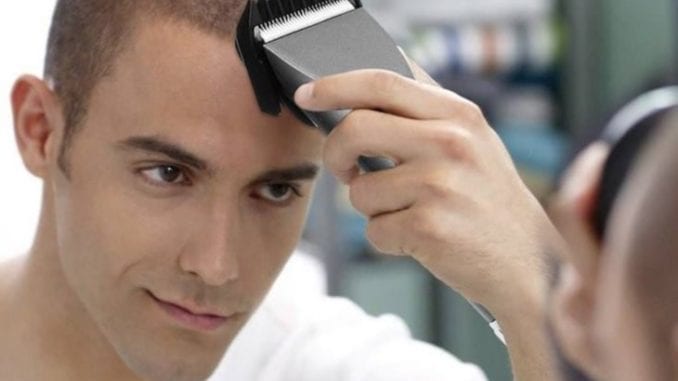 What You'll Need
Clippers
The first step is getting the right items and tools. You're going to need some good hair clippers. There are battery-powered clippers, some that charge overnight, and more powerful ones that plug-in.
The clippers that charge overnight are a good middle ground because they offer both versatility and power.
You need clippers that come with attachment combs. These small clips range in size and help you to create different hair lengths. Most clippers come with several combs, but you'll most likely only need two to three.
Here is one of the highest-rated hair clippers for men from Wahl (See Amazon for price).
Scissors
Unless you're going for a buzzcut, you should get a proper pair of shears or scissors. Not only will scissors help you channel your inner barber, they're ideal for touch-ups and cutting the top of your hair.
You don't want to get carried away with scissors though. Learn the right technique so that you don't chop off too much hair.
Mirror
When cutting your own hair at home, you need to use a mirror. The best kind of mirror is one with 3 sides. You use the 3-sided mirror to cut the back of your hair.
Essentially, you look through one of the side mirrors and the reflection from the back of your head bounces into your field of vision from the opposite side.
You can get away with using just your bathroom mirror and a handheld mirror, but this will make cutting your hair more challenging. You'll constantly need to shift your body and readjust your view.
In truth, you won't ever be able to get a good look at your neckline this way. The only thing that will help you is practice. Consider this handheld mirror from Amazon.
Comb and Brush
It all depends on your hairstyle, but you'll typically need one or the other. If you are leaving some length in your hair, then you need a comb.
It should have a wide tooth side and a fine-tooth side. There are some combs with a long grip. These come in handy when clearing excess hair from your clipper blades.
If you're going for a fade or buzzcut, then you'll need a brush. It's likely that you already have one, but you should make sure that it's clean before using it during your hair cut. Brushes tend to collect loose hair though. So, don't overuse it.
Pro Tip: You might want to employ an old toothbrush, too. Your clippers and comb attachments need to be free of loose hair in order to cut properly. Barbers keep an old toothbrush on hand to clear away the loose hair in between passes. So, you should do the same at home.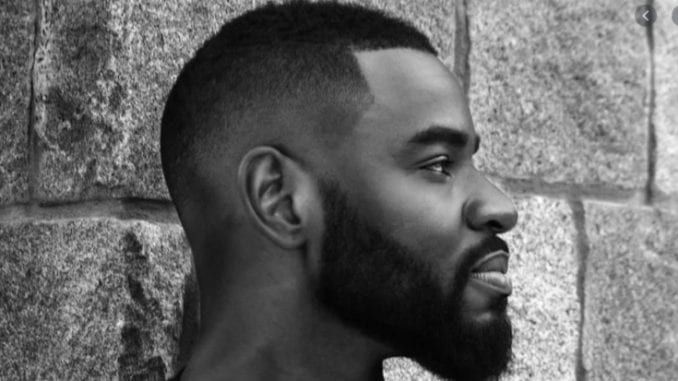 Towel or Cape
When you go to the barber, they've got that nice cape that drapes over your shoulders. This helps to keep your clothing free of loose hair.
That white strip of paper makes sure that your neck won't get itchy.
To simulate these items at home you can use a towel and a clothespin instead of a cape. You can also grab a sheet or two of toilet paper and wrap it around your neck before you put on the towel.
If you're sure to hop in the shower right after your home haircut, then you can bypass all these items and go shirtless.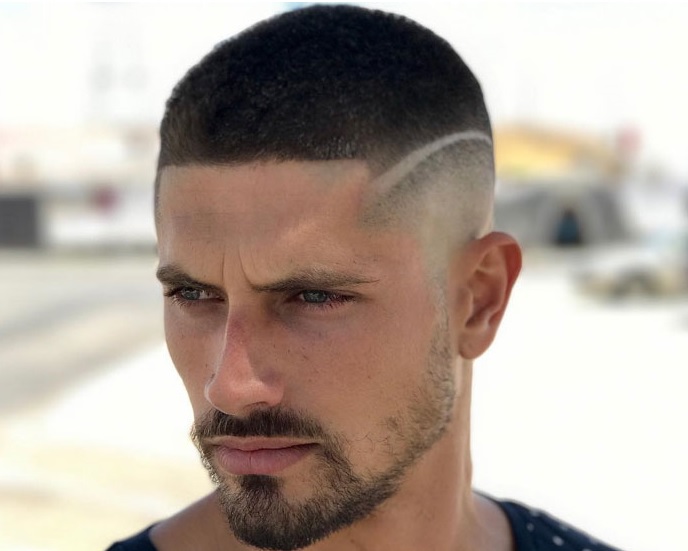 Choose a Style
You might not be able to produce the same results that you're used to seeing from your barber. There's no substitute for the years of experience and professional techniques of a barber. So, you should think carefully about which hairstyle you want to have.
Don't wind-up a social media horror story under the hashtag – #quarantinehaircut.
Look at some hairstyles. Then, pick one that you think takes the least amount of skill. If you've cut your own hair before then this a perfect time to try something more ambitious. For your first time though, you should think conservatively.
The buzzcut is the easiest to pull off. You just need to cut your hair to a very low setting and make sure that the trimming and edges are done nicely. It's the same length of hair all around your head.
The crewcut hairstyle involves fading and tapering the back and sides. You don't have to fade to the skin. Just give it a nice low cut and fade out the edges. Then, a scissor cut is done to the top of your hair.
The fade/taper/French crop takes more skill and time to complete nicely. You create a gradient in the hair by gradually lowering the hair layer by layer. Then, you give the top of your hair a uniform cut with a fringe in the front. Use the scissors.
The pompadour is a classic cut for men. It focuses mainly on the top of your hair. You use your fingers and scissors to cut the hair to a medium length. Then, you slick it back. You can fade the sides or just trim them to a uniform length like a buzzcut.
The scissorcut is a bit more technical than a crewcut but has the same general principle. You only use scissors and your fingers. You can cut horizontally or cut vertically to add a textured look to the top of your hair. This is a shop cut, for sure. So, try this one at your own risk.
There are plenty of variations on these traditional hairstyles for men. You can play around with them to create your own signature look. You can spike the top, adjust the fade height, or even put in some color. However, you should try to use the KISS rule when cutting your own hair at home.
You know, Keep It Simple, Stupid.
Related: How to Find Your Next Best Hairstyle
Now, it's time to get started. Choose your haircut style and dive in carefully. Remember, you can't put the hair back on your head once you cut it off. So, use the comb attachments gradually to adjust the length.
Pro Tip: Be sure to wash and dry your hair before you cut it. Don't cut damp hair and don't cut hair that has any type of product in it such as a holding gel or wax.
Related: Does Old Spice Dry Shampoo Clean Your Hair?
Cutting the Sides and Back
For most hairstyles you need to start with the sides and back. Start with a large comb attachment and cut against the grain of your hair. Start at the bottom of your hairline, near the sideburns and cut toward the top.
If you've ever played video games with the directional controls reversed, that's what it's like to cut the back of your own hair in the mirror. Your senses are a bit reversed, so be patient and go slow at first.
You're in a bit of luck when it comes to the back of your hair. As long as you are not going for a fade style, then you can trust the comb attachments to keep the length uniform in the back. You can also use your finger to trace a line from the bottom to the top of your hair as you cut.
Do You Want a Tight Fade?
Fading is not easy, but you can manage it. Determine where you want the fade to start – high, middle, or low. A high fade will give you less room for error because you will have more gradation between lengths.
A middle or low fade will hide errors because the fade happens toward the neckline. It's also easier to touch up later. Once you decide your fade line, start cutting just beneath that line. Again, give yourself room for error.
Now, gradually cut around the circumference of your head. Blend the levels by switching out the comb attachments as you raise the level. Use the mirror heavily while you fade and brush your hair while you go.
Cutting the Top
There are different ways to cut the top of your hair. Just have a look at the different styles from earlier. If you're doing a buzzcut, then you can just pick a single comb attachment and mow it all down.
Once you reach the length of that particular comb, brush the hair and decide whether you want to go lower.
Now, when using the scissors, you should consider sectioning off your hair. You can use clips and your fingers to pull sections away. Think of it as a grid. Don't take on too much hair in a single section.
Use the comb to pull up a section. Run your fingers through to test the length. Then, cut horizontally for a traditional gentleman's style on top or use the vertical cut for a layering effect. Don't get carried away with the scissors. Once you cut; it's cut.
Trimming and Edging
You're almost done with your haircut, but the most important part is yet to come. You've got to do the trimming and edging to make it look professional. You won't use any comb attachments, so be careful. The naked clippers are unforgiving.
Choose between a square or rounded neckline in the back. Again, use the mirror and work slowly so that you get used to the reverse effect in the mirror. Travel along your ears and sideburns. Then, cut across the front.
Pro Tip: Use your natural hairline as a guide. Barbers don't taper the front of your hair too drastically because once your hair starts to grow back in, your haircut will look worse for wear.
Style Points
Your haircut is complete. You can clean up and wash away the loose hair. It might not be perfect, but you've saved money and you can feel the appreciation that comes from doing it yourself.
Now, take a step further and style your hair. You might not have any elaborate plans for going out in the near future, but you can use this time to practice. There are lots of different hair products that you can use, and they can drastically improve and enhance the overall aesthetic of your style.
Related: 10 Best Hair Thickening Products for Men
Did you enjoy this article? Please let us know how your haircut at home turned out.
—
RELATED
Here's why you need a collagen sheet mask