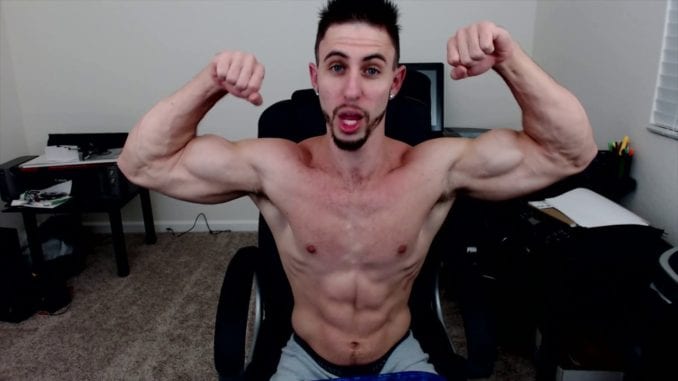 "I'm Tired of faking it"
A YouTube webcam model has gone on a rant, declaring to the world that he is straight (over and over again) after previously creating videos about preferring to be a top, sleeping with guys and asking gay men how many can take his "9×6" (link).
Jake Orion, a south Florida web-cam  wanna be model posted the video on May 11, entitled the piece, "I Am A Liar! I Am Straight" starts off yammering somewhat incoherently about playing basketball earlier in the day and then flashes his abs, he shares the following.
"Call me a liar, call me what you want, call me a [he's trying to say saboteur]. This video is going to be called, "Jake's a liar, he's straight. I'm not going to go under a label. I'm just going to call myself straight."
"I'm sick of being asked if I'm gay"
Orion goes on to state in the video that he's sick of people asking him if he's gay. In the past, he's put out videos about having three ways with guys [link]) and talking about his first time with a guy [link]. But this didn't stop him in the video from bragging about how much he likes girls.
In January of 2017, Orion shared in a video that he was in fact he was bicurious. In February, he posted a video that talked about his "top 5 gay fetishes" (link).
Bear in mind this is the same "model" who went on a bigoted rant and cut a video called "
How I Feel About Transexuals"
where he said transsexuals are "deceiving" and being "willing to lie"; comments that many believe are the very thing that causes violence against people in the trans community. See
NSFW
link to Str8upgayp— to learn more.
"I Am A Liar! I Am Straight"
Apparently., someone told Orion about his ignorance and he deleted the vid a few hours later. He also offered a ridiculous statement that many feel was an offensive non-apology.
FYI: Orion is the same "model" who shared in 2015 that he would not appear in gay adult themed movies because he "doesn't want to take a chance with AIDS".
Umm – Jake – maybe it's time to find a new career?
UPDATE 7/7/19
"Straight" Jake has now made available a mold of his manhood – for all his "straight" fans. See this post from probably not safe for work on Insta.
—
More Reading: