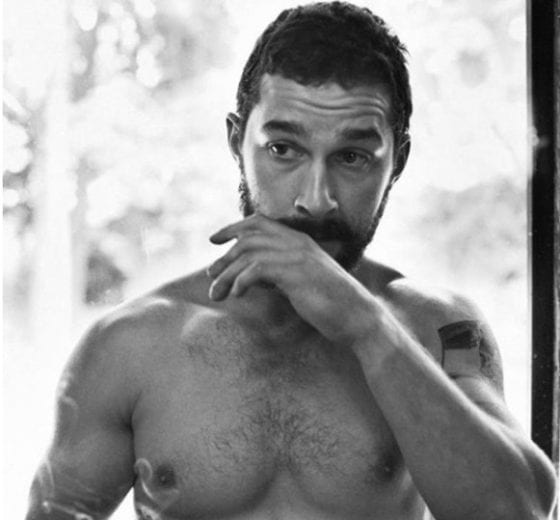 Shia LaBeouf Thinks He's "Not Well-Endowed"
Do you think Shia LaBeouf has an unimpressive piece of meat or would you ride that pole till sunrise?
The actor and artist sat down with Jimmy Kimmel for an interview on his late night show. The two talked about many things, from LaBeouf's new puppy to LaBeouf's new released film, and to his junk.
In between talking about starring in the new movie Borg vs. McEnroe, LaBeouf talked about a recent art project/community building project he conducted abroad in Helsinki, Finland. LaBeouf explained that he spent most of the time being recorded alone, but that he did take some time to engage with the community. When Kimmel asked the actor and artist if it was all worth it, LaBeouf said this:
"For a person who's not extremely well-endowed, who's kinda insecure about my own junk, there's something about sitting naked with a Sami native in a hut getting warm right away before you say 'hello.'"
Obviously, LaBeouf was joking for the most part, but people are now asking the question, "Is Shia LaBeouf not well-endowed?"
We can't help but add our own two cents to the situation.
Of course, nobody has the specific numbers and calculations of the actor's appendage, but we've all seen enough to have a good idea of his size. The man may not be the next big p*** star, but he's certainly not small either.
Really, it comes down to perspective and mentality. In the age of internet p***, our standards of dick sizes have gotten pretty skewed. Many men would consider themselves small, because they compare themselves to p*** stars who got handed picked for their large penises. Because of that, men who have average or even above average penises often consider themselves inadequate.
This comment by Shia LaBeouf speaks volumes for the mentality of men and their perspectives on penis sizes today. We should all be as confident as the European men that LaBeouf jokes about in the video, and we should all be as brave as LaBeouf himself who thinks he's "not well-endowed" yet has the confidence to whip it out all the time.
Though, let's not go too far with whipping it out. That's a whole other problem.