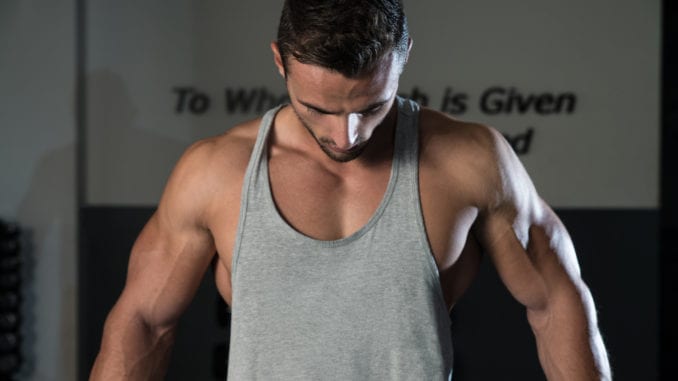 RIDDING MALE STRETCH MARKS
Do you have male stretch marks? Struggling with unsightly crevices around your shoulders, arms and legs? Hoping to find simple ways to minimize their appearance?
If the answer is yes, you've come to the right place. Lots of men develop lines around their upper torso as a result of weight change and aging.
I should know – I've struggled with stretch marks for the past ten years. In fact, combating this issue is what served as inspiration for this post.
Before we dive too deep I'd like to tell you a true story that happened to me a decade ago. It's embarrassing to type this all out because I felt so humiliated – but here it goes.
While changing into my workout gear at the gym, one of the guys in the locker room said to me, "Hey bud, did you drop a bunch of weight?" When I told him "no", he replied, "Oh, sorry. I just saw all those gigantic stretch marks on your shoulders and arms and assumed you were a former fatty."
I won't go into how ignorant that dude was for making the comment. I also won't use this as a rant against men who like to fat-shame other guys.
But I will say this – the fact that he saw my stretch marks and commented on them demonstrated to me that people were taking notice. In many ways, his observation confirmed many of my deeply held fears (if that makes sense).
For better or worse, that very day, I made the decision to do something about my lines and began a quest for knowledge. I'm going to share with you what I learned with the goal of helping you to reduce your wrinkles as part of the dynamic.
Let's jump right in.
WHAT ARE MALE STRETCH MARKS?
At their core, stretch marks are fine lines that develop around parts of the skin. For guys, the lines are most prominent around the shoulders, arms, thighs and buttocks.
WHAT CAUSES THE LINES?
There are several reasons stretch marks can form on the skin. These include but are not limited to:
Weight loss
Weight gain
Skin composition
Your age
Frequent movement of body parts
Collagen reduction as a function of aging
Heredity factors
Muscular changes
Dehydration
As time goes on, the fine lines become more prominent. Eventually, these wrinkles deepen and, in some cases, can transform into folds.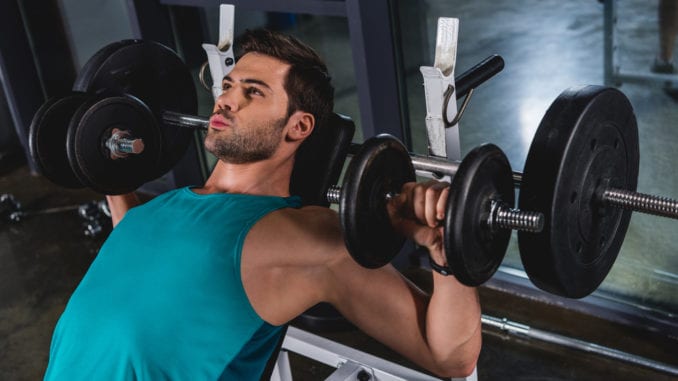 WHO GETS STRETCH MARKS?
Anyone can develop stretch lines. In men, we typically see physically active guys struggling with this problem. Examples include bodybuilders, power-lifters, runners and swimmers.
The problem of lines can become exacerbated with major changes in weight. An example might be rapid weight loss. Users of anabolic steroids can also develop stretch marks because of fluctuating body mass changes.
HOW TO TREAT MALE STRETCH MARKS
If your goal is to reduce the appearance of male stretch marks, I've listed 10 hacks below that are designed to address the problem.
FYI: Pay attention to some of the suggestions I've made about prevention.
1. AVOID RAPID CHANGES IN WEIGHT
Rapid fluctuations in weight are a major cause of stretch marks. To the extent possible, you should avoid this at all costs. If your goal is weight loss, aim for one to two pounds per week.
Conversely, healthy weight gain should hover around the same amount (one or two pounds per week).
Be leery of any diets that promise "10 pounds per week". Many of these are built on starving the body of nutrients and depriving the skin of hydration.
2. STAY HYDRATED
When you aren't properly hydrated, you deprive your skin of the moisture that is required to maintain its elasticity. Over time, this can cause fine lines to become more pronounced – to the point that they transform into folds.
To help prevent stretch marks, you'll want to drink plenty of H20. The Mayo Clinic suggests men drink around 15 cups (3.7 liters) per day. The quality of your water matters, meaning the purer the better.
If you don't want to spend a wad of cash on bottled water, you might want to pick up a Brita Water Filter Pitcher (Amazon). The filter is great because it reduces chlorine, copper, mercury, zinc and other impurities found in regular tap water. The end result is cleaner, better tasting water.
3. NO HOT SHOWERS
One of the worst things you can do for your skin is to take hot showers. While they may feel good, the heat from the water can strip the top dermal layer of collagen. In addition, cracking and scaling can occur as a result.
Your best bet is to take warm showers. The goal should be to clean your body while locking in moisture. We've examined several products over the years and one of the best is No. 63 Men's Shower Gel.
Not only does it smell good, the gel itself doesn't contain a bunch of harsh chemicals that dry out the skin. To learn more about the role of collagen, check out our post on the best collagen skin masks for guys.
4. PAT DRY YOUR SKIN
Do you use a towel to rub your skin dry after taking a shower? If the answer is yes, stop doing this now. Rubbing is abrasive and can do serious damage to the dermas.
Instead, gently pat dry your skin with care. The type of towel matters too. Avoid cheap synthetics that don't absorb water. Instead, reach for 100% cotton towels with a soft base. See this example from Amazon.

5. APPLY A HIGH QUALITY MOISTURIZER
You probably already knew using a moisturizer was a key component to reducing stretch marks. But were you aware the type of lotion you use matters a lot? Yep, it does.
Your goal should be to pick something that contains hyaluronic acid and vitamin A, such as Menscience Body Lotion (See Amazon). The hyaluronic acid locks in moisture and the vitamin A helps to stimulate collagen growth. Additionally, the lotion is fragrance free and devoid of harsh chemicals.
When applying lotion, its best to place a quarter size amount in your palm and start with the ankles and calves. Then progressively work your way up, intermittingly applying lotion as needed.
When putting on a moisturizer, use a gentle, upward motion. Avoid any type of rubbing as this can harm your skin.
6. USE A COLLAGEN FILLER
If you have visible stretch lines and want to erase them, consider picking up a collagen filler. You can find these at your local pharmacy or order online from Amazon.
All you need to do is squeeze out a bead of liquid onto your fingertip. Gently apply the filler to your lines using an upward motion. When properly executed, you should notice your line fades considerably.
The trick with using a filler is to not overdo it. A little bit goes a long way. Apply after you've completely dried off and moisturized.
7. REDUCE EXPOSURE TO THE SUN
You have probably heard this a thousand times, but it is worth repeating. The sun can do great damage to your skin. Not only do radioactive rays destroy nutrient giving cells, they also zap your dermis of collagen.
Always use a sunscreen when outdoors for extended periods of time. Look for something with a SPF factor of 50 at your local grocer or pharmacy. Obagi Sun Shield is an excellent choice if you aren't sure what to pick. Not only does it moisturize, it protects your dermis from being damaged. See Amazon.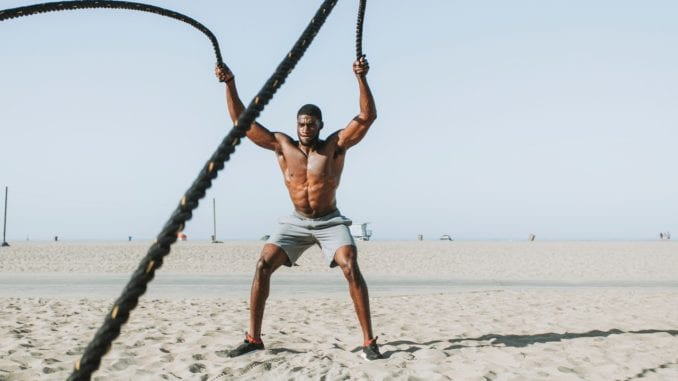 8. USE A BODY SCRUB
The use of a body scrub may seem like a silly idea as it relates to stretch marks but let me tell you why it's not. Scrubs help to stimulate collagen; the substance that helps to gives your skin a plump, youthful look.
If you have a chance, visit our men's skincare regimen hacks page to learn about the use of scrubs and how they can help reduce lines and wrinkles.
The key thing to keep in mind with a scrub is to use them occasionally (meaning once or twice per week). If overused, you may unintentionally do more harm than good.
9. TAKE VITAMINS
Your skin's appearance is the direct reflection of your diet. If you are like most men, you probably don't get enough nutrients through eating. This is where a multivitamin can help.
There are several excellent products on the market to choose from, but we like Mega Men from GNC (visit Amazon). What's great about their vitamin is it contains all the essential nutrients for healthy skin, such as vitamins A and E.
If you want to make sure you are getting enough collagen, you may want to pick up a bottle of collagen peptide pills from Dr. Emil Nutrition (visit Amazon).
10. REDUCE ALCOHOL INTAKE
Did you know alcohol is terrible for your skin? Yep, it's true. Don't take our word for it. Check out this piece from Vogue that dives deep into the topic.
We're note saying give up beer, whiskey and wine. But to the extent possible, reducing alcohol intake can help your skin look a lot better.
BRINGING IT ALL TOGETHER
Male stretch marks are a real drag. They take away from your appearance and can make you look older than your years.
Hopefully, the hacks offered above will help to prevent their appearance and decrease the chances of their popping up in the first place.
If you are really concerned about your stretch marks, consider visiting a dermatologist. There are several non-evasive treatments available today. Examples include dermal fillers and carbox therapy.
More Reading