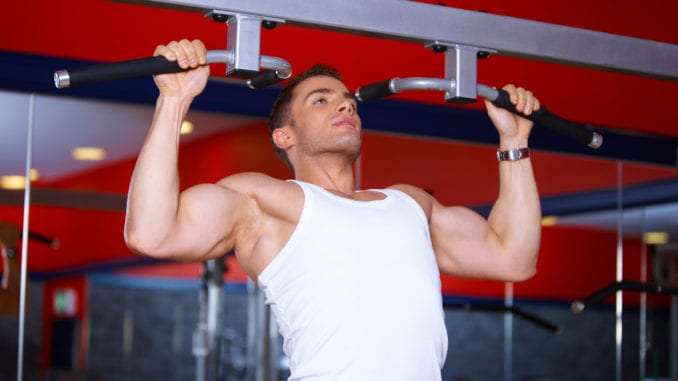 Why does this always happen to me!?
It's happening again! As much as I don't want this to be true, it really is. There's this SUPER hot Latin guy at my gym with major equipment (from the looks of it) that I'm totally obsessed with.
It must have been around two weeks ago that I first noticed him. While doing bicep curls on a Hammer-Strength machine, I saw this guy working out his chest in the distance. Specifically, he was on a flat-bench, pumping his pecs.
There was just something ridiculously hot about him that I can't explain. Maybe it was his dark blue t-shirt? Perhaps it was his grey sweats? Or quite possibly, it was his dark black beard, neatly kept and looking hideously yummy.
All I know is that I became mesmerized. When I use this term, I'm not kidding. Have you ever become fixated on a guy so badly that you couldn't stop staring?
That's what I'm talking about here. And oh man, let me tell you, things went from bad to worse!
That's because when he finally stood up, I could totally see he was freeballing. We're talking about super obvious visuals here with impressive sized proportions.
Ever see model Dominic Albano? If not, head on over to OMG Blog and do a search for him and you'll see what I mean.
And let me tell you, it didn't help that this guy (who I later found out is named Domingo) was wearing a pair of Converse High-Tops … like size fourteen!
If I had to describe him, I'd say he's around 6'1 with super bright green eyes and vibes out the look of Ryan Guzman. The one time I heard him speak was when he fist-bumped his spotter. In a deep, rich voice, he said, "Thanks, bro."
OMG WOOF!
Anyway, since first seeing him, I've tried my best not to make a fool of myself during other gym encounters. Nobody wants to look like a freak, right?
But can I tell you something? I can't help it! Particularly since the last time I saw him – which was yesterday – Domingo was sporting a tank-top that fully showed his massively hot hairy chest!
I wish that I could tell you that I've seen him in the locker room or shower area. I haven't. My gaydar is probably off but my sense of him is that he's hopelessly straight.
Which, in a SICK kind of way, makes me even MORE attracted to him. Yes, I know that sounds messed up but I've got to confess my truth somewhere, you know?
Oh, Domingo! If, against all odds, you are reading this blog post, know that you have a secret admirer. I'd love to get to know you more!